11 Best Instagram Post Ideas for Engagement & Followers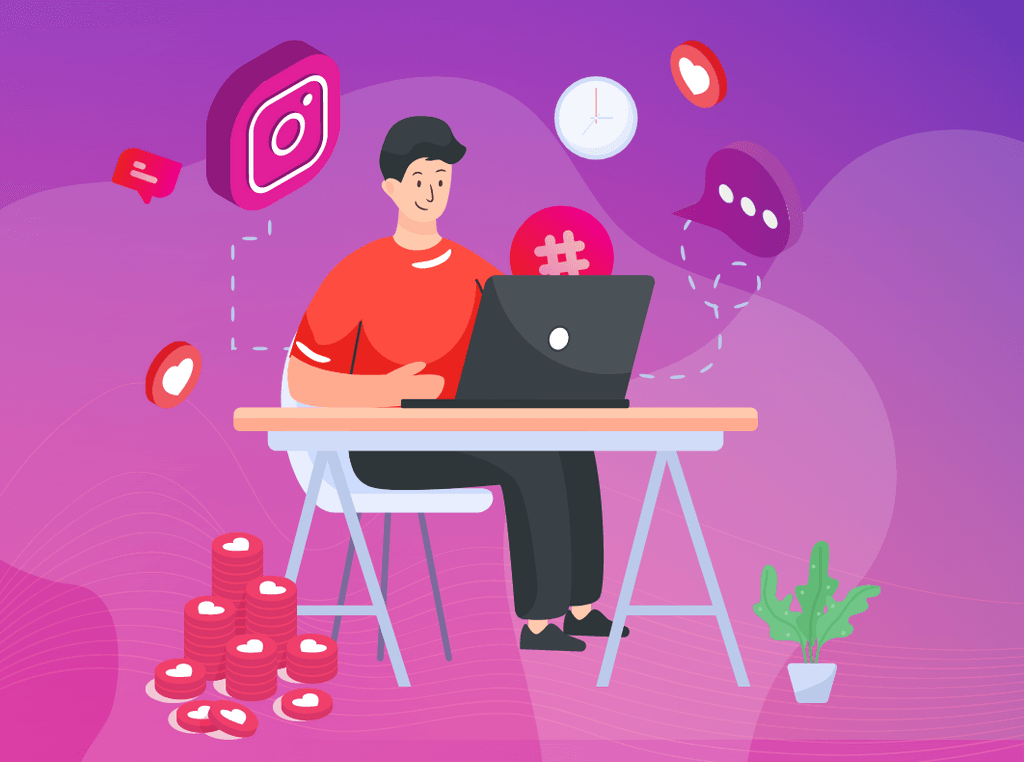 Do you want more engagement and followers on Instagram?
For sure, thousands of marketers would like that, too. But although the content types Instagram allows are inherently engaging, you still need to go an extra mile to get people interested.
At this point, the best solution is to learn from others. That's why we've prepared a list of creative Instagram post ideas along with examples to inspire your Instagram strategy and help you make it more diverse.
Table of contents:
Idea #1: Run a Giveaway
Let's be honest, everyone loves free stuff, even if it's a little chocolate candy. So, if an opportunity to win something requires minimum effort, why not try your luck?
This is the philosophy behind giveaways, and you can see why they could work in terms of engagement. It's our inherent nature to assign more value to free items. Psychologists identify our love for free things as a positive charge, instant gratification, etc. Regardless, if you decide to run a branded giveaway, it will definitely come up trumps.
Now, which benefits can you get from running Instagram giveaways?
Brand awareness.

Instagram is a crowded platform - it's easy to get overshadowed by other brands, especially if you're a small business owner. A giveaway can work wonders if you're having difficulty attracting your target audience and need to shine a spotlight on your product.

User engagement.

Do you have plenty of followers, but they are hard to impress? Try to have them compete for a prize they find super valuable, and your engagement will shoot through the roof.

More Instagram followers.

Growing a following base is one of the main reasons why brands run giveaways. And it can work if you do it right, especially when the prize is super relevant to your target audience.
Giveaways can serve many purposes - lead generation, brand exposure, more sales. You can also give away products in exchange for user-generated content, which you can later use in your digital marketing campaigns.
Example #1: FeelUnique
Now, there are plenty of formats you can apply to your giveaway, but your final decision should always be based on your goal.
What if you want to get more followers or expose your brand to new audiences?
Easy! Have your existing subscribers invite their friends and reward them with gifts. Here's how FeelUnique did it by having its followers compete for Olaplex products:
Credit: FeelUnique
If you check out the comments under this post, you'll see how many of their friends FeelUnique's fans have tagged in just a few hours. You can modify this giveaway idea and have all the participants subscribe to your Instagram profile, and boom! You have yourself more new followers.
Example #2: Pura
If your subscribers haven't been very active lately, and you're looking for a way to re-engage them, a sweepstake is a way to go. Think about what you want people to do as a part of a giveaway - upload user-generated content, reshare your post in a story, or tag someone, and include this activity in the rules.
For instance, Pura has the participants leave a comment under a post apart from following its Instagram account and tagging a friend:
Credit: Pura
This is the right time to remind you about giveaway rules - be as specific as possible. Otherwise, you'll end up with a bunch of invalid entries, which will both impact the engagement and how people react to your future giveaways.
Idea #2: Interview an Influencer or Industry Leader
We've all heard about influencer marketing and its potential to generate more brand awareness and expose your business to wider audiences. But most influencer posts boil down to a plain promotion, just like in the example below:
Credit: Instagram
Of course, there's nothing wrong with collabs and PR partnerships, but if your goal is also to get more authority in your industry, it's hardly the best solution.
Instead, why don't you interview an authoritative influencer from your niche who can bring interesting insights to the table?
Here's what you'll get from this experience:
New connections

. Influencers often have a bigger audience and a wider reach, giving you a chance to get acquainted with new people and grow your network.

Fresh insights for your followers

. If your subscribers are interested in learning more about a particular topic, bring someone knowledgeable to cater to their needs.

Content diversity.

You can use an interview with an influential person to gain more traction by repurposing it into a blog post, featuring it in a podcast, etc.
Ultimately, such an interview will play well into your hands, helping you reach more exposure and build a solid reputation as a thought leader in your field.
Example #1: Valeria Lipovetsky
A typical brand usually covers one or a maximum of two topics on its Instagram profile. But what if your audience is more diverse and interested in many things?
Partner with several influencers - simple as that. This approach works for Valeria Lipovetsky, an Instagram influencer and the owner of Verie, an e-commerce store. Her audience follows a variety of topics - mindfulness, beauty, fashion, fitness, business, etc. That's why she regularly runs Instagram Live interviews with other influencers, which you can also check out in her IGTV:
Credit: Valeria Lipovetsky
As you can see, the influencer interviews cover multiple topics - women's health, entrepreneurship, skincare, and even drag. These conversations help her reach the ultimate goal to educate and to open the minds of her audience, making her a popular thought leader along the way.
Example #2: Thriva
Now, we understand that Instagram is probably not the best platform for lengthy interviews with influencers. Most of Valeria Lipovetsky's conversations don't take more than 30 minutes. A podcast would be better for anything longer than that.
But who says you can't promote your podcast on your Instagram page and give it an engagement boost? Thriva, a blood test delivery company, does it consistently on its account:
Credit: Thriva Health
You can also upload a picture of a person you're interviewing with a short description. Or, you can go the extra mile and post a video excerpt of your podcast with an intriguing question to grab your followers' attention.
Idea #3: Run an AMA
If you don't know what to post on Instagram, an AMA is always a good option. An Ask Me Anything session is one of the simplest post types to boost engagement quickly. The idea is to answer the questions followers have for you during a live stream. The questions can be asked on the spot, or you can collect them before the stream.
There are many reasons why you should run an AMA from time to time:
Help people learn more about your product.

Introduce yourself or your team to the followers.

Give a teaser of upcoming events, product launches, etc.
The primary purpose is to bring you closer to your target audience and facilitate stronger relationships based on trust.
Example #1: The Overtones
The Overtones, a popular UK-based vocal group, is an excellent example of how AMAs can become a recurrent segment in a content strategy. Each of the group members takes turns in running Instagram Live sessions and answering on-spot questions from their audience (the streams are later saved in IGTV):
Credit: The Overtones
The group only has 20K followers on Instagram, but their community is very engaged and active, always leaving comments and interacting with each other. This is a perfect example of how even the most random AMA sessions can help build trust.
Example #2: UNICEF
Now, if the nature of your niche and industry doesn't allow you to be spontaneous, you can still organize an AMA. Just collect questions beforehand and make sure you (or a person participating in a session) have the answers ready.
Take UNICEF, for example. It regularly runs pre-recorded AMAs with different officials answering questions on various topics. The one below features the UNICEF's COVAX coordinator telling about the distribution of vaccines:
Credit: UNICEF
The secret to running a successful AMA is to keep track of the current trending topics in your field and react to them as soon as possible. Most likely, your audience expects you to have answers as the representative of your industry, so you need to keep abreast of the current trends and online discussions.
Idea #4: Post a Quiz or Puzzle
Quizzes have been around forever and work well as engagement boosters. Remember BuzzFeed? Their quizzes are so popular that the company included them in an app, and now you can complete them on the go (even though they are purely for entertainment).
What's so great about quizzes and puzzles that makes people go nuts for them?
The reason stands behind our inherent desire to define ourselves. That's why people love personality quizzes - they give us food for thought, even if they tell you that, among all Disney characters, you are Ursula from The Little Mermaid.
Now, puzzles engage in a different way. When solving a puzzle, you learn something, get to test your knowledge and power of observation, and get something in reward. They require more effort to put together and solve but still work well if you want to present your subscribers with something unique.
Example #1: Blue Apron
Instagram offers plenty of ways to run online quizzes, but most of them are only available through Instagram Stories. There, you can ask questions, do polls, and conduct regular surveys. The quiz format options are also limitless - be as creative as you want to be.
For instance, Blue Apron ran a contest for the best meals on their menu and had its followers vote for their favorites:
Credit: Blue Apron
Alternatively, Blue Apron could also quiz its followers on the ingredients needed to cook the most popular dish and reward the winner with a free subscription for one month. You can adapt this idea to your product and combine a quiz with a giveaway for more engagement and exposure.
Example #2: Uxcel App
Surely, Instagram Stories work better if you want to run an interactive quiz. But Stories are only available for 24 hours, and if you want your quiz to run longer than that, why not make it into a regular post?
Uxcel App, for instance, posted a short video asking its followers which login option is better and gave eight seconds to leave an answer:
Credit: Uxcel App
It's a great example to follow if you need a post idea to boost engagement. But you might have also noticed that Uxcel App uses this post to promote its UX design course. So, next time you need an exciting content idea for your campaign, make use of a quiz or a puzzle to get your audience buzzing.
Idea #5: Post a Step-by-Step Tutorial
Instagram can absolutely be a learning platform, considering the level of interactivity and engagement it offers. You can upload visual guides to the Stories or unite related posts using the new Instagram Guides feature:
Credit: WWF
Step-by-step tutorials have the same goal as interviews with influencers - to help you build up authority in your niche. Or, as in the WWF's example above, help followers explore trending topics and enhance their knowledge on a specific subject.
Either way, guides and tutorials are your way to show that you know a thing or two about your industry and are ready to share your knowledge with the world.
Let's take a look at a few examples of step-by-step tutorials done right.
Example #1: BuzzFeed Tasty
Cooking shows are their own separate industry, and you can't say it's not doing well, considering how many food bloggers there are now. And while Instagram might not seem like the most obvious choice for a cooking channel (YouTube seems more fitting), you can say that it's among the top social media platforms to share cooking tutorials.
Think about it: even channels that gained their initial popularity on YouTube still do cooking guides on Instagram. Take BuzzFeed Tasty, for example. It has 20 million subscribers on YouTube and still consistently posts Make It Monday step-by-step tutorials:
Credit: BuzzFeed Tasty
There are also a few guides with posts on how to cook various spicy meals, indulgent chocolate desserts, cocktails, and even how to organize your fridge. In other words, Tasty gives all the resources and great tips to wake up your inner chef.
Example #2: Nikkie Tutorials
Now, we all know that the Internet can be one giant trash can, and sometimes you have to call out misleading information so that people, who have just been introduced to your niche and industry, don't get confused.
One such industry full of deceiving guides and "Tips and Tricks'' posts is self-care and beauty. Nikkie Tutorials, a popular YouTuber and the owner of the Nimya brand, has been creating a series of posts reviewing the tutorials that seem misleading, for example, on how to use eyeliner for hooded eyes:
Credit: Nikkie Tutorials
You can't call this post a step-by-step guide per se, but Nikkie still tries out the tip, showing each step of applying the eyeliner. So, it's a mix of testing the tutorial and reenacting it.
You can also use the format of a step-by-step tutorial to capitalize on the trending topics in your industry, which we'll talk more about in the next section.
Idea #6: Capitalize on a Trend
The easiest way to get tons of new followers is to go viral - that's what a person distant from social media marketing would say. In practice, gaining viral popularity is next to impossible unless you start a trend that blows up overnight. That is if you want instant success.
However, you can always try your chances by tapping into already existing Instagram trends. It won't guarantee immediate results, but there is a considerable possibility that more people will notice you.
How can you find current trends on Instagram?
Unfortunately, there is no Trending section similar to Twitter. But you can always look for the most discussed topics via the #trending hashtag (which is one of the top-performing Instagram hashtags, by the way).
You also have the Explore page, but both these methods are hardly helpful. Instagram users add the #trending hashtag to their posts trying to get more visibility, but the ideas behind their posts rarely have anything to do with trends.
Here's an insider tip for you: if you're on a hunt for the trending topics, monitor the @whatstrending Instagram account - it shares the latest news on the platform:
Credit: What's Trending
Now, let's take a look at a few brands that successfully capitalized on a trend and got a lot of attention for it.
Example #1: The Simpsons
Do you remember that famous Twitter post by Ellen DeGeneres when she hosted the Oscars in 2014?
Credit: Ellen DeGeneres
That photo caused quite a stir back then and inspired brands and users to recreate it. One of the famous accounts to do it was The Simpsons, who posted the cartoon version of this photo on Instagram and Twitter:
Credit: The Simpsons
The picture got more than 60K likes on Instagram in addition to 50K+ likes on Twitter and brought the show even more exposure. You can also notice that the photo was tweaked a little bit (besides Homer, you can also spot Bart's head behind Ellen DeGeneres).
Example #2: LeBron James
Another oldie but goodie was the #IceBucketChallenge back in 2014. At that time, many celebrities and brands took on to participate in this trend to support people with ALS, an incurable autoimmune disease.
You might remember everyone, from Donald Trump to Barack Obama, having people pour ice water over their heads to spread awareness about the disease. LeBron James did the same on Instagram and collected over 400K likes:
Credit: LeBron James
This is a perfect example of how to get more exposure but also participate in something that brings value and helps others. Besides, 66% of people expect you to take a stand, so mix business and pleasure - use your voice to help others and get a bit more exposure for your brand.
Idea #7: Use User-Generated Content (UGC)
Your followers are an inexhaustible source of content. If you're going through a creativity drought, you can always turn to your audience for help and inspiration - they will fuel you with fresh ideas for Instagram for months ahead.
Of course, running out of posts is not the only reason why you should consider implementing user-generated content in your Instagram content strategy. UGC can give a considerable boost to follower engagement.
Why are people so in love with user-generated content?
Most say it's authentic, and that's why they like it. That's why, according to HubSpot, 79% of people say UGC impacts their purchasing decisions. In this case, people perceive UGC as social proof that your product is trustworthy.
Now let's take a look at a few ideas on how to give a shoutout to your followers and add user-generated content to your strategy for more engagement and followers.
Example #1: NYX Cosmetics and Holo Taco
If you've noticed your followers come up with more and more creative ways to use your product, why not give them the floor and share their ideas on your page?
That's what NYX Cosmetics does on a regular basis, featuring its followers selfies with amazing makeup look ideas:
Credit: NYX Cosmetics
You can take this idea to the next level and announce a competition for the best makeup look (using the new collection) or nail art, as in Holo Taco's case:
Credit: Holo Taco
A competition is a great Instagram post idea, for sure. It's a way for you to say thank you for your followers' loyalty and, of course, boost engagement.
Example #2: Adobe
What if your product is software and is not sold on the mass market? You still have plenty of options to feature user-generated content.
For instance, Adobe chose to run regular UGC campaigns and feature art pieces created with its tools to give more exposure to artists and illustrators:
Credit: Adobe
In this particular campaign, Adobe works with Billie Eilish. Adobe's and Billie's audiences combined have the potential to give artists more online visibility, but it also works in Adobe's favor, helping the brand get more engagement. Make sure to take this Instagram tip into consideration.
Idea #8: Post a Photo Collage
A photo collage might not be your first choice for a post. After all, you can create an entire slideshow, but more on that later. Nevertheless, a collage can still be a great addition to your content strategy.
Here are just a few use cases:
To show a before-and-after experience.

To showcase a product from different angles.

To create a scrapbook-like style for your Instagram page.
Now, let's take a look at a few real-life examples of photo collages used by brands.
Example #1: Paloma Wool
Paloma Wool uses a more traditional photo collage format combined with a slideshow to introduce capsule collections created in collaboration with different artists:
Credit: Paloma Wool
A slideshow allows potential customers to take a closer look at each piece, but a photo collage introduces the entire capsule, conveying the overall look and feel of the collection. It's definitely an excellent example of how to use a collage for a successful product launch.
Example #2: Verie
It's also possible to create collages in Instagram Stories. There, they can serve different purposes, from showing your products to creating aesthetically pleasing visuals for daily updates.
For instance, Verie, the brand by Valeria Lipovetsky, whom we already mentioned a bit earlier, shows the behind-the-scenes footage for the latest clothing collection:
Credit: Verie
As you can see, there are no limits as to what you can show with collages so long as you remain authentic and true to your brand's values. It's also possible to create collages outside of Instagram, for instance, using templates in Canva, and upload them to your Stories as a single image.
Idea #9: Share a Personal Story
Pretty pictures and beautiful photo collages in your Stories are all good, but don't be surprised if your followers eventually get tired of that. Everybody understands that running a business is not just about perfect visuals - a lot of work goes into sustaining success. And if you focus only on keeping up appearances and don't share the real-life human side, people will soon start calling you fake.
That's why it won't hurt to share a personal story or behind-the-scenes experiences once in a while. In fact, it will help people memorize your brand faster - telling a story makes you 22 times more memorable. That is if you tell it right.
What makes a good story?
Personal experience.

Authenticity.

Candidness.
And, of course, your followers need to relate to your story. When you share a story, it should provoke feedback and encourage people to open up about their experiences as well. So, listen closely to what your followers are talking about.
Example #1: UN Women
Sharing your story is a fantastic idea, but sharing the stories of others can be equally empowering.
Take UN Women, for example. The goal of this organization is to advocate for women's rights; that's why the idea to post inspiring stories of women fits perfectly into the organization's Instagram profile:
Credit: UN Women
Basically, UN Women delegates running Instagram Stories for a day to a woman activist who spreads awareness about the cause she works on while also giving a snippet of her daily life.
This is not just an opportunity to broadcast something relevant to your audience. Sharing success stories is also an incredibly powerful way to turn your following base into a united online community of strong supporters of what your brand believes in and values.
Example #2: Starbucks
Similarly, you can tell the stories of your employees. Starbucks took this idea a step further and connected these stories with burning social issues to show its support for different communities:
Credit: Starbucks
While these kinds of posts work well for engagement, you can also use them to create a positive employer image, which can bode well for you during the recruitment process.
Idea #10: Be Consistent
"Consistency is the key to success" - you might have heard that from your fitness instructor. This rule also applies to your Instagram marketing strategy. If you want steady growth of Instagram engagement and followers, you've got to be consistent.
What does consistency imply in this case?
First and foremost, we're talking about a posting schedule and following a content calendar. It's a rule of thumb on social media - if you want more people to see your posts, you need to figure out when your followers are the most active. You can easily track this data on the Analytics dashboard of a given social media network.
At Postoplan, we've also collected insights into the best times for uploading your social media content. For instance, the best time to post on Facebook is Tuesday and Wednesday at 9 a.m. At this time, Facebook's users are the most active.
How often should a business post on Instagram?
Up to twenty times a day, but the frequency will depend on how active your audience is and what is generally accepted in your industry.
The second point about consistency is design. It's in our nature to like aesthetically pleasing things. So, when we see an Instagram profile with consistent style and elements, it draws us to dive deeper into it.
Now, let's take a look at a couple of examples.
Example #1: Jocko Willink
Consistency is also about coming up with Instagram content ideas and committing to them. Usually, this idea carries immense value for the audience and is meant to sustain their interest in the long run.
Not following?
It's better to show it in practice, and Jocko Willink is a brilliant example. He has a lot of cool stuff to post on Instagram, but a picture of his watch definitely stands out:
Credit: Jocko Willink
The idea is super simple, but there is a great value in it - Jocko wants to motivate his followers to become morning people, lead a healthier lifestyle, and generally become better versions of themselves. Similarly, Jocko also uploads inspirational quotes for an extra dose of motivation.
How effective are posts like these in terms of engagement?
Something as simple as a picture of a watch brings Jocko 12K likes minimum.
Example #2: EM Cosmetics
Now, let's consider an example of consistency in profile design. Luckily, Instagram allows you to be as creative as you want and upload icons, collages, and other visuals - anything to help put together the style that corresponds to your brand's aesthetic.
A great example of consistent design is EM Cosmetics, the beauty brand by Michelle Phan. The brand's logo uses white and gold, and you can spot the same colors in the Highlights icons and the way the product photos in the profile are styled:
Credit: EM Cosmetics
Such an approach to Instagram page design also contributes to more brand awareness. The more consistent you are with the colors and design elements, the easier it will be for people to recognize you in the crowded Instagram space.
Idea #11: Post a Slideshow
The final one on our list of great Instagram post ideas is a slideshow - the most versatile way to showcase your content. You can either post images, combine Instagram photos and videos, or create entire slideshows just out of videos alone.
Also known as Instagram carousel posts, slideshows also deliver great engagement. According to SEJ's findings, the Instagram algorithm favors slideshows - the engagement rate for carousels is 1.92%, compared to 1.74% for images and 1.45% for videos. And, if you use all ten carousel slides, the engagement rate jumps to 2%.
Need some ideas on how to use a carousel in an out-of-the-box way?
Here are a few examples.
Example #1: IKEA USA
IKEA's Instagram profiles are the epitome of a perfect Instagram strategy. You will find everything, from photo collages and storytelling posts to trendy images and UGC.
Slideshows also often pop here and there on the IKEA USA Instagram page. For instance, the one below features IKEA's most popular furniture items to celebrate 10 years of IKEA Family (the company's discount program):
Credit: IKEA USA
This post is also a part of a celebratory UGC campaign, inviting people to show one of the ten featured products as a part of their home design. Notice how well IKEA picked the hashtag for the campaign, too - it's very campaign-specific and yet easily distinguishable among thousands of IKEA-related hashtags.
Example #2: Microsoft Life
What if you are a SaaS company and there seems little to no use for the carousel feature? That's not really so. In fact, you have quite a few options up your sleeve, such as telling several stories in one carousel.
Take Microsoft Life, for instance. In the post below, the company features its interns to celebrate their contribution to the company:
Credit: Microsoft Life
Can you feature your product?
Absolutely! Try adding images or videos showcasing different features of your product in action. Or, these visuals can give a sneak peek into an upcoming new product. You can even create a slideshow of your favorite industry memes. There's really no limit here.
Now Over to You
See how many post options you have to boost engagement and gain new followers? Instagram is very versatile in terms of content, as long as you don't indulge in illegal actions (such as buying followers) and grow your audience organically.
That being said, creating a beautiful image for a carousel or Instagram Stories is not enough to get engagement and followers on this platform. There are many other things that go into the formula of Instagram success - posting at the right time, social listening, interacting with your followers, and many more.
In other words, don't distance yourself from your audience. Instead, invest in content that would nurture your relationship with the followers.
Frequently Asked Questions (FAQs)
Let's recap the most burning questions on how to use Instagram content to drive engagement and followers.
Q1. What should you post on Instagram to get followers?
Giveaways, posts featuring influencers, DIY tutorials, and storytelling posts usually do quite well. For more visibility, make sure to use relevant hashtags with a solid performance.
Q2. How to hide hashtags on Instagram?
There are two ways:
Add hashtags in the first comment to your post.

Write an Instagram caption, put three dots at the end of it, press Enter after each dot, and add your hashtags.
Q3. What is the best way to get more likes on Instagram?
Make sure you are producing high-quality content for Instagram - it's really the main prerequisite for more likes, reposts, and comments. Other methods include tapping into the current Instagram trends and creating posts relevant to your audience.
Q4. How often should you post on social media?
You can post up to twenty times a day. But it's better to determine the frequency of posting based on audience activity and what is generally accepted in your industry.
Q5. How are Instagram Stories different from posts?
Instagram Stories are available only for 24 hours (you can add them to Highlights later), while posts are up on your profile forever (unless you decide to delete them). Stories appear at the top of the Instagram feed and include vertical videos or photos. You can also add stickers and other interactive elements to your Stories.
Q6. What is the best time to post on Instagram?
The best time is 6 a.m. your local time; the days are Saturday and Sunday.