13 Best Social Media Scheduling Tools for 2022 (Free & Paid)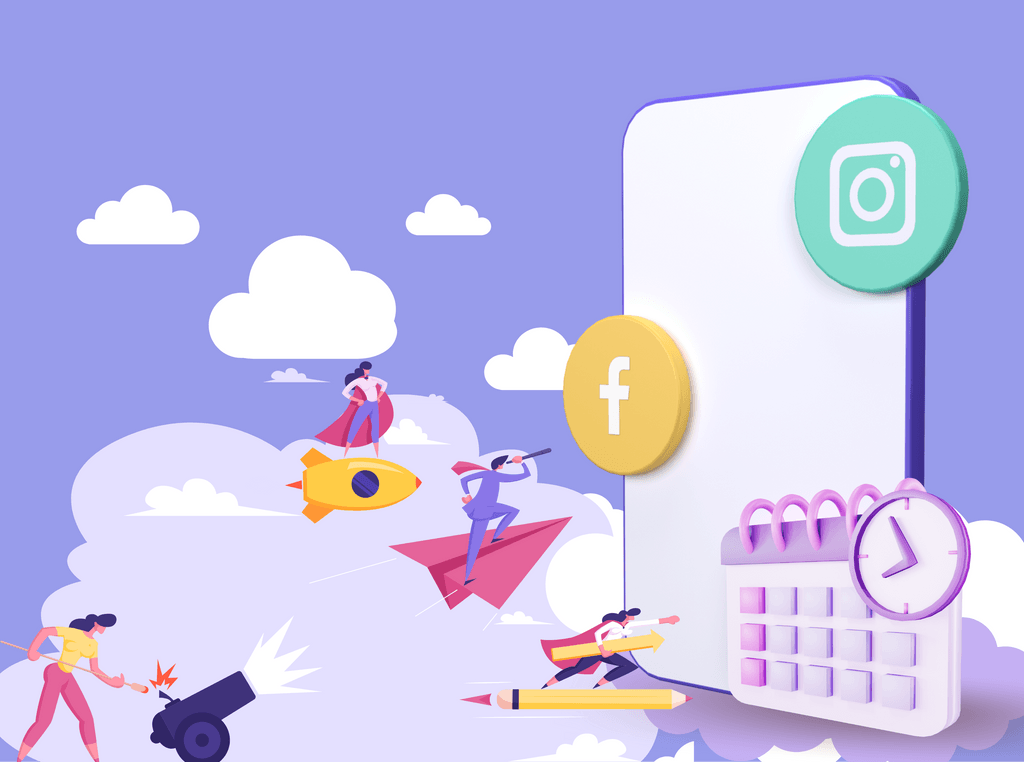 From Facebook, Instagram, to LinkedIn, people use social networks to entertain themselves, stay informed, and connect with others. With millions of personal and professional profiles and pages active every day, marketers know that social news feeds are overflowing with new content.
So what do people do? They scroll past anything that doesn't immediately capture their attention.
That behavior pushes brands to post more frequently to earn a more prominent presence across different networks. The logical conclusion is: the more you post, the better your chances are to get noticed.
The following list includes the tried and tested tools for social media management to help you choose the ones that fit your needs.
Table of contents:
Disclaimer: The information below is accurate as of today *06/01/2022*
With over 50,000 users that trust Postoplan, this AI-driven automation tool enables seamless social media management both for small businesses and large-scale organizations.
Postoplan integrates well with major social platforms such as Facebook, Instagram, and Twitter. It also works with LinkedIn, WordPress, Telegram, Slack, and Google My Business, which means you can keep track of all your posting within one tool.
Postoplan features
The three-tiered management system lets you choose which features your business needs. There's a free option to get you started so that you can have a taste of the solution before you invest in a more comprehensive subscription plan.
Use only the accounts you need without overpaying.

Unlimited posting.

Unlimited projects.

The free trial version of the Start subscription allows access to one user, whereas the Business subscription has no limits.
POSTOPLAN works with Facebook Pages, Groups, Telegram, Instagram Business, LinkedIn, Twitter, GMB, WordPress, and Slack.

Postoplan helps you plan, schedule, and publish all your social media content.

You gain

access to post metrics

to learn about your performance.

The AI editor lets you create and manage visuals for your social networks.

The AI algorithm tells you

the best posting times

for each network.

Manage the messages and comments from all your Facebook and Instagram Business accounts with a common inbox.

It's possible to plan and schedule posts months in advance.
Special bonus: 2 months of free use with any annual subscription purchase.
What specialists have noted in using Postoplan so far is that it comes with a few main benefits:
Increase traffic and followers by 74%.

Boost audience engagement with consistent posting by 30-70%.

15% of existing users grew their client base with Postoplan.

This level of automation helps curb stress and eliminate time-wasting menial work.
Postoplan pricing

The Start subscription is the best option for small businesses. And if your budget allows for it, the additional features of a Business subscription will surely justify your investment.
Start subscription:
$1.90 for 30 days
$19.00 for 365 days
Business subscription:
$6.90 for 30 days
$69.00 for 365 days
Postoplan is offering a special Lifetime Deal. Buy right now and get this unique offer for 88% off.
The Lifetime Deal is just $699 and gives you:
1,000 posts scheduled per month;
No account limits;
No time limits.
What attracts some marketers to this particular tool is that it is still being developed, with new features on the horizon. For example, the team behind Postoplan is currently developing an AI algorithm for automating paid ad configuration.
Aiming to make your life simpler, Postoplan is just one of many available options you should consider for managing your social networks.
This comprehensive tool supports all your social media management efforts in one place. Available integrations include Facebook, Instagram, Twitter, GMB, LinkedIn as classics, but also YouTube, Pinterest, Tumblr, WordPress, and Medium.
With Sendible, you can manage and schedule organic posts as well as ads. Working with your team members, you can customize each post for different social platforms. Sendible also empowers learning, so you can use their resources and templates to improve your social game.
Sendible features
When you need to manage and monitor multiple business social media accounts, you need a reliable tool like Sendible up your sleeve. Detecting mentions, real-time issues, and improving performance across various platforms is much easier with such an all-in-one tool.
Use one dashboard to keep all posts and data visible and your workflow under control.

Schedule posts individually or in bulk.

Draft new content ideas

for weeks or months in advance.

Customize images or use Canva to optimize visuals for each social network before posting.

Use it on your desktop computer, laptop, or even your mobile to stay in the know.

Keep track of brand mentions on all networks.

Collaborate with your team members on content creation, approval, and publishing.
The dashboard might take some time to get used to, so you'll need a bit of patience if you go with Sendible.
Sendible pricing
All plans come with a 14-day free trial period, so you can determine if the tool is the right choice for your business.
Creator - $29 per month, billed monthly / $25 per month, billed annually:
Up to 6 profiles

One user

Posting, engagement, and comment responding included

Quick reports

Access to Android and iOS mobile app
Traction - $89 per month, billed monthly / $76 per month, billed annually
Up to 24 profiles

Four users

You can assign posts for approval
Scale - $199 per month, billed monthly / $170 per month, billed annually
Up to 49 profiles

Seven users

Integrates with your cloud environment

Custom approval workflows included

Automated email reports
Expansion - $399 per month, billed monthly / $340 per month, billed annually
Up to 105 profiles

15 users

Manage group interactions

A broader scope of content publishing and management options
The annually-paid plans come with a 15% discount, and they all include different features, so you'll choose based on the capabilities your company will use the most.
You can see the full range of their features within each plan on the site to help you decide if this is the right tool for you.
Social media managers love Agorapulse for its intuitive design and simplicity. But larger teams also appreciate this CRM tool and all of its built-in social media management solutions primed for growing businesses.
You can select just one of its features to test it out, or you can go for the full-scope tool from day one. Agorapulse also offers a handful of free tools to get a better understanding of your social impact. When combined, all of its features let you not just control your content calendar but the results of your social media campaigns, too.
Agorapulse features
This solution offers a transparent overview of the available features, divided into several key categories to help you choose what you need.
Social Media Inbox

. This is a single inbox that receives messages from all your social media channels. It works with organic messages and ad comments. You can assign conversations to your team members to manage your workflow.
Social Media Publishing.

Use Agorapulse to optimize each post for every social network and get more engagement. You'll receive access to a real-time collaborative schedule for you and your team and a visually striking content calendar to keep things organized.
Social Media Monitoring.

Social listening is simple with Agorapulse. You can track your brand mentions, but also what people are saying about your competitors. You get notified of urgent mentions to respond and protect your brand reputation. This feature helps you repost what people are saying about your business to gain more traction by encouraging organic social proof.
Social Media Reporting

. Agorapulse reporting spots your best-performing content on social media. But you also learn how you can improve your content marketing through actionable reports.
Pro tip: if you go for this CRM tool, don't miss out on their Facebook group for exchanging the most up-to-date best practices to help you improve your strategy.
Agorapulse pricing
In addition to the 30-day trial, you can choose from four main subscription options to manage all your social profiles with a single social media planner.
Free

- Suitable for a solopreneur or influencer at the beginning of their journey, limited to three social profiles for a single user. You can use it for scheduling up to 40 posts per month.
Pro

- $99 per month, billed monthly / $79 per month, billed annually - supports up to 10 profiles for no more than two users.
Premium

- $199 per month, billed monthly / $159 per month, billed annually - great for up to 20 social profiles and up to four users.
Enterprise

- a customizable price covering 40+ profiles and 8+ users, ideal for larger organizations.
All tiers cover Facebook, Twitter, Instagram, LinkedIn, and YouTube. Although it does have limited integrations, this CRM software is a viable social toolbox for businesses of various sizes.
One look at Edgar, and you know that he knows how you feel: like an octopus stretched thin, struggling to juggle all your social media scheduling needs at the same time. This is where MeetEdgar steps in with its straightforward user interface for your Facebook, Instagram, Twitter, Pinterest, and Linkedin profiles and pages.
Although it cannot be considered a full-fledged scheduler, as it doesn't include all social platforms, MeetEdgar is great for the listed five essential social networks. Solopreneurs, influencers, and entrepreneurs will cherish it.
MeetEdgar features
Designed primarily to support evergreen content publishing, MeetEdgar keeps your content calendar full and allows you to recycle your most successful posts. Edgar is practically your social media posting assistant, relying on automation and meant to save hours of your time.
Evergreen posting.

Edgar recognizes your best-performing content and recycles it when you don't have the time to schedule new posts every day.
Library building

. You can grow your content library, not just your calendar. This makes it easier for Edgar to dig out relevant pieces and carve a social media posting schedule that saves you time and mental energy.
Category-based scheduling.

Each post comes with a dedicated tag so that even when automated, your posts are diverse and suitable for the occasion.
Content inspiration.

Even the finest writers sometimes face writer's block. Edgar lets you add a link to your desired post, and it generates a worthwhile snippet of text that goes well with the link.
History and performance data

. From A/B testing to engagement monitoring, Edgar gives you real-time insights into your social content performance.
Customer support

- Free of chatbots, Edgar's team of customer support provides you with strategic help Monday through Friday.
Edgar is helping more than 10,000 entrepreneurs with unlimited scheduling and content management. This makes it suitable for smaller marketing teams and solo business owners, but it's not a great match for growing enterprises.
MeetEdgar pricing
Although Edgar doesn't come free of charge, you can sign up for a 30-day trial period with a money-back guarantee. The two available plans are as straightforward as they come, so the choice is simple.
Edgar Lite

- $19/month, with up to 3 social accounts, no limits on scheduled posts, 10 automations per week, and 4 available categories for your content.

Edgar

- $49/month for up to 25 social accounts, unlimited social posts, 1,000 weekly automations, and no limits on content categories.
This social media scheduling platform is simple and intuitive, albeit limited in the number of features.
Synonymous with social success, Buffer is a top social media management toolbox loved by small business teams. With over 160,000 organizations using Buffer, it's no wonder that this scheduler is often considered the industry standard for workflow optimization and social media marketing.
The beauty of Buffer is that it's an all-encompassing solution that takes care of each step in your social campaign. From planning and publishing to engaging and analyzing, Buffer helps marketers make the most of every social network available through its integrations.
Buffer features
Highly intuitive and user-friendly, Buffer is packed with useful components that streamline your social strategy. While it focuses on automation, this social media post scheduler also works to build your brand presence on social platforms.
It accomplishes that through growing your follower base, boosting engagement, and collecting relevant data to transform your content output. Its core features are divided into three categories, Publishing, Analytics, and Engagement, and they include the following.
Plan and publish across social media channels.

The Buffer dashboard provides a unified place for managing all your Facebook, Instagram, Twitter, Pinterest, and LinkedIn schedules.
Content collaboration.

You can manage account access permits and give approvals before your posts go live.
Ongoing analytics.

Keep an eye on all your important metrics and get reports with actionable insights. The reports give you the means to grow sales, followers, and engagement.
Engagement tracking.

Buffer lets you monitor all your comments. You can track your responses and stay engaged to build loyalty.
Added perk: Buffer uses machine learning to spot negative feedback. It simplifies reputation management and lets you spot important conversations that should be your priority.
Buffer pricing
You can try Buffer thanks to their 14-day free trial. You can stay on the free plan or switch to its paid solution with more features.
Free

- manage no more than three social channels and 10 social posts per channel. However, the free plan is limited in features, so it's best for you to check out the individual features on the site directly. For example, the free plan offers free Twitter

hashtag suggestions

to go with your posts, but it doesn't let you schedule stories on Instagram.
Essentials

- $6 per month, billed monthly, or $5 per month, billed annually. It includes all three feature categories, although some capabilities within those features are unlocked with the Team Pack add-on.
Team Pack add-on

- includes extra collaboration features to help larger teams work seamlessly with Buffer. The add-on provides unlimited team members that can use the tool, workflow management additions, and exportable reports.
This CRM helps speed things up when it comes to your social marketing strategy. It also focuses on engagement prioritization to make sure you're in the right place at the right time. Let's see how the rest of the social media planning tools on our list match up.
Hootsuite offers an all-inclusive set of social media management tools for larger organizations. While it does simplify all your social strategies, this social media post scheduler is more complex than many others. It comes with a bigger learning curve and more features to boot.
The numbers speak for themselves. Hootsuite is used by 18 million (and still counting) marketers, and it connects with over 20 social channels and integrations. It means you can easily work with Hootsuite in conjunction with your project management tools, Google My Business page, and the like.
Hootsuite features
As a comprehensive tool, Hootsuite takes care of every stage of your social strategy. Built to support team collaboration and ensure organizational transparency, this scheduler boasts some impressive capabilities.
Publish.

You can create and curate content across all social networks in one tool. Planning is easy with Hootsuite, as you can see the entire content calendar, but also manage each individual post.
Engage.

Timely message responses let you stay on top of all your social interactions. This tool helps you personalize and speed up your responses on social media.
Monitor.

Stay informed on the latest trends, industry topics, competitor mentions, and more. Hootsuite gives you the knowledge you need to stay a leader in your niche and always curate content topics your audience enjoys.
Advertise.

Paid campaigns and sponsored posts

work better when you keep track of them on one dashboard. You can tell which campaigns work in your favor and which ones are a drain on your budget. Hootsuite helps you make financially sound decisions that get you the right exposure.
Analyze.

Hootsuite is all about results. You can generate reports relevant to your team members or the entire organization. The tool shows your social ROI and KPI summaries so that you can improve your campaigns.
Hootsuite is unique in that it offers additional features that complement the listed ones. For example, its "Amplify" feature makes employee advocacy and content sharing much simpler.
In its turn, the "Impact" feature goes beyond social and helps you understand how your social media strategy works alongside other marketing tactics and if it contributes to your overarching business goals.
Hootsuite pricing
Fortunately for all Hootsuite fans, the tool comes with a limited Free plan that offers 2 social media accounts and 5 scheduled messages for one user. For more, you'll need one of the following tiers:
Professional

- $19 per month. It includes one user, 10 social accounts, scheduling posts, a single inbox for all messages. You can also schedule multiple posts at once.
Team

- $99 per month. Allows three users, 20 social accounts, unlimited scheduling, managing permissions, and assigning comments and posts to team members.
Business

- $599 per month. You can connect up to five users, 35 social accounts, other features shared by the previous tiers, and 24/7 support.
Enterprise

- has custom pricing. You get unlimited users, 50 social accounts, automatic post/comment assignment, quarterly business reviews, unlimited post promotion, team performance reports, and other custom solutions.
The extent of Hootsuite's functionalities makes the pricing reasonable, and the additional custom options help enterprise-level businesses make the most of their investment.
A famous, all-encompassing social tool, Sprout Social is another leader in the field of all things digital. Brilliant for publishing visual content as well as promoting your blogging efforts on social media, Sprout works in line with all your marketing plans.
Even though this social media management platform includes the same fundamental features, each functionality is categorized based on different filters. So, you can choose a solution based on your industry, business size, or the tool's purpose.
Sprout Social features
To keep things simple, let's divide the tool's features according to purpose. They will align differently with your business depending on which industry you're in and the extent to which you plan to use it. For instance, if you're in retail, make sure to check out how their tool helps your industry specifically and how you can expect to benefit.
Engagement.

Thanks to its all-in-one inbox, you can manage all social interactions and respond to your customers without delays. It can be used in elevating customer support and personalizing customer experience on social media.
Publishing and Scheduling.

Sprout is an automation tool that simplifies scheduling and publishing with the help of a visual calendar. It also serves as a library of multimedia content to help you find what you need, when you need it most, and publish with ease.
Analytics.

The data you compile might be intricate, but the tool helps streamline the information into easy-to-understand reports. This helps you turn your metrics into learning materials to fuel future social campaigns and improve your results with each post.
Listening.

Especially for businesses trying to appeal to a global audience, Sprout is helpful for monitoring hot topics, competitor mentions, and your brand's image online.
Keep in mind that this rough overview doesn't do Sprout Social justice. This feature-rich platform is packed with additional functionalities that your business can use to grow beyond social media.
Sprout Social pricing
With over 25,000 happy customers, it's no wonder Sprout is gaining more traction every day. Its diverse subscription plans can give you a different scope of features, but you can cancel or upgrade anytime.
Standard

- $99 for monthly billing or $89 per month for annual billing. This plan comes with five social profiles, one inbox for all messages, access to a social media calendar. You also get to manage reviews and monitor keywords to enhance your SEO strategy.
Professional

- $169 for monthly billing or $149 per month for annual billing. As the most popular plan, it comes with 10 profiles, all the Standard features, and a number of added functionalities. For example, you can optimize posting and messaging times and get various CRM integrations.
Advanced

- $279 for monthly billing or $249 per month for annual billing. It comes with a digital content library on top of everything from the Professional plan. You also get suggested replies for customers, automated link tracking, and message alerts for increased message activity.
As one of the most robust social media posting tools on the market, Sprout Social warrants every enterprise-level company's interest.
If brands like Henkel and BMW trust Loomly, who are we to doubt them, right? With an impressive portfolio of businesses powered by Loomly, this marketing platform supports your scheduling, measuring, and publishing goals.
Whether you want to refine your Instagram account and its reach, or you manage multiple Facebook pages, Loomly has you covered.
Loomly features
Businesses and individuals use Loomly for a variety of reasons, but the platform is developed for more than pure scheduling automation. It's intended for managing your entire brand.
Impressive integrations.

Yes, Loomly works with all the standard social media platforms. But it also adds more to the list: YouTube, Snapchat, TikTok, Slack, Microsoft Teams, Unsplash, Giphy, and Zapier. This helps larger teams work seamlessly across all these platforms via one tool.
One dashboard.

A future without spreadsheets, anyone? Loomly makes it happen. A single social media calendar overview where you can get notifications whenever you please.
Ideas.

Loomly brainstorms with you by giving you post ideas, RSS feeds, trends, and seasonal content topics.
One library.

Like many other advanced social media marketing tools, such as Eclincher or Sprout Social, Loomly lets you organize your library of visual assets to use on your social feeds.
Organic and paid.

You can take care of your organic and sponsored posts under one digital roof. Social media marketers love using the tool's suggested hashtags to add relevance to each post.
Easy collaboration.

As you can see from the list of integrations, Loomly helps your entire team stay on track.
Community management.

Not only can you manage scheduling and posting, but you can also handle community interactions in the comments.
Comprehensive social media analytics

- The tool helps you make smarter social campaigns in the future by collecting data related to your content strategy.
Thanks to its versatility, Loomly can be useful for agencies, influencers, but also freelancers, and small, local businesses.
Loomly pricing
The annual plan saves you 25%, and you can try all the plans with a 15-day trial period.
Base

- $25 per month for annual billing / $34 per month otherwise. This plan is intended for up to two users, 10 social accounts, and it handles up to $500 worth of ads. Although limited in features, you can use hashtag suggestions, unlimited content planning, and the like.
Standard

- $57 per month for annual billing / $76 per month. It allows up to six users, 20 accounts, $1000 in ads. As the most popular plan, it also offers advanced analytics and content exporting for offline collaboration.
Advanced

- $119 per month for annual billing / $159 per month. This plan supports 16 users and 35 social accounts, with up to $2000 in ads. It integrates with other management tools like Microsoft Teams or Slack and lets you customize permissions and automate your workflow.
Premium

- $249 per month for annual billing / $332 per month otherwise. Allows 26 users, 50 accounts and lets you manage up to $5000 in ads. The main perk of this tier is the custom branding option.
Enterprise

- You need to ask for a quote on this plan. It gives you 27+ users, 51+ social profiles, and $10,000 in ads to manage. Of course, it also offers a much wider list of features that go with it.
It's also possible to use the on-site Wizard to determine which plan suits you best if you decide to go with Loomly.
If you're managing Twitter accounts only, you might wonder why you'd go beyond the app itself. However, TweetDeck is a niched solution that helps you organize and manage your tweets in real-time. At the same time, it helps you understand the Twitter universe through important hashtags and reporting.
Most social media managers dedicated to this platform appreciate that it's free of charge but still packed with features.
TweetDeck features
Albeit limited to this one network, TweetDeck can help you skyrocket your presence on Twitter with more effective tweets, smarter schedules, and so much more.
Follow hashtags.

Keeping track of important Twitter conversations is much easier when you can follow specific hashtags.
Keep an eye on trends

- Delivering impactful content is only possible if you know what's going on. TweetDeck lets you learn about the trends reshaping the social media world.
Post scheduling.

The main reason most professionals use this tool is its ability to schedule and manage posts.
News gathering.

Twitter is all about staying in the know. You can use the tool to empower your business to do just that and thus refine your content output based on your industry and customer preferences.
TweetDeck pricing
Here's the kicker - TweetDeck is absolutely free of charge, and it can be used by individuals, small businesses, and large-level enterprises.
While some companies do like to throw a wider net and use a social media tool for a wider range of platforms, this product is exclusive to Twitter.
Every social media marketer wants one thing: to save time. Efficient automation and simplified posting calendars with CoSchedule facilitate business growth across the board. You can schedule your social media posts, optimize them, and focus on real-time engagement.
The CoSchedule tool also helps you manage your blogging process by working in conjunction with WordPress or Hubspot. That way, you can manage your entire content strategy from a single tool.
CoSchedule features
Handling large marketing projects can be intimidating. With CoSchedule, you get to see the big picture but divide the workload into manageable chunks so that you can focus on what matters most. You can use only the CoSchedule Marketing Calendar or the full scope of features with the CoSchedule Marketing Suite.
Organize your calendar.

From a detailed editorial plan all the way to the nitty-gritty details of your daily posting efforts, it's all much easier with CoSchedule. Marketers also appreciate being able to keep their higher-ups apprised of their progress through the tool.
Manage your content.

CoSchedule is meant to help you increase not just the frequency of your posts, but their quality, too.
Team collaboration.

There's not much you can do with great content if your team is in a mess. CoSchedule helps you plan your projects and reach milestones by minimizing management and maximizing productivity.
Manage your assets.

Intuitive labels make it easy for each team member to find what they need among all your digital files. This unified library also helps your teams with cross-collaboration and sharing creative ideas.
The tool also comes with several specialized additions. You can try their Headline Studio that comes up with titles your readers will actually stop to check out instead of scrolling by. The platform also has an educational module to give marketers the latest news in the industry to improve their processes from within.
CoSchedule pricing
Try the tool for two weeks without paying to see how it pans out for your business. The pricing of the two main subscription plans goes as follows:
Marketing Calendar

- $29 per month when billed annually / $39 per month otherwise. It supports no more than 10 users and 10 social profiles. You can manage tasks and discussions, organize your calendar, and use templates to set up assignments.
Marketing Suite

- Contact their sales department for a quote. This plan includes all that Marketing Calendar offers, plus workflow automation, tracking team progress, and letting your team sort the calendar.
All in all, CoSchedule is a great marketing tool to help your social media output along with your complimentary marketing efforts.
User-friendly and easy to master, SocialPilot helps experienced and novice social media managers skyrocket their strategy. As you can see from their homepage, the tool is also very cost-effective for aspiring entrepreneurs, making it a great choice for anyone on a budget.
Don't let the comparatively low price fool you, though. SocialPilot comes with an extensive list of features that make it a favorite scheduler for small business enterprises, as well as individuals and larger companies.
SocialPilot features
The more you let SocialPilot do for you, the less you end up with in your own task list. It can serve you as a Chrome or Mozilla extension and can connect with over 50 tools marketers use today.
Analyze, track and report.

You can get to know your social footprint much better with SocialPilot at your disposal. It helps you improve engagement over time, but you can also print the reports for your team.
One social inbox

. Managing interactions on several Facebook pages can take up your entire day. To navigate those conversations better, use the built-in SocialPilot inbox that brings all those communications together.
Delegate to your team.

When you're swamped, your team can take over. Then, you can review and approve the posts before they go live.
Content customization.

Recognize evergreen content and get your blogs more exposure through the SocialPilot RSS feeds.
Organize your social calendar.

With a simple drag-and-drop feature, the calendar can be modified to your liking. That way, you can secure simpler rescheduling and push the right content at the right time. You can also use the bulk scheduling feature for added convenience.
Facebook boosting.

Although SocialPilot is the king of organic, you can also manage your boosting efforts directly on your dashboard.
SocialPilot pricing
After you test the tool during the two-week free trial, this is what you can expect with different available plans.
Professional

- $25.5 per month with the annual discount / $30 per month. You get 10 social accounts for one user. This plan lets you use 5 RSS feeds, web-based analytics (without PDF exporting), social scheduling (in bulk, too), managing ads, and curating content.
Small Team

- $42.5 per month for annual / $50 per month. It is meant for 25 social accounts and up to 3 users. You can use 10 RSS feeds and PDF report exporting. Your unified social inbox is also available.
Studio

- $85 per month for annual / $100 per month. Includes 50 social accounts for up to 5 users, and you can access 15 RSS feeds.
Agency

- $127.5 per month for annual plans / $150 per month. You can use 75 social accounts for up to 10 users and 15 RSS feeds. There are additional available features with the final two plans for the most dedicated social players out there.
SocialPilot leaves no guesswork to the marketer using it, which makes it an excellent choice for businesses of all shapes and sizes. The knowledge you can collect and analyze is also invaluable for business growth.
Zoho Social is merely a portion of what the full Zoho platform has to offer, but still enough for an avid social media manager. A true time-saver with simple-to-use features, Zoho Social helps you build visually stunning calendars, manage your posts, and protect your social reputation.
The metrics you collect through Zoho are more than just numbers. You get actionable ideas from every report, driving your company growth through relevant data. You can use it to take care of your Facebook, Instagram, LinkedIn, Twitter, and Google My Business pages. For those on the go, there's a mobile version available, too.
Zoho Social features
Versatility is Zoho's strongest quality. You can adapt the tool to meet your brand's specific requirements and use it in different ways to simplify your social output. These are Zoho's key features.
Schedule.

Another drag-and-drop calendar that makes it easy for you to change your posting plans at a moment's notice. Build content queues with Zoho's SmartQ to reach your audience when they're most active. Curate content with RSS feeds and the zShare extension for an even more automated process.
Monitor.

Reviews and mentions are the reflection of your brand's digital standing. The monitoring capability also helps you track industry trends to amplify your content's relevance. Set up a live stream of your social feeds to track what's happening in real-time.
Collaborate.

You can choose from audio, video calls, or live chat to discuss projects and posts. Zoho empowers creative exchanges in any way you see fit, so you can set up a workflow that makes sense for your team.
Analyze.

Learning about your brand and followers is much easier with a tool like Zoho. Determine and track your key performance metrics, tailor your own reports, and customize the frequency of those reports for regular updates.
Simple, straightforward, and thorough, Zoho has the capabilities to take your social strategy to the next level, no matter your business size.
Zoho Social pricing
The tool is free for 15 days, and then it's time to pay up. Check out the overview of the payment plans to choose the ideal tier for your business.
Standard

- €10 per month with the annual discount / €15 per month.
Professional

- €30 per month annually / €40 per month.
Premium

- €40 per month annually / €65 per month.
For agencies, the plan is divided as follows:
Agency

- €230 per month billed annually / €320 per month
Agency Plus

- €330 per month billed annually / €460 per month
Considering Zoho's vast number of features, it's best to check out their plan comparison in detail to see which capabilities come with each package. The essentials such as the home dashboard, multi-channel publishing and scheduling, activity log, summary reports, and user tagging are available starting with the Standard.
Freelancers, solopreneurs, and agencies all trust SocialBee to take care of managing their social presence. SocialBee supports six of the leading social platforms, Facebook, Instagram, Twitter, Pinterest, LinkedIn, and GMB.
No matter how big your beehive might be, this tool is designed to help your business generate leads and nurture strong customer relationships. You can also expect your internal collaboration to improve.
SocialBee features
This software recognizes the dynamic nature of social media. As such, it lets you tweak your approach along the way. With the help of highly customizable features, SocialBee will look and feel unique to your brand.
Flexible categorization and customization.

Every brand has different ways of dividing content. SocialBee lets you set up categories to collect and schedule content in a way that works for you.
One-stop-shop scheduling.

Take care of all your posting schedules in one place. You can use the tool to change the expiration date on your uploaded posts, collect hashtags, or review posts before they go live.
Import and edit your content.

You can add your own content into the library or import one of the articles you've added to your Pocket. Interactive and easy to use, this tool makes it effortless for you to share content across different platforms.
Improve your link performance.

Shorten your URLs with the built-in tools and make them more shareable for your audience.
Workspace management.

Managing several brands, customers, or social pages can be a hassle, but not with this tool. The layout and the automation alone help you tackle your social targets.
Intelligence reports.

Your social strategy needs direction and purpose, which is possible with the analytics available through SocialBee.
Superior support.

In addition to email and chat, you can get a one-on-one consultation if you need help with your tool.
Each of the features comes with a subset of functionalities you can use to enhance your social presence.
SocialBee pricing
Depending on the size of your business and the number of accounts and pages you use, SocialBee can meet every need. Try it for free for 14 days, and then pick the package that suits you.
Bootstrap

- $19 per month. With one workspace for one user, you can manage 5 social profiles, 10 content categories, and 10 RSS feeds.
Accelerate

- $39 per month. This allows one workspace for a single user, but with 10 profiles, 50 categories, and 50 RSS feeds.
Pro

- $79 per month. You can get five workspaces for three users and 25 social profiles, with no limits to your RSS feeds or categories.
Agency-level plans come with a varying number of workspaces, as well as available users and social profiles:
They also offer concierge services to take some content creation off your hands and free up even more of your time.
What Is the Best Social Media Scheduling Tool?
There is no single answer! Depending on your business size, social media needs, as well as your budget limits, you can choose the tool that delivers the right results.
Analyze your social goals for the upcoming period, as well as your growth potential. Discuss your financial constrictions (if any) and how the given tool would fit into your overall marketing strategy.
Finally, make sure to keep up with the trends in your market and consider investing in the tools that will reduce your financial waste while elevating your output and performance.
Now Over to You
Managing all your social networks takes time and effort, both of which you could redirect to other mission-critical processes with a good scheduling tool. You could also capitalize on delayed posting and get 70% more reach in the process if you use it right.
After reading this article, you will realize that all of the above social media marketing tools have their benefits and drawbacks but that each of them can help you simplify your social processes and save plenty of time every day.
Let us know if you've tried any of these tools or if you would recommend a favorite that has helped you take your social output to the next level!