24 Best Social Media Analytics Tools for 2021 [Free & Paid]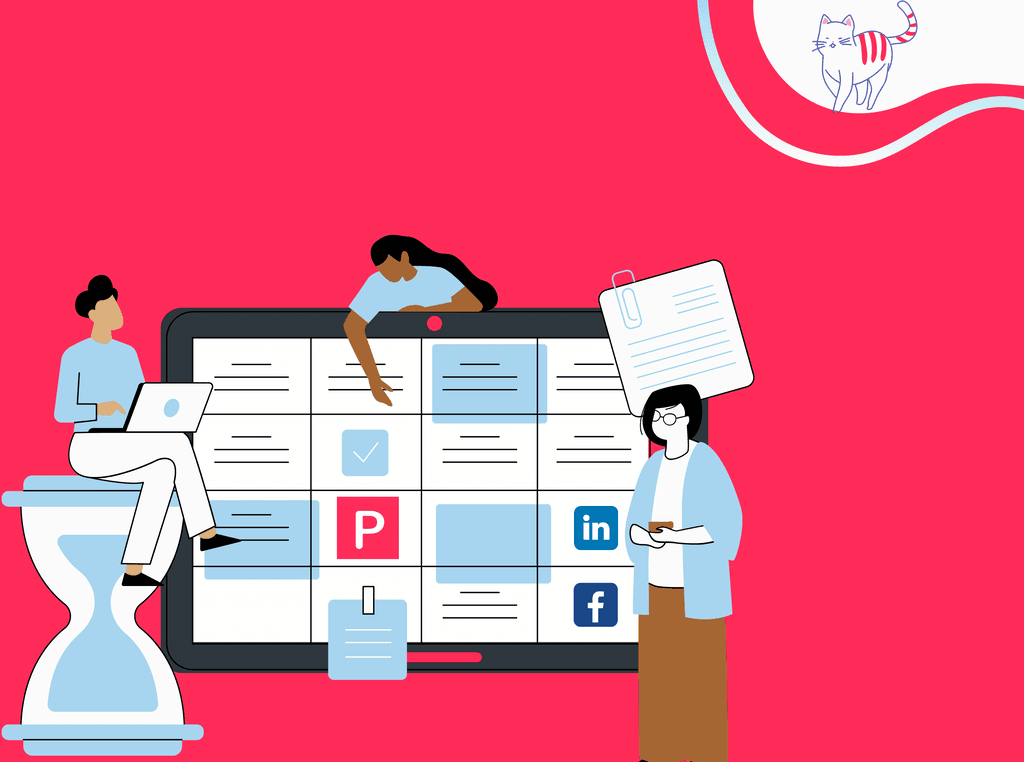 What does it take to run a successful social media strategy?
Obviously, the answer is creative content in combination with your ability to detect your audience's interests and needs. And, you should also add your brand's unique features into the mix.
Sounds easy?
Not really. Unless you adopt a data-based approach to your strategy, it will take you ages to achieve positive results.
That's why it is a must to have a social media analytics solution in your toolkit that will regularly supply you with up-to-date data on your performance.
To save your time, we've hand-picked 24 free and paid tools that will help you get on close terms with social media data.
Disclaimer: The information below is accurate as of today August 30, 2021
Table of contents:
Running a social media strategy without a proper content schedule is a waste of time. A schedule allows you to post consistently, keep track of your content, and reach your audience at the right time.
That being said, it can be rather challenging to create a comprehensive content plan, but if you choose to schedule your posts with Postoplan, you won't have to break a sweat.
Postoplan is an AI-powered social media marketing automation tool. Its goal is to help you grow your social media presence with minimal effort.
Postoplan features
Postoplan positions itself primarily as a content planning and scheduling tool for the following social media networks and messengers:
Facebook

Instagram

Twitter

WhatsApp

LinkedIn

WordPress

Telegram

Slack

Google My Business
Apart from content planning, you also get to enjoy the following perks:
A photo library with two million images

Post editing and preview

Direct communication with subscribers

Bulk content scheduling
Once you sign up, you get access to the content calendar, which comes with pre-set post ideas for inspiration:

With Postoplan, you'll really have it easy - just set the time when you want your post to be published, craft your content, and the tool will upload it automatically. It will also track the performance of your content.
Postoplan pricing
Postoplan has free, and two paid versions. A free version allows you to connect:
An unlimited number of accounts, posts, and projects

One user per account

Unlimited access to social inbox for seven days

Schedule posts ahead for seven days
A free account also has a limited number of social networks to connect to (Facebook, Twitter, Telegram, Google My Business, WordPress, and Slack). If you want to add your Instagram or LinkedIn account, you'll need a Pro or Team version, which are paid:
Credit: Postoplan
But if you're not ready to invest yet, Postoplan's free version is enough to check out the tool and its most outstanding features.
Influencer marketing is on the rise. According to Statista, the total influencer market size worldwide has exceeded 13 billion, which is almost 4 billion more than in 2020.
The problem with influencer marketing is finding the right person for a collaboration. Among the myriad of influencers, you need to find the one that's relevant in your industry and has the same audience as you.
On top of that, you'll also have to analyze the influencer's profile to see if they have already partnered with the brands similar to yours and which content their collaboration involved.
Sounds like too much work?
Indeed, it is. But Phlanx can do it for you in no time. It's an influencer marketing platform that can help PR professionals partner with influencers to improve engagement and brand recognition.
Phlanx features
Phanx is a all-in-one influencer marketing tool, meaning that it already has everything you need to manage a campaign:
An influencer directory

- helps you find an influencer from your niche.

Influencer collaborations

- provides a selection of partnerships with other brands where you can promote each other.

Brand mentions

- tracks mentions for your brand and your rivals.

Social media auditors

- allows influencer audit across Instagram, YouTube, and TikTok.

Management tools

- include campaign and contract management solutions.

Competitor tracker

- includes competitor analysis on Instagram, YouTube, TikTok, and Twitch.
You can also use one of Phlanx's engagement calculators. For instance, the one below calculates an influencer's engagement rate on Instagram:


You can do the same for YouTube, Facebook, Twitch, Twitter, and TikTok.
Phlanx pricing
You can sign up to Phlanx for free for an entire month, no strings attached but with limited features. If you want to access more perks, you'll need to subscribe to one of these plans:

Credit: Phlanx
If your plan is to give influencer marketing a trial run, the basic plan has enough features for you to run a smooth first campaign.
Mining social media data is not an easy task. We're talking about big data that changes several times a day and is very hard to track and make sense of.
What about built-in analytics tools you can find on every social media platform? They do well in terms of tracking audience demographics, but they don't show comprehensive data on audience engagement. Fortunately, you can use Social Blade for this task.
Social Blade is a social media analytics platform that helps analyze follower engagement, rank video content, and estimate post earnings. You can also use this tool to research influencers.
Social Blade features
Social Blade's main task is to track user analytics on the following platforms:
YouTube

Twitch

Twitter

Instagram

Facebook

TikTok

Trovo

StoryFire

Mixer

DLive

Dailymotion
All users can get free access to Social Blade EDU, where they can learn how to create a successful YouTube channel and improve video rankings.
When it comes to influencer marketing, Social Blade offers the lists of top channels on different social media platforms and, apart from analytics, can show the live subscriber count for an influencer of your choice:
Credit: Social Blade
You can also get a paid consultation from Social Blade's experts on how to jump-start your YouTube career and create top-performing content.
Social Blade prices
Social Blade has a 30-day free trial, and some features (such as live subscriber count) are available for free. However, if you're planning to use this tool on a regular basis, it's better to subscribe to one of these plans:

Credit: Social Blade
With these plans, you get full analytics reports and access to premium charts that contain additional data unavailable to other users.
Social media management consists of a myriad of tasks: engagement data analysis, content ideation and production, the analysis of customer interactions, identifying consumer trends, planning marketing campaigns, etc. It's not a task for one person.
But what if you don't have the means to hire an entire marketing team to manage social media?
If your business has a very limited marketing budget, why not invest in a comprehensive tool, such as Sprout Social?
Sprout Social is an all-in-one suite that enables social media marketing, management, analytics, data intelligence, and customer care solutions. With this tool, you get useful insights on how to improve your social media presence.
Sprout Social Features
All the features are divided into four groups:
Engagement

: brand monitoring, smart inbox, chatbot builder, social CRM, etc.

Publishing and scheduling:

optimal content upload times, asset library, content suggestions, shared content calendar, URL tracking, etc.

Analytics:

profile performance reports, post performance reports, competitor analysis, paid performance reports, etc.

Listening:

audience analysis, customer feedback, consumer research, sentiment research, campaign analysis, influencer recognition, competitor comparison, and trend identification.
As you can see, Sprout Social encompasses all the tools necessary for social media management. It also allows a bunch of integrations, such as Help Desk.
Here's how the Sprout Social's dashboard looks like:

Credit: Sprout Social
You can monitor performance overviews and get a fresh engagement report every day. There's also an option to create a daily to-do list for you and your team.
Sprout Social pricing
There's a 30-day free trial available to anyone who wants to give Sprout Social a try without having to enter credit card details. The free trial has enough features to understand how the tool works, and, if you like it, you can choose one of these subscription options:

If you want a quick tour of Sprout Social's solution, you can request a demo and have an expert explain how this tool can help your social media marketing needs.
Hootsuite is an alternative to Sprout Social. It is also a social media management platform that allows you to run campaigns across multiple social media accounts, including Twitter, Facebook, LinkedIn, Pinterest, and YouTube.
Unlike Sprout Social, Hootsuite only has a desktop version, but its dashboard is very intuitive and allows you to track your social media performance in real time.
Hootsuite features
Hootsuite allows you to:
Create and schedule posts

Track all social media accounts at once

Map out upcoming campaigns

Manage incoming messages from followers

Analyze insights from social media data
One of the most outstanding Hootsuite's features is social listening. You get to collect and track feedback from your followers and find out about the current trends:
Credit: Hootsuite
Hootsuite's social listening tool also allows you to respond to all your followers and review their messages in a single thread.
Hootsuite pricing
Hootsuite has a 30-day free trial, although you are required to add your credit card information right away. Once the trial expires, you can choose from the following subscription plans:
A free trial allows adding up to ten social media channels, doing real-time analytics, auto-scheduling, and unlimited RSS integrations. Features like social listening are only available to premium subscribers.
6. Facebook Page Insights
Every social media website has a built-in analytics tool. On Facebook, it's called Page Insights, and it collects data on your social media content and followers in real time.
To get access to Page Insights, you need to have a business account. With it, you can access analytics either directly through your page and get more specific data like in the screenshot above, or review general insights in the Facebook Business Suite addon:
Facebook Business Suite also shows you your potential audience - how many people you can reach if you run Facebook ads.
Facebook Page Insights features
Via Facebook Page Insights, you get to measure:
Followers

Likes

Reach

Page views

Actions on page

Detailed metrics about your posts

Videos

Stories

Audience
For instance, in Posts insights, you can check the reach and engagement for each of your content pieces and find out when your audience is the most active:
You can also boost any post that has good performance. In this case, you will be redirected to the Ad Manager.
Facebook Page Insights pricing
Since it's a default tool, Facebook Page Insights is a free social analytics platform.
7. Twitter Analytics
Twitter also has an integrated analytics tool. You can use it to track your account's overall performance as well as tweet-by-tweet engagement rate.
Via Twitter Analytics, you can also connect to Twitter Ads and start advertising on this social media platform. In this case, your dashboard will include ad performance insights.
Twitter Analytics features
Here's what you can do with the analytics tool on Twitter:
Check how people engage with your tweets in real time

Spot trends over a specific period of time

Analyze impressions and retweets

Learn about audience insights

Export your Twitter metrics
Here's what a tweet activity looks like:
You can review impressions, engagements, and engagement rate for every tweet and check how many impressions, in general, your tweets have earned in a specific timeframe.
Twitter Analytics pricing
This is also a completely free social media analytics tool.
What does it take to improve visibility on social media?
Many factors contribute to your brand's exposure, and hashtags are among them. Hashtags help your content reach more people and establish authority in your industry.
However, it can be a real challenge to find hashtags that remain popular over time. For instance, the list of popular hashtags on LinkedIn gets updated frequently, and what's in-demand today may not be trending tomorrow.
If you want to level up your hashtag game, Keyhole should be in your toolkit. It helps marketers find and analyze relevant hashtags and track current social media trends.
Keyhole features
Hashtag analytics is not Keyhole's only strong suit. It also offers various other tools that can power a successful social media marketing campaign:
Influencer tracking and analytics

. This tool generates reports and provides data on your latest influencer partnerships.
Profile and competitor analysis.

This feature crawls your profiles and your competitors' social media accounts to generate insightful data.
Social publishing and scheduling

. Keyhole has a content calendar and editor to help you craft your content seamlessly.
You can also tune the brand mentions tracker via Keyhole's dashboard. Simply insert the name of your brand or product, and the tool will create a report with all the latest brand mentions:
Credit: Keyhole
You can also use Keyhole's keyword tracker tool to optimize your content on the go.
Keyhole pricing
Keyhole has a 7-day free trial with no credit card required. When it comes to paid subscriptions, the service offers every potential customer to contact Keyhole and negotiate the price based on their needs.
According to G2, Keyhole has the following plans:
Credit: G2
The final cost for each subscription plan should be negotiated with a company representative.
Tracking social media metrics is necessary to evaluate the performance of your campaigns and pin down the issues that need fixing. Data received from metrics also shows the areas of improvement.
That being said, it's very hard to read social media metrics unless you have years of experience. So, if you're a sole entrepreneur without any marketing skills, it can be quite hard for you to pinpoint the insights that metrics show you.
Cyfe is an excellent tool that deciphers and visualizes all social media metrics. It's an all-in-one dashboard app that keeps all your business data in one place.
Cyfe features
Cyfe offers every user the following features:
Custom data widgets to import data from anywhere and turn it into visualizations.

Multiple chart types: multichart, cohort, funnel, gantt, table, list, donut, etc.

Embedded analytics, allowing you to visualize and share data anywhere.
Essentially, Cyfe pulls out data from your social media profiles. It also saves time since you won't have to log in to multiple analytics tools just to collect insights.
Cyfe also integrates with multiple services, such as:
Google Analytics

Google Ads

MailChimp

SalesForce

Moz

Zendesk

HubSpot
With social media, you simply connect your account to Cyfe, and it gets instant access to the analytics. For instance, here's how your dashboard will look like after you connect your Twitter account:
Credit: Cyfe
You can review the performance of your tweets, impressions, audience demographics, mentions, and track current Twitter trends.
Cyfe pricing
Cyfe has a 14-day free trial, but you're required to provide a credit card. A free trial gives you access to the essential features. If you want to crawl more metrics, you can subscribe to one of the following plans:
Credit: Cyfe
Your choice of a subscription will depend on how much data you want to visualize. If you'll be using Cyfe for your business, then a standard plan is enough. For agencies that have several clients, an agency plan is more suitable.
Running a social media campaign can be quite tiring. Usually, the task of a marketer working on such a campaign consists of daily tracking, optimization, and reporting. There is no time to waste.
Unfortunately, not every marketer is smart about how they track the results of the campaigns, jumping from one analytics tool to another. Meanwhile, there are situations where you need to act quickly to get the campaign back on track.
Buffer can make your life easier. It's an all-inclusive monitoring tool that does campaign tracking for you and measures your social media performance. It also works as a collaboration tool.
Buffer features
Buffer divides all its solutions into three categories:
Publishing.

This set of tools include content editing, direct scheduling, and collaboration. You can also publish your content without having to log out.
Engagement.

You can easily do social listening, track brand mentions across multiple social media platforms, and stay in touch with your followers.
Analytics.

Connect your social media profiles to Buffer to visualize all the latest social media data and generate campaign performance reports.
Buffer also integrates with tools, such as Canva, Feedly, CoSchedule, and others to make content ideation and creation easier.
Here's how Buffer's dashboard looks like:
Credit: Buffer
As you can see, you can create a post right in the app, schedule your content, review the analytics, and set tasks for your teammates.
Buffer pricing
You can use Buffer completely for free for unlimited time, but your access to features will be limited to content scheduling and planning. For all other features, you need to purchase a plan:
Credit: Buffer
It costs only $5 a month, but you get full access to Buffer's perks plus a team pack that includes additional collaboration tools.
What does it take to be on the same wave with your target audience?
First and foremost, you should implement a data-based approach to all your marketing channels, including social media. And, you have to keep a sharp lookout for the current trends in your industry and niche.
It's almost impossible to collect consumer insights without a comprehensive and intuitive tool. And, if you find yourself struggling to understand your target audience, Brandwatch is here to help.
Brandwatch is a digital consumer intelligence suite that helps brands make sense of the interactions happening online and find new market opportunities. You can also use it to track your social media campaigns and improve their ROI.
Brandwatch features
All Brandwatch users can enjoy the following social media analysis features:
Historical data

Real-time tracking

Intelligent AI analyst

Image analysis

Auto segmentation based on machine learning

Competitor, industry, and market analyses

Consumer research
The social listening process on Brandwatch consists of the following steps:
Search

. The tool collects all conversations that mention your brand.

Segment

. All collected interactions get categorized by feedback, complaints, questions, etc.

Analyze

. You get an auto-generated report with actionable tips:
Credit: Brandwatch
All that's left to do is share the insights with your team and work out a plan on how to use the social listening results to optimize your social media marketing campaigns.
Brandwatch pricing
To find out which plan fits your needs and what the prices are, you need to book a demo meeting with Brandwatch.
Instagram is one of the most popular social media platforms - over one billion users worldwide, as of July 2021. It's also one of the most versatile platforms content-wise - you can upload images, carousels, videos, and stories. Visual content like this has a great impact on engagement.
That being said, Instagram is pretty competitive. Millions of brands fight for the attention of Instagram users and launch creative content marketing campaigns to get more exposure.
Later is a social media tracker that can help you plan and analyze your Instagram marketing efforts. You can also connect Facebook, Pinterest, and Twitter accounts to it.
Later features
Here's what you can get from subscribing to Later:
Scheduling for Instagram, Pinterest, TikTok, and LinkedIn

Tracking Instagram analytics in real time

Hashtag research

Browsing for user-generated content through brand mentions

Visually planning and scheduling Instagram stories
Later also has a tool called Linkin.bio that creates a mini website within your Instagram profile and turns your posts into shoppable images. This feature can be especially handy for e-commerce stores.
You also get to create your own media library to quickly craft and upload social media posts:
Credit: Later
Besides, it's possible to collect media via hashtags, profiles, stock photos, mentions, and tags.
Later pricing
Later has an unlimited free plan, but you only get access to one social set and 30 posts per profile. For more features, you might want to consider one of the following plans:
Credit: Later
If you choose to bill yearly, you will get 17% off your purchase.
Social media management can be quite time-consuming, but in the age of automation, you don't have to do every task by hand. Social media managers can generate reports, outsource tasks, and track campaigns automatically, and Agorapulse can help with that.
Agorapulse is a publishing, monitoring, and reporting tool that keeps all your social media performance in one place. It currently supports Facebook, Twitter, Instagram, YouTube, and LinkedIn.
Agorapulse features
Agorapulse offers a set of tools for social media monitoring:
Social media inbox

. It helps categorize all your communications across different social media platforms.

Social media publishing

. Here, you can take advantage of editing, scheduling, and collaboration tools.

Social media monitoring

. You can get social media insights from real-time data collection.

Social media reporting

. Add your campaign KPIs and generate reports on the crucial metrics automatically.
You can do social listening via your dashboard:
Credit: Agorapulse
Agorapulse also has an intuitive content calendar that you can customize to your liking.
Agorapulse pricing
Agorapulse is available for free for 14 days, after which you can either renew your trial or switch to one of these paid plans:
Credit: Agorapulse
If you have no more than three social profiles, a free account is enough to get you started.
What can brand mentions do for your social media strategy?
If you commit to social listening, it can bring you the following benefits:
You can find loyal brand ambassadors among your followers and launch referral marketing campaigns.

It gets easier to anticipate and detect a possible reputation crisis.

You get a chance to improve relationships with people who had a negative customer experience with your brand.

You cannot measure the success of your social media campaigns without brand mentions.
Brand24 is a perfect social media analytics software that can help you regularly track mentions for your business and your competitors. It also provides you with insights into sales opportunities.
Brand24 features
Brand24 offers the following toolkit:
Mention feed

- discover what people are saying about your brand in real time.

Discussion volume chart

- spot sudden changes in brand mentions to maximize positive publicity.

Alerts

- get notifications about the changes in brand mentions.

Data analysis and exporting

- track key metrics and KPIs.
Apart from that, you get access to hashtag search to monitor trends in your industry. Brand24 integrates with Slack, allowing you to share reports with your colleagues right away.
The tool's dashboard can generate sentiment analysis over time:
Credit: Brand24
It is also possible to get a brand mentions report by source.
Brand24 pricing
You can start using Brand24 by signing up for a free 14-day trial with no commitment. After that, you need to choose one of these subscription plans:
Credit: Brand24
If you're running a big social media marketing campaign, the Premium plan is your best bet - it allows up to 100K mentions a month.
One of the biggest challenges in social media marketing is driving engagement. It can be quite a challenge to pinpoint the topics that your followers are interested in and create content that would catch their eye.
If you find yourself struggling with engagement, Iconosquare is the tool you need. It integrates with Instagram, Facebook, Twitter, and LinkedIn and generates advanced social analytics that can help boost engagement and online exposure.
Iconosquare features
Apart from optimizing engagement, Iconosquare has a bunch of other social media analytics features:
Content planning, publishing, and scheduling

Post preview

Hashtag monitoring and suggestions

In-depth social media analytics report

Tags and mentions analytics

Automated social media reports

Community analytics

Profile activity

Competitor analysis
Once you log in to your dashboard and connect Iconosquare to your social media accounts, you can start tracking all social media metrics. It's possible to review engagement per post as well:
Credit: Iconosquare
You can also create your own media library, which can be handy if you need to quickly upload a post.
Iconosquare pricing
Iconosquare has a 14-day free trial and several paid plans; the cheapest one costs $49 a month:
Credit: Iconosquare
With the basic plan, you get to connect two team members to your Iconosquare account, which is perfect for a startup or a small business.
16. LinkedIn Analytics
Much like Facebook and Twitter, Linkedin has its own integrated analytics tool, where you can review all the metrics on audience engagement, content performance, and overall activity.
To start using LinkedIn Analytics, you need to have a business profile.
LinkedIn Analytics features
First and foremost, you can review all the analytics broken down into four categories:
Visitors

- shows page views, unique visitors, custom button clicks, and visitor demographics.

Update

s - displays reactions, comments, shares, and impressions.

Followers

- includes the total number of followers, the number of followers acquired within a specific timeframe, the graph with follower acquisition, and follower demographics.

Employee advocacy

- displays employee advocacy metrics (if you're running a respective program.)
It's possible to track all the metrics for mobile devices and desktops:
You can also review audience demographics by job function, location, seniority, industry, and company size.
LinkedIn Analytics pricing
Similar to all integrated social media analytics tools, LinkedIn Analytics is free.
Minter.io is another comprehensive social media analytics tool. You can use it to track your performance on Instagram, Twitter, and Facebook. The tool provides daily updates and insights to help you improve your marketing campaigns.
You also get to use an intuitive hashtag research tool. It can come in handy if you're launching a partnership with an influencer or want your content to get more exposure.
Minter.io features
Here's a complete list of Minter.io tools:
Instagram analytics

Twitter analytics

Facebook analytics

Hashtag tracking
Minter.io gives you access to audience insights as well:
Credit: Minter.io
You can sign up for analytics for agencies or for businesses depending on your company's needs. There's also a Slack integration available.
Minter.io pricing
Every customer gets to check out the tool during the 14-day free trial. Paid plans start from $9 a month:
Credit: Minter.io
If you're only interested in analytics, then the basic plan will be enough. Pro plans include extended insights into the email and slack reports, mentions, audience demographics, and more.
Competitor analysis is an inalienable part of building a successful social media marketing strategy. But it's not easy to keep an eye on your competitor's performance while also trying to promote your brand.
Quintly can simplify this task for you. It's an analytics tool that provides advanced insights into your social media performance and collects data from your competitors.
Quintly features
Quintly solutions focus on two main tasks:
Analytics

. The tool covers over 350 social media metrics and visualizes them. You can also arrange your KPIs according to your campaigns.

Reporting

. Quintly generates profile and competitor reports automatically and collects data from your campaigns in real time.
You can connect Quintly to Facebook, Instagram, Twitter, Snapchat, LinkedIn, YouTube, and TikTok. There are also a bunch of integrations available.
Quintly pricing
Quintly doesn't provide information on the prices on its website; you need to book a demo to choose a customized plan. G2 reports that custom plans start at $350 a month, but it's better to check with the company representative about possible price changes and discounts.
Social media data can be notoriously hard to read, and every marketer also needs to be a data scientist in their own way to decipher this data correctly. But with social media analytics solutions like Rival IQ, you don't have to break a sweat over numerous metrics.
Rival IQ is a tool that enables competitive benchmarking, automates and visualizes all possible social media metrics to help improve your marketing efforts. By using it, you can measure your performance and compare it with your competitors.
Rival IQ features
Here's what you can do with Rival IQ:
Competitive social media benchmarking

- includes boosted post detection, digital metrics about your posts, landscapes, and company filters, post tagging, analysis of posted URLs.

Social profile measurement

- Instagram insights, Facebook insights, Facebook and Instagram ad tracking, Linkedin Analytics, Twitter Analytics.

Social listening

- Instagram and Twitter Discover, Twitter mentions, hashtag analytics.

Website analytics

- Google Analytics, meta tag tracking.
You can also take advantage of Rival's free tools, such as live benchmarks per industry:
Credit: Rival IQ
If you don't want to purchase the tool yet, you can still tap into the tool's competitive analysis capabilities and compare your Twitter performance against your competitors for free.
Rival IQ pricing
Every potential customer can use Rival IQ for free for 14 days. Then, if you're interested, you can purchase one of the following plans:
Credit: Rival IQ
If your business comes from a small niche, and you don't have more than ten competitors, the Drive plan will be enough for you. It includes social media benchmarking, post analysis, hashtag analysis, mention tracking, profile analytics, and data reporting.
Many B2B companies rely on LinkedIn to reach their audience and build brand awareness. LinkedIn Analytics is one of the ways they can improve their efforts, but it's not the most reliable way to mine LinkedIn data.
You can always get more insights with Shield App. It's a comprehensive LinkedIn analytics platform where you can track your strategy and learn how to get more followers.
Shield App features
Here are a few perks you'll get from Shield App:
Content metrics

Audience demographics

Custom content labels

Network stats

Speed and traction metrics

Real-time performance data

Audience activity analysis
The app turns your metrics into a visualized dataset, helping you see what works in your strategy and what doesn't:
Credit: Shield App
As a result, you can adjust your LinkedIn efforts on the go and understand how your content impacts page views, impressions, and overall brand visibility.
Shield App pricing
There is a 10-day free trial, though you need to provide your credit card to get access to it. Paid plans start from $6:
Credit: Shield App
If you choose a more advanced subscription plan, you'll also get stats comparison which allows you to track your performance over time and compare it to your competitors.
Socialbakers is another social media management suite, similar to Agorapulse and Buffer. It's an all-in-one suite companies of any size can use to track social media metrics and campaigns.
It's also possible to analyze customer feedback with Socialbakers. It includes customer care tools that enable social listening across all your social media profiles.
Socialbakers features
Socialbakers offers seven categories of features:
Research and planning

- audience analytics, target customer persona mapping, competitor analysis, ad analytics.

Content strategy

- content ideation, audience interests, post tracking, etc.

Listening and intelligence

- feedback analysis, brand mentions, a data-based overview of marketing personas, sentiment analysis.

Influencer marketing

- influencer discovery, influencer campaign tracking, audience engagement tracking, analysis of past influencer collaborations.

Social media management

- intuitive content calendar, content planning and scheduling, performance metrics.

Measuring and reporting

- cross-channel analytics, organic performance overview, paid channel tracking, advertising benchmarks.

Customer care

- social inbox, analysis of chatbot interactions, sentiment trends, social listening.
Here's an example of Socialbakers' dashboard with engagement overview:
Credit: Socialbakers
You can track interactions per post, see the evolution of interactions on your page, track the most engaging post types, and check the number of interactions per 1000 fans. This is twice as much data as any integrated social media analytics tool can give you.
Socialbakers pricing
You can access Socialbakers' free trial available for 14 days; no credit card needed. Then, if you like the tool, you can subscribe to the Essentials plan:
Credit: Socialbakers
However, if you find this plan a bit limited and want to access more features, you need to schedule a demo with Socialbakers to receive a personalized offer.
Zoho Social is a part of Zoho's bigger suite that includes cloud software and SaaS applications. You can use it as a content planning and management tool and also collect and analyze data across multiple social media platforms.
Compared to Hootsuite and Sprout Social, Zoho automates more tasks, cutting the time spent on social media management by 80%.
Zoho Social features
What can Zoho Social do for you?
Here are some of its most appealing features:
Competitor analysis

Follower growth analysis

Post performance

Content calendar and library

Shared Inbox

Influencer identification and measurement

Sentiment analysis

Social reporting
Social listening is also available. You can create topics to track reviews, competitors' social pages, and brand mentions:
Credit: Zoho Social
It's also possible to use Zoho Social as a mobile app.
Zoho Social pricing
If you want to give the tool a try, you can take advantage of a 15-day free trial. Paid plans are also available and start at $11 (10 euro):
Credit: Zoho Social
All metrics and analytics tools are included in the Standard plan, so if you're going to use Zoho just for tracking, this plan is more than enough.
How to create content that captivates your audience's attention? You need to know what their interests are. But unless you've found a way to read their minds, you need a tool that will supply you with the necessary data.
SparkToro is the solution you need. It helps you discover what your audience likes to read, listen to, watch, and follow. It crawls the internet to find this information for you, so there's no need to conduct time-consuming surveys.
SparkToro features
SparkToro's social listening algorithm helps companies and agencies with the following tasks:
Building outreach

Analyzing your audience vs. your competitors

Discovering content opportunities

Prioritizing social media campaign tasks
It's simple to navigate - all you need is to enter the keyword for your audience's main interest, and SparkToro will show you the profiles your audience most likely follows:
Credit: SparkToro
You can also create interest lists to track and compare.
SparkToro pricing
SparkToro is available for free, but you can only conduct five searches a month. If you need to access more features, consider one of the following plans:
Credit: SparkToro
If you own a small business, the Basic plan is your best bet - it allows up to 50 searches a month and provides you with enough data to understand which content your target audience wants to see from you.
Ultimately, the goal of every business is growth, and you can't reach it if you don't adopt a data-based approach to analyzing your metrics. Then, you will be able to adapt to changes quickly and use them to your advantage.
Union Metrics is the solution you can use to spot growth opportunities in your data reports. It goes beyond data to show you which strategies you need to implement to increase your online presence and visibility.
Union Metrics features
Here are a few perks you can enjoy with Union Metrics:
Real-time social media monitoring

Search query analysis

Intelligent assistant

Content performance and management

Trends research

Competitor benchmarking

Pre-pitch research for smarter outreach
All data gets visualized to make metrics analysis simpler and more engaging. You can also add KPIs for your social media campaigns separately and generate daily reports.
Union Metrics pricing
The cheapest plan starts at $49 a month:
Credit: Union Metrics
If you're not ready to purchase the tool just yet, you can request a demo to see if Union Metrics really has what it takes to help you improve your social media performance.
Now Over to You
As you can see, you have quite a few options to choose from - all these tools help you cover certain (if not all) social media tasks and monitor your metrics on an ongoing basis.
How to pick the right one for you?
Consider your budget and your needs. Are you about to run an influencer marketing campaign? Then Phlanx, Social Blade, or Sprout Social can be of great help. You can also use Sprout Social for other strategies.
Need a solution to simply plan your content and upload it automatically to social media? Go for Postoplan! We've got you covered with a versatile content calendar and a myriad of other perks that will help you measure and manage your social media strategy more efficiently.