Best Ways to Use TikTok to Promote Your Business in 2022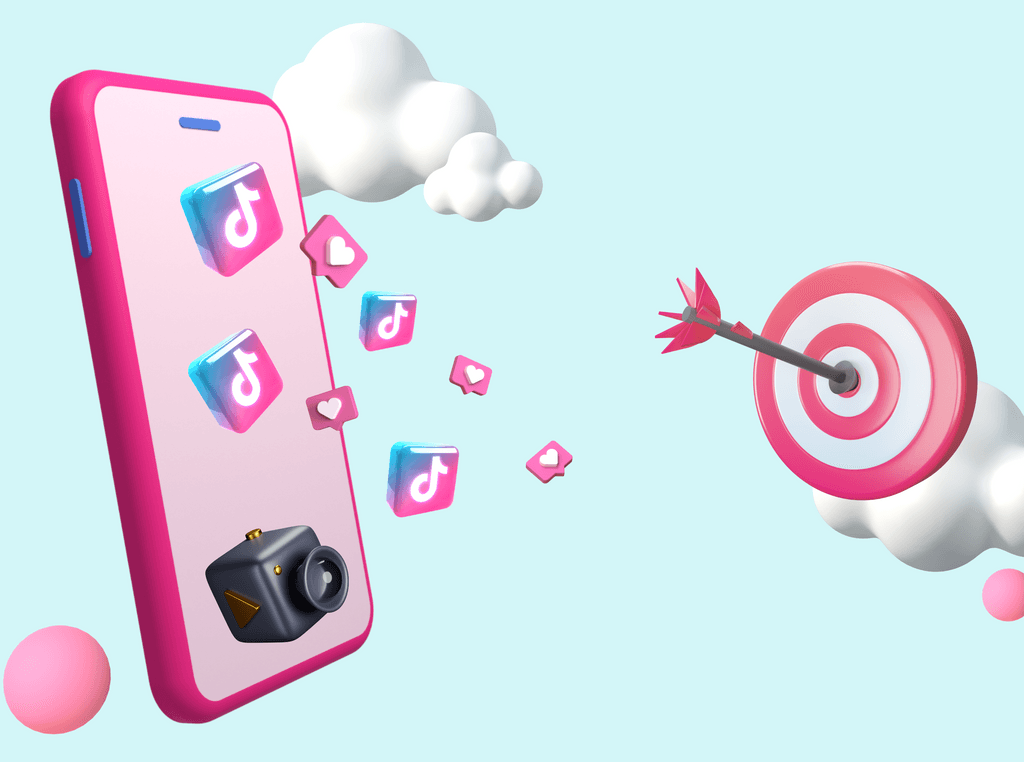 TikTok is a social network that allows you to shoot music videos, broadcast live, and exchange messages. The video platform has already become a leader in the Chinese market and is rapidly expanding into other countries. It is in demand by both individual users and companies that promote their brands on TikTok.
TikTok's active audience is 800 million people a day. That's with already substracted bots, dead souls, and abandoned accounts — the figure remains impressive. The average timeline on TikTok is 13 minutes per person per day.
The number of users grows every hour. The only correct answer to the question: "When to start developing in Tik-Tok?" — Yesterday. It's time for us to get acquainted with this application.
We'll tell you how to use TikTok for business and what you need to do to get featured and earn money.
Table of contents:
What do the experts say about this:
Andrea Pallares.
Founder
There is no question that this social media has to be taken into account for the social strategy of business, mainly for those who are focused on markets that belong to gen Z without leaving behind millennials. I think their success lies in understanding that this is a "creative" social platform whose contents have to be created upon a fresh vision with the audience is involved.
Should I use TikTok for my business?
Earnings on TikTok rely on supporting the interest of people to develop their accounts. It has its currency (TikTok Coins or "coins") that you can exchange. They are accumulated and withdrawn with real money (100 Coins = $ 0.99). Coins can only be obtained during live streaming and can only be sent by users over the age of 18.
Popularity means a lot of ways to make money on your TikTok business account: cooperation with bloggers and mutual PR, advertising of other people's goods and services, ordering congratulations and performances. Bloggers can earn money by promoting music tracks by participating in branded hashtag challenges. You can also make money promoting TikTok itself, helping other users to develop their accounts.
The advantageous difference between TikTok and Instagram is the ability to get followers at the lowest cost. The main thing is to shoot interesting viral content. Viral commercials gain millions of views. Bloggers are paid by brands, however, they are required to coordinate ads with TikTok in business.
TikTok has all kinds of development programs where bloggers with a subscriber base of 10-20 thousand can make good money. This isn't the case in any other social network. The program usually involves either popular bloggers from other sites or active "tiktokers".
How to determine your audience?
It is believed that the main audience of TikTok is generation Z (age 16-24 — 70%, over 25 — 30%). Many brands believe that TikTok can be successfully used for business. It's one of the most effective forms of communication with young people for them.
Statistics for 2020 show the following:
the main audience of the social network is women (58% of the total number of subscribers);

TikTok fans spend an average of 40 minutes a day on the app;

by popularity among social networks and messengers, TikTok is in the Top 5, giving way to Facebook, Instagram, and WhatsApp;

the monthly number of active users from the United States exceeds 25 million.

a business targeting Gen Z cannot ignore the potential of this application. Already, advertising on TikTok is beginning to set marketing trends.
How to Set Up a TikTok Channel for your business
TikTok's business strategy begins with creating a channel. You don't need to have any special skills to use TikTok. The app is designed to be user-friendly and easy to navigate.


To get started, download the application to your phone. To register, you need an email address and phone number. You can also log in using third-party platforms such as Facebook, Twitter, or Google.

Follow the instructions to create a password. The app will automatically assign you a username, but you can change it later.

Your profile will be empty when you first create it. Click the pencil icon or the Edit Profile button next to your User ID.

You can enter your name or company name as the account identifier. You can also link your Instagram account and YouTube account.
The first thing that catches a follower's eye visiting the channel on TikTok is the name. And if you are starting from scratch, there's a chance to create the perfect username. The name will be easy to spell and it should match you and your niche. Ideally, you should have the same username across all social profiles for TikTok fans to recognize you when they find YouTube, Twitch, and Instagram channels.
The second thing that catches a follower's eye is the nickname under the photo. Here the requirement is similar. Let me give you an example of a girl named Dina. She is known for such a short and memorable nickname.
And the next thing that immediately catches a follower's eye on the channel is a photo. It's worth considering that the photo will be displayed everywhere: in comments, recommendations, search. On TikTok, you can put a moving animated avatar in place of a photo. It will be visible only on the page. If you want to monetize, create a recognizable brand name and face.
Last but not least, what you need to include in your TikTok account is a description. Briefly and tell about yourself, your goal, and your occupation. You can also leave a clickable link there, for example, to a website, be sure to use it.
Best ways to use TikTok to promote your business
We will describe all the necessary ways to use TikTok for your business. Get ready for tons of useful information.
Understand how TikTok works
Typically, there are two main areas: The "For you Page" and the "Following Page". Immediately after downloading the application, you will be taken directly to the "For you Page" (FYP).
On the "For you Page", you can see popular content from top video creators. The more you follow other people, the more content you will see. As you explore the app and start following other people, you will see more content.
This page will display a video created by the authors you subscribed to. If you want to know everything about the latest events, trends, and hashtag challenges you can do it on the Discover Page.
What is Your Niche Topic
Unique and even more unique! This is the motto of TikTok.
TikTok users love following unique accounts, and thanks to the algorithm, anyone can find your content.
Therefore, it's important to be creative in solving the problem and fully focus on a specific niche. You can analyze certain aspects of your brand and identify topics that will be of interest to everyone.
For example, you're interested in sports. You can create awesome workout content. This will interest your subscribers. It can be a good start for business on TikTok.
Decide how often you can post
Like any other social network, it's important to have a TikTok business strategy. To do so, you need to know when to publish your posts.
It's important not only to brainstorm and decide about your niche but also to determine the amount of content for a month and understand what publishing rate is best for you.
You don't need to publish content three times a day, and then be silent for a whole week. Start 3-4 times a week and work your way up. It's also helpful to track analytics to see what resonates with TikTok users and what doesn't.
Create a Challenge
TikTok is known for its incredible ability to quickly reach large groups of followers. A video may go viral in no time. In order to do so, you need to launch a challenge.
Challenges are a great way for brands to accelerate growth and reach millions of users. But you don't have to partner with famous TikTok users to be successful. It's enough to involve various users from your niche who often comment on your posts.
Using TikTok is a great way to showcase all sides of your brand, build a niche community, and target a younger generation of shoppers. It's a fun platform to experiment with videos, and with the right strategy, you can use TikTok to grow your business.
Work with TikTok influencers
Like Instagram, Facebook, and YouTube, your brand can use influencers to expand its reach. Influencers on TikTok have different numbers of followers, so the extent of influence varies.
You've seen how successful influencer marketing is on other social platforms, and TikTok is no different. As with other social media platforms, you need to be well versed in the kind of influencers you work with.
For a certain level of payment, TikTok influencers can:
Tell about your product in a TikTok video.

Write about it in the video description.

Place a link to your brand in the description.
Advertise on TikTok
TikTok has finally introduced ads on its platform. TikTok offers four different types of ads:
Native content. This type of advertising already exists on Snapchat or Instagram. It supports tons of features like navigating to a website or downloading apps.

Brand takeover. This allows brands to grab TikTok for the day. You will be able to create images, GIFs, or videos with embedded links to the desired pages.

Hashtag challenge. You can use your hashtag to get more attention.

Branded Lenses: Branded lenses are similar to Snapchat's 2D and 3D lenses for faces and photos.
As on other social networks, advertising can help you reach a ton of users on the platform. TikTok also offers precise targeting so you can make sure your ad reaches the target audience.
Use TikTok to build your brand
Not all companies use TikTok's capabilities for business marketing yet. However, you may have noticed that there're several big brands on TikTok and they create hype with hashtags!
Fashion brand Guess partnered with TikTok in 2018. Every time users opened the app, they were redirected to the #InMyDenim task and encouraged to create fun content.
This boosted the brand's popularity significantly and encouraged users to interact with the brand globally.
Challenges, giveaways, useful or entertaining videos — all of this creates the brand image you need. Your company is becoming popular among the younger generation of users.
Conclusion
TikTok is here and it looks like it's not going anywhere. So check out the app and have fun.
Hopefully, TikTok now makes a little more sense to you after this article. If your business has a young target audience, TikTok is the perfect place to grab their attention. Use these tips to get the most out of your TikTok promotion strategy. This will help you build a strong brand!