Clubhouse — new invite only social app explained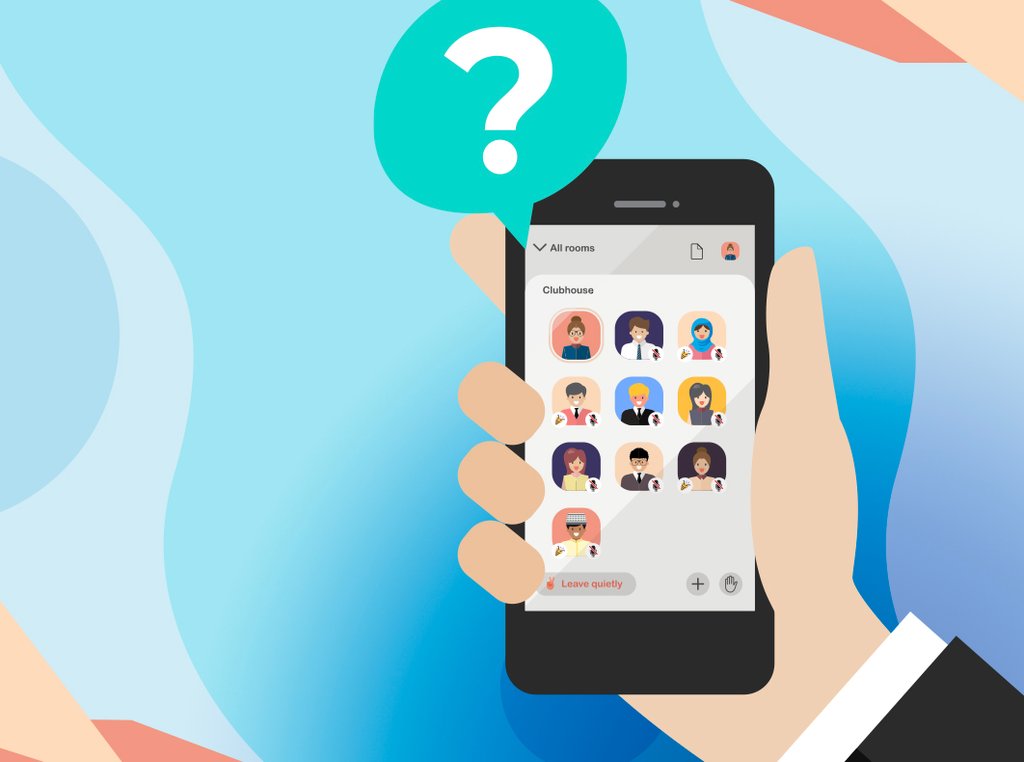 In the spring of 2020, two enthusiasts launched a new social network, Clubhouse, where users can communicate in virtual rooms using only their voice. Entering into the app wasn't easy — it required getting an invitation from a friend with a referral link.
It would seem that such a concept in the early twenties is doomed to failure. However, the "closed club" for people looking for interlocutors by interests has grown from 1,500 to a million users in less than a year. Now Clubhouse is developing at an explosive pace — investors estimate a startup, which so far works on only one platform, at a billion dollars.
What do the experts say about this:
What is Clubhouse?
More and more people on the internet ask what is Clubhouse? Clubhouse is a new social network with a feature in voice messages. Unlike other social networks, voices here are not additional, but the main and, moreover, the only communication format. Rumors about an unusual social network started only in recent weeks, although in fact it was created back in February 2020.
Clubhouse is a panel discussion platform that offers chat rooms of interest. This rooms do not have personal messages, photos, videos and memes. A cross between interactive podcasts in real time, conferences with one or more speakers, and conversations at the office cooler, if you like.
Clubhouse's launch coincided with an increase in interest in podcasts and other voice services. But for the most part, the excitement around the social network is bonded to its exclusivity. Access is closed, and you can get there only by invitation from a participant. This has led to the creation of an underground invite market of Clubhouse invites on Twitter and eBay, where prices start at $ 20 and go up to an unimaginable $ 800.
Who made it for?
The Clubhouse is created by Stanford University graduates and Silicon Valley entrepreneurs Paul Davidson and Roen Seth. Both have previously worked at Google and have already built apps. The idea of such a social network came from the developers against the backdrop of the coronavirus pandemic and the need for communication during self-isolation, when people were desperately looking for new ways of communication.
The audience has already become segmented: before everyone cooked in the same "cauldron", now there are more and more rooms, and the average number of listeners, on the contrary, is decreasing. Perhaps everyone just went to the corners, or maybe they decided to take a break after a week in the service.
Podcasters mastered the site faster than anyone else — they began to arrange live versions of the show from the very first days. There are even more marketers and other digital specialists in the service. They, of course, embraced the clubhouse as a new tool for working with content — and began to teach others how to work with it.
Marketers quickly formulated the rules for filling out the profile description and avatars, and also determined the principles of working with the service. Enthusiasts also began to create services around the social network. For example, the Pic.house site, which allows you to create a frame for an avatar and add emoji there to make it stand out.
What happens on it?
In order to get into the Clubhouse, you need to have an iOS device with the Clubhouse app and receive an invitation from a registered user. This strategy of "a closed club only for insiders" plays into the hands of the developers — people who want to get into the social network line up in advance.
After registration, the lucky ones will have a standard procedure with filling out a profile. You can specify a description of your profile, links to your social networks, subscribe to other users, collect subscribers for yourself and, in fact, start communicating.
Despite its rather simple concept, social media isn't like audio messages in messengers or Zoom. There are many rooms in front of the user, to which you can connect at any time. Each room accommodates up to 5,000 people and is dedicated to a specific topic — for example, politics, music, coronavirus restrictions, and anything else.
The flow of the conversation resembles both podcasts in that you can intervene and something like a press conference. So, inside the room people are divided into speakers (creators of the room, discussing the set topics) and listeners. Listeners with the help of a special function "raise their hand" and ask a question of interest to them, argue or give the conversation a new vector of development. In this case, they fall into the group of speakers. 
There is an important nuance: you cannot save the broadcast and record it. The social network user who tries to record the broadcast gets banned.
It's also important that the rooms in the Clubhouse don't appear spontaneously. They can really be viewed in the feed, choosing the one that suits you, but in general, all conversations can be scheduled and entered into the calendar. Then the users waiting for them will receive a push notification about the imminent start of the session.
In the Clubhouse you can also join hobby clubs that create rooms on an already known range of topics. Any user can open the club, but before that the application must be moderated.
Clubhouse invite — how to get one?
As we mentioned above, you won't be able to simply download the application and register in it. To use the functions and communicate, you need to receive an invitation from existing members, each of which is given 2 invites, which he can dispose of at his discretion (a gift to friends or sell).
Download the application and sign in.

Surely you are a member of some chat rooms or communities. There will be a person who will send you an invitation. They responded to my request very quickly and after 10 minutes I was already on the social network.

To speed up the adding process, send the inviting person your phone number and nickname in the Clubhouse.
Clubhouse comparison
BigBlueButton VS Clubhouse

These two programs are used for different purposes. The first is for official conferences, and the second is for communication. The choice depends on the goals. If a person wants to attend, for example, a scientific conference, then it is better for him to choose the blue button. If you want to chat, it's better to use Clubhouse, however there is a small problem with registration, i.e. it's difficult to get on the platform without acquaintances, and you may have to pay. The choice is up to you. As a result, both platforms cope with the assigned tasks. The choice depends on the direction and goals.


Clubhouse vs. Houseparty



Clubhouse is audio based and Houseparty is video based. But you can still do some similar things on both platforms.

In both apps, you can move between different rooms until you find one you want to stay in for a while — and you can move through as much as you need. Both apps can enhance your pandemic social life. The choice depends on what you prefer: spending evening with a small group of friends or talking to someone famous.




Clubhouse vs. Zoom and Google Meet

It may seem that Clubhouse is very similar to Zoom or Google Meet. It is enough to create a meeting (room) to which participants can join and raise their hands to speak.

Clubhouse takes this familiar approach and gives it a community aspect. This makes Clubhouse a social network.



So if you like, you can create your clubs or groups to discuss technology, books, sports, or whatever else you and others might like. And as a Club owner, you can add users and create rooms for different conversations.
FAQ
What is Сlubhouse?
Clubhouse is a new social network where users can communicate only by voice. At the moment, the platform remains closed to the general public, you can get there only with the help of friends who have already gained access to the application.
What is the Сlubhouse app used for?
The Clubhouse app is currently only available on iOS. Any iPhone user can download the application from the app store. Once you log in you can listen to conversations and participate in them.
What makes Сlubhouse а social media?
An important difference between Clubhouse and Zoom, Twitch is its social focus. Clubhouse acts as an independent social network, which is growing rapidly due to a unique approach to gaining new subscribers.
Who uses Сlubhouse?
Clubhouse is now great for people who love to chat and miss the public — like celebrities — or for those who just want to listen to an interesting conversation. The clubhouse can be the salvation that you need during the next covid lockdown. Eventually, when it grows and becomes important, it could become a new trend.
Can I use Clubhouse on the iPad?
Sure, but it isn't optimized for iPadOS. So yod'd have to use the application either in a small window or on the contrary experience the inconvenience of the strange doubled size.