Fake Followers Complete Guide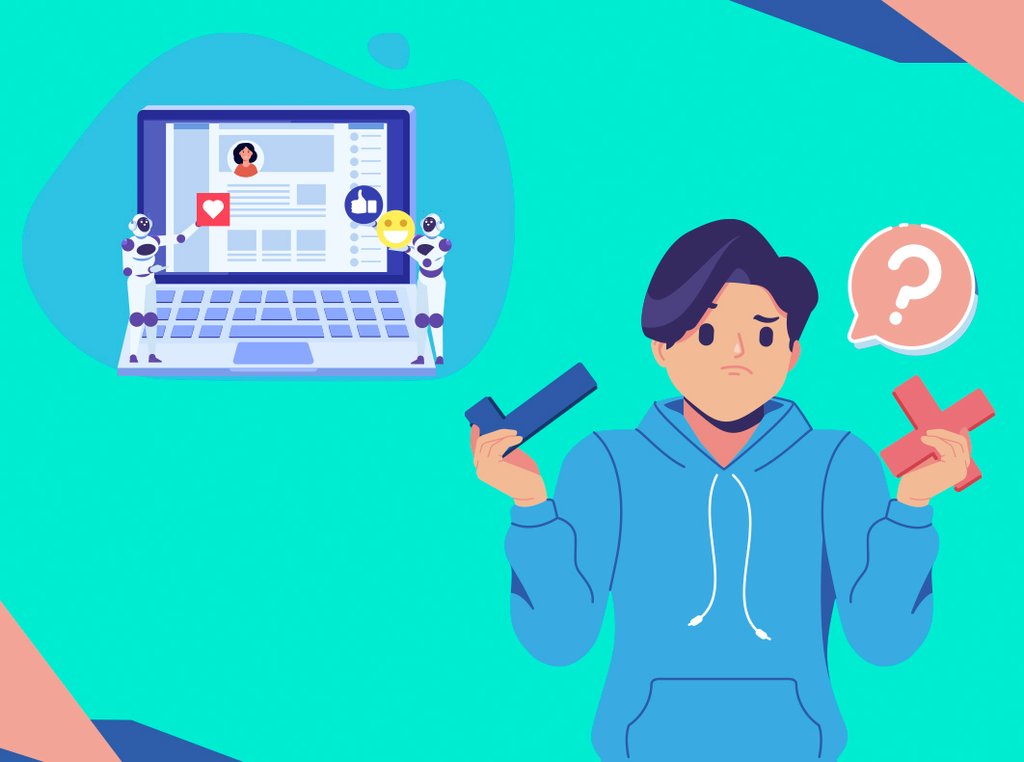 Many brand influencers want to be trusted and listened to as much as possible. After all, who, if not they, know their target audience best? And they believe that since the brand agrees to work with them, it must fully trust them. How to understand if an influencer has got a high-quality audience?
The effectiveness of a marketing campaign depends on the choice of an influencer. Therefore, 36% of the Influencer Marketing Hub survey respondents believe that finding the right influencers is the most challenging step in influencer marketing.
The Internet is replete with stories of frustrating experiences of entrepreneurs, brands, bloggers, and influencers collaborating, but that's just the tip of the iceberg. It happens that some influencers are deceptive wrappers. Thousands of their followers are fake. In this article, we will tell you how to identify fake followers and equally fake influencers.
Table of contents:
Best fake follower check tools
The quality of the influencers you intend to collaborate with can be verified. To do this, you need to use special tools: for example, Instagram Bot Analytics. To do this, you need to enter the Instagram handle in a special line, after which the service will evaluate the benefits of such an influencer. True influencer accounts need to get a lot of rating points.
Those who scored a low number of points will not bring any benefit to your business.
How to do fake followers audit
Most often, cheats are used on Instagram, YouTube, and TikTok. Some wrapped pages or bots can be detected with the naked eye, but sometimes knowledge is required for this. Let's take a look at 9 ways to identify fanned profiles when looking for bloggers for advertising campaigns.
Estimate the ratio of subscribers to subscriptions
Beware of bloggers who follow a large number of accounts; this indicates the use of mass-liking and mass-following methods. Typically, the average number of blogger subscriptions varies from 1 to 5% of the total number of subscribers. So, for example, if an Instagram blogger has 5,000 accounts and 15,000 followers, it's worth considering.
Also, you can watch the blogger for a while, and in case of dishonest promotion, you will notice sharp jumps in subscriptions and unsubscriptions. This verification method applies to Instagram.
The ERR score (Likes + Comments / Followers) is one way to get a basic understanding of how engaged your audience is. However, engagement rate ranges will vary based on several factors, such as the number of subscribers. This method works for both Instagram, YouTube and TikTok.
Measure the ratio of posts to subscribers
The number of posts (photos and videos) in the blogger's profile should logically correlate with the number of subscribers: the more posts, the more subscribers, and vice versa. To generate audience interest in their profile, bloggers must post content regularly. 10-15 posts and 150,000 followers on Instagram indicate cheating.
Another way to check on an influencer is to see if they regularly post Instagram stories. Popular bloggers post stories daily and attend them in person. Therefore, the signs of a fake account will be the absence of stories in general, the absence of the blogger himself in the frame, or spam advertising.
Check subscriber profiles
Accounts without a profile picture, thousands of subscriptions and a minimum of subscribers, meaningless names, and lack of content — all indicate "bots." When choosing a blogger to advertise, be sure to check the list of subscribers and the profiles of those who put likes and comments.
Bots are also indicated by numerous comments of the same type from the same pages.
In addition to researching followers, it's worth finding out who the blogger is following. Typically, these are peers, friends, family members, and colleagues. Subscriptions shouldn't include countless stores, companies, and bots.
Cheat comments are used in all social networks. And if under posts or videos you find many impersonal statements such as "Great!" "Great photo," "Cool," and spam comments or a large percentage of comments are in a foreign language; there is a high probability that the blogger is buying comments.
Estimate the subscriber's growth rate
Track your subscriber growth either manually or using dedicated tools. They allow you to track the dynamics of growth and unsubscriptions over a certain period. Sharp spikes or too precise growth (for example, precisely 50 subscribers per day) also indicate cheating.
Compare the number of views with the number of subscribers
In addition to the above methods, on Instagram, YouTube, and TikTok, the presence of markups can be determined by comparing video views and the number of subscribers. Make sure the numbers match. If a blogger has 100,000 subscribers, and the video gets 100-200 views, the fact is obvious. The number of views for an individual video should account for a significant percentage of the total subscribers.
Fake Instagram followers
The number of subscribers can have a significant impact on the perceived impact of an account. As a result, some people are maximizing their efforts at buying followers to maximize the profit potential of their accounts. These subscribers may be partly made up of real people, but they usually consist of fake accounts created by so-called bots.
The problems posed by fake followers are serious enough for Instagram to crack down on those accounts in 2017. The move led to the closure of Instagress, a paid service that allowed users to grow their followers by automatically liking and commenting on photos. However, even today, there are many fake accounts on social networks. How to calculate them — we described above.
The advantages of real accounts are apparent. By minimizing the number of active fake accounts on the platform, influencers and brands can shift their focus from simple numbers and instead opt for a subscription characterized by its authenticity and engagement rate.
Fake Twitter followers
According to various estimates, the share of bots on Twitter ranges from 5 to 15%. The company is struggling with such accounts, but this struggle is not always successful.
Today several tools can help identify fake followers on Twitter or accounts whose content contains manipulative or politically biased posts.
Botometer
BotChek
BotOrNot
In addition to using special services, you can conduct a simple analysis of the contents of a Twitter account yourself to at least begin to suspect that its owner is a bot or an account operated by several people. Here are the signs to watch out for.
24/7 Twitter. Anyone needs to sleep sometimes. When records appear in the account both day and night, when a simple analysis shows no sleep break for the account owner, this becomes suspicious.
Retweet bot. One of the most common bots is an account that only retweets other people's posts, often without their comments. Accounts with retweets are not always bots, but if they contain nothing besides retweets, then you should take a closer look at them.
Responder bot. The responder bot usually monitors Twitter accounts, finds specific accounts or specific tweets or hashtags, and responds to them, often in monosyllables with preloaded content.
Fake TikTok followers
The signs of fake followers on TikTok are the same as on other social networks. This is a large number of subscribers with a small number of published posts, sharp bursts of activity at any time of the day or night, accounts with an empty bio.
You can also check the status of your TikTok account using special services. With their help, you can also remove fake TikTok followers.
Why People Buy Followers
Every account owner who decides to take advantage of buying followers has their reason. However, of all the motives, three main ones can be distinguished:
Increase the respectability of the account
Personal ambitions
Participation in the competition
Tell more about this:
1. Respectable account
Instagram promotion is a lot of work or a decent advertising budget. Unfortunately, the time has passed when it was possible to register an account with an original idea and quickly gather an audience, getting into the "popular" and blogs that need a news feed. Today there are many interesting accounts and news feeds and you need to work hard to attract a new reader's attention. However, accounts with a lot of followers continue to generate immediate interest.
2. Personal ambitions
Instagram is a young social network, and its users are primarily young too. Many people post photos of their luxurious vacation, a new car, dishes from expensive restaurants on the Internet with only one purpose — to boast. And for the same reason, they need a large and even huge number of subscribers or likes under the photos — to wipe their rival girlfriend's nose or show off their colleagues or classmates.
3. Participation in the competitions
One of the options for choosing a winner in an Instagram contest is a set of likes. The one who got the most likes under the photo won. Accordingly, if a participant cannot boast of a large support group or an ingenious contest photo, he can resort to boosting likes.
How to get fake followers
Buying fake followers is easy. You just need to find several services, compare prices for the desired number of subscribers and choose the option that suits you. You can buy from 50 followers to several thousand, and some services sell them for two million at once. Service rates vary. We advise you not to skimp: sellers assure that the quality of more expensive subscribers is higher.
You can choose the appropriate service by reviewing user reviews. If the service has been around for a long time, then you may choose this particular service.
Why you should remove fake followers
You should remove Instagram followers for the following reasons:
Fake Instagram followers are not interested in your account
You do not meet obligations compared to genuine accounts
Ultimately, you can get caught on the comments of bots under your posts
Spam comes along with purchased subscribers
Instagram recognizes and removes fake followers
Buying fake followers is against Instagram's terms of use
Having fake subscribers destroys your reputation
Using fake subscribers will not make you money
How to block fake followers
With the increase in the number of subscribers, it becomes difficult to determine who is ready to interact and who subscribed to promote their brand. Removing followers is even more difficult. You can block fake followers in different ways.
Using special tools. If a considerable number of profiles are subscribed to your account, then take as assistants tools that will help you quickly put things in order. A free trial period is offered as a rule, and using the application is quite simple and convenient.
Manually. You can also delete subscribers manually. To remove a subscriber unfavourable to you, for example, on Instagram, you should:
Go to his profile.
Click on the three dots in the upper right corner of the page to open the settings menu.
In the context menu that opens, select the "Block" option.
A blocked subscriber wouldn't be notified of the deletion. He will simply stop seeing your profile, and you will stop seeing him.
It's essential to receive full statistics about the account for its competent maintenance, and constantly communicate with subscribers. It will allow you to determine the range of accounts from which there is always feedback.
Postoplan is an example of a great service for social networking. It's a smart, automated social media and messenger marketing platform that allows you to create and publish quality content.
Postoplan advantages are the following:
the ability to maintain an unlimited number of accounts;
constant communication with subscribers in Social Inbox;
700 calendar post ideas
obtaining objective statistics;
the ability to conduct mass and convenient planning.
These are not all the advantages of Postoplan! To find out more, take advantage of the 7-day free trial for your PRO account.
FAQ
How can I get fake followers on Instagram?
You can simply buy them using special services. The cost depends on the number of fake followers. But be prepared for the fact that the social network will react to the markup.
How many of your followers are fake?
To determine the number of fake followers, it is worth auditing your account. It can be done either manually or using services.
Do influencers have fake followers?
Yes, some influencers have a significant proportion of their followers fake. Some services will help you check any account for quality and veracity.