How to create a business account on Instagram and use it?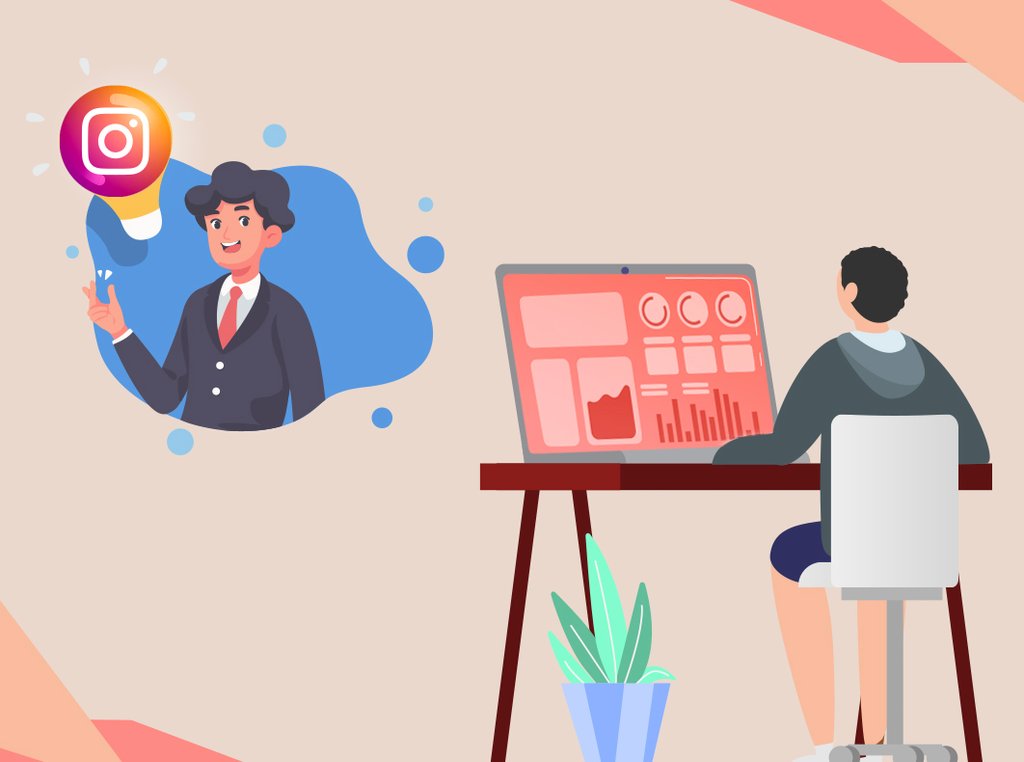 90% of Instagram users follow at least one business account. 50% of users become more interested in a brand after seeing its ad on this social platform. 55% of fashion shoppers have made a purchase based on an Instagram creator's post. Instagram business accounts are a force to be reckoned with — and the sooner you start using them, the more you will gain.
Brands can create business accounts on Instagram. Compared to private accounts, these have a vaster functionality and better enable companies to maximize their revenues. This article will let you know how to create, promote and develop an Instagram business account. This information is relevant for companies of any scale and sphere of activity.
Table of contents:
Create a business Instagram account
First, you should create a private Instagram account. Follow these steps.
Install Instagram for Windows, Android or iOS.
Open it and click on the Sign-Up button.
Indicate your email address.
Invent a username and password for yourself.
Click on the Next button.
Your personal Instagram is ready. Now, it is time to convert it into a business one.
Log in and click on the hamburger menu in the top right corner.
In the dropdown menu, select the Settings option.
Click on the Switch to Professional Account option. If you fail to find it, do not worry. Click on Account instead and select Business.
Indicate your business category.
Add contact details.
After you press the Done button, your business Instagram account is ready, and you can start filling it with content.
What is a business profile
A business profile looks different from a private one. Its design immediately attracts attention and adds more authority.
Unlike private profiles, business ones give you access to Insights. This feature enables you to check your profile views, reach, impressions and click-through rate. You will get activity information about your audience and their demographics.
Business accounts can double as Instagram shops. You can upload your product catalogue here, tag your shoppable goods and carry out sales directly through the app.
How to use Instagram for business
Business profile owners get access to the following functionality of the platform.
Instagram ads. They are indispensable for promoting your account.
Quick replies. You can create standardized responses to the most common questions and comments and connect them to a shortcut word.
Tagging restriction. You can prevent third parties from tagging your profile as branded content. If you want to enable tagging approvals, you should activate this option through the main menu: click on the Settings button, then Business, then Branded Content Approvals. There, you can set a list of approved accounts that can tag you freely.
Links sharing. After your business account gets 10,000 followers, you will be able to share clickable links in your Stories.
Incoming messages in business accounts are sorted into three categories: primary, general and requests. You will be able to respond to the necessary ones quickly and efficiently.
And, of course, you need to post excellent content systematically.
Instagram post ideas for business
Here is the list of ideas that have proved their efficiency with brands from different industries:
Showcase your products.
Let your customer peek behind the scene — show them what is going on in your office.
Announce your plans (but only if you are 100% sure about them!).
Inspire your followers with quotes.
Post jokes and memes that are relevant to your business.
Share important news and trends from your industry.
Cover events.
Provide video tutorials.
Take pictures of happy customers in your offline shop (and share them only with their permission!).
Do not focus only on photos. The more videos you create, the better. Ideally, you should hire a lifestyle photographer to create content for you. If you cannot afford it yet, follow these recommendations.
Keep it simple. The fewer items there are on the picture, the better. Your audience should understand at a glance what a photo is about.
Edit your content. You can use either inbuilt Instagram tools or third-party apps.
Use natural light to make your products look fresh and appealing. A flash might distort colours and create weird shadows. The late afternoon of a cloudy day is the best time for an indoor or outdoor photoshoot.
Provide enough contrast. It adds balance and makes your photos look more premium.
Try different angles. Stand on a chair, crouch down and feel free to experiment.
Use the grid in your camera. Position the items where the grid lines meet to create a perfect composition.
Thanks to these tips, your pictures will look stunning even if you do not have expensive gear. You should also try different video and photo-sharing formats. Let us have a look at the specific Instagram terminology.
Reels. This format of presenting content resembles TikTok.
Carousel. Add up to 10 photos to a single post.
IGTV. Long-form videos, ideal for recurring content series.
Instagram Live. Live broadcasts with up to 4 people.
Instagram Guides. Suitable for sharing manuals and company news.
Last but not least, write compelling captions to your posts and use emojis.
From the onset, you should decide how often you will post new content. Plan your posts in advance to make sure there are no long intervals between them. Most brand owners who are using Instagram for business make one post per day.
To find out the best time for making new posts, do the following:
Open the Insights section.
Click on the See All button beside Your Audience.
Scroll down to Most Active Times
Check the statistics of different days of the week and times of the day.
To make the most of Instagram, you should start using schedulers, such as Postoplan. This platform enables you to plan your content for weeks and months ahead. Your posts will go live on the day and time you set. They will be no different from the posts created on Instagram itself. Using Postoplan is entirely safe and legit. It will not lead to a shadowban or other risks.
This platform features two graphic editors and a library with 5,000+ photos. It will offer you over 700 calendar post ideas and suggestions. You will be able to rely on a free checklist to make sure you do everything correctly.
To get started, you can try the Postoplan functionality for free without sharing your bank card details. When you switch to full-fledged paid mode, its pricing will be affordable. You will be able to create as many accounts as you wish and add an unlimited number of users. You will not need to post everything yourself — your colleagues or employees can join the process and help you. To distribute tasks among them, you can use the Roles and Projects tool.
This platform is available in desktop and mobile formats. The functionality of its mobile version is identical to the desktop.
Apart from Instagram, Postoplan is compatible with many other social media and messengers. After you create a post, you can preview its looks on each platform where you are planning to share it. When your audience leaves comments or sends you messages through your Facebook business page, you will receive all their queries in your Social Inbox and will be able to answer them from a single dashboard. Postoplan integrates smoothly with WordPress, Slack and other services that you might need for your daily work.
Business bio for Instagram
You can use your brand name as your Instagram business account name. You might want to tweak it a little, but it should remain recognizable.
You might choose your logo, a picture of your brick-and-mortar location or a picture of your product as your profile photo. It would be wiser to use the logo because it is stable and permanent. You should not change your profile photo too often — people need to get used to it and recognize it instantly.
Your bio can contain a maximum of 150 characters. Tell your prospective customers about your offer and benefits. Use line breaks. To save space, avoid telling people about the niche of your business in your bio. Instead, indicate an appropriate business category in your account settings.
The only section of your profile where you can add a clickable link is where you insert the link to your website. This is what you can do with this data.
Share the full URL of your site.
Create a shortened link. This will come in handy if you share the link, not to your website but your account in another social network.
Share links to your new goods or services. In this case, you can change the links frequently.
Build a landing page that will contain shortcuts to all your products and offers. Share the link to this landing as your URL in your Instagram profile.
Finally, add relevant contacts. If you mention your email and phone number in your bio, they will take up too much precious space. Instead, you can place this information on call-to-action buttons. Thanks to these buttons, people can also order your goods, book tickets and carry out any other actions that your company offers.
How to get Instagram followers for business
Organically, the following of an average Instagram business account increases by 1.46% each month. That is not too much — but you can accelerate the process. Business accounts can buy Instagram Ads. It is a highly efficient promotional method, and its costs are affordable. Besides, you can pay influencers with a large dedicated following to post your brand content.
Encourage your followers to regram your posts and recommend your products to other users. Reward them for doing so.
Check the Trending Tags section regularly and add some of these tags to your posts — but only if they are relevant to your content. Ideally, you should add around ten hashtags to each of your posts.
Run contests. Invent a unique theme and a custom hashtag. Start promoting your contest a week before it begins. Encourage people to tag their friends and comment on your posts to enter the contest. Collaborate with other brands and influencers to spread the word. Before launching a contest, glance through Instagram's promotion guidelines.
To measure the efficiency of your promotions, use third-party tools — such as Postoplan.
Bonus: Instagram story ideas for businesses
To make your stories exciting and informative, alternate the following types of content:
Introduce your business.
Introduce your team.
Answer your customers' questions.
Ask for your customer's advice or opinion.
Show behind the scenes action.
Highlight competitive edges of your products.
Share reviews and testimonials.
Announce IGTV episodes.
Let influencers or other brands from your sphere (but not your direct competitors!) take over your Instagram.
Shout out to people who inspired you.
Hopefully, these recommendations on how to use Instagram for business were comprehensive enough. Feel free to create a business profile on this social platform right now to expand your audience, improve your performance and earn more money!
FAQ
How do I use Instagram to promote my business?
Create a business account, make an attractive bio and systematically post top-notch content. Give advertising, use Insights to analyze the efficiency of your promotions and try influencer marketing. Set up an Instagram shop and purposefully expand your following.
How does Instagram work for a business?
You create a business account and post information about your goods or services. Make beautiful photos and videos, promote your account, collaborate with other businesses from your niche. This will increase your brand awareness, sales and income.
Is an Instagram business account free?
Yes, you can create a business account for free. But you should invest money in promoting it and maybe hiring a professional photographer.
Is it better to have a business account on Instagram?
Yes. Business accounts have a much larger functionality than private ones. They look differently, attract more attention and emphasize your authority.