How to create multiple Twitter accounts?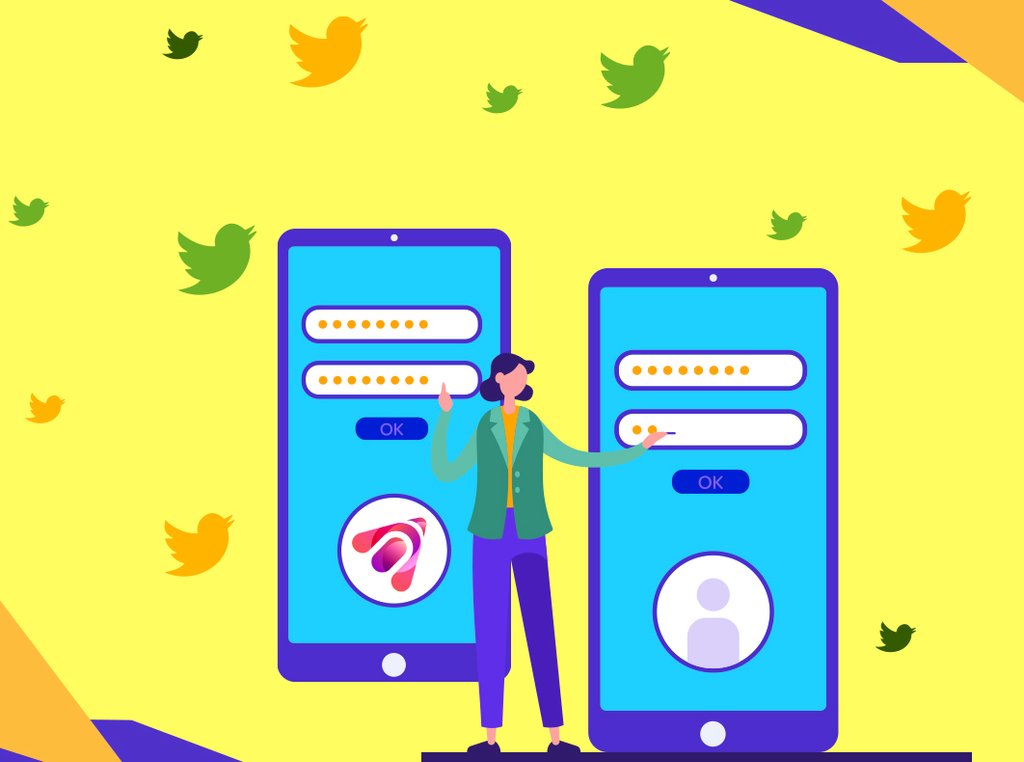 Every day, people send 500 million tweets. The daily active audience of this social platform counts 192 million users. To better streamline your Twitter content, you might want to create multiple accounts. This will be a smart way to facilitate your marketing routine with minimum effort.
On Twitter, each user has a right to create up to 5 accounts. This opportunity comes in handy for those who want to separate their private and business tweets. After you create multiple Twitter accounts, you can conveniently switch between them. From this article, you will get to know how to make the most of your multiple profiles.
Table of contents:
Create a Twitter account
Newbies can create Twitter accounts either from the website or mobile app of this social platform. They should press the Sign Up button, and after that, the process will be very intuitive. 
Enter your real name or nickname, and the system will automatically generate a username for you (that is, the symbols that go after the @ sign). 
Indicate your email address or phone number.
The system will ask whether it should track you when checking Twitter content on other websites. Tick or untick this box.
Confirm your contact data, name, and date of birth.
Get a verification code in an SMS or by email. Enter this code into the corresponding field in the Twitter interface.
Invent a password.
Congratulations, you have created a new Twitter account! Now, you should fill in your profile with your personal data. You should not postpone it because Twitter enables users to block notifications from accounts with the default profile icons. The optimal size for your profile picture is 400x400 pixels.
After you indicate your interests, the system will suggest to you several accounts to subscribe to. If any of them seem interesting to you, press the Follow button next to their names. To subscribe to all of them, press the Follow button at the top of the page.
If you are using a mobile device, you can sync Twitter with your contacts. It will become easier for you to find friends on this social platform and follow them.
On your timeline page, you will be able to change your username. Push the More button in the left pane and opt for Settings and Privacy. Your username should contain less than 16 characters and include only letters, numbers, and underscores with no spaces. If you try to insert an unsupported character or use a name already taken, the system will warn you about it. After you finalize your changes, save them.
To edit your display name, visit the page with the following address: twitter.com/[your username]. Click on the Edit Profile button and insert a new name. It can contain up to 50 characters. This instruction is valid for both desktop and mobile formats.
How to add a second Twitter account
To create a Twitter account in addition to the existing one, sign in to your profile and do the following.
On an Android device, click on the profile icon in the top-left corner and then the down arrow. 
On an iPhone, click on the hamburger menu in the top-left corner and then the profile icon with the three dots.
On an iPad, click on the More icon and then the profile icon.
Select the Create a New Account option. You will need to complete the same steps as when registering your first Twitter account. Click on the Add an Existing Account option to link the new account to your device. After that, you will see multiple accounts each time you enter the app.
To register the second Twitter account on the desktop, you need to log out. After creating a new profile, click on the icon with three dots located next to your name in the bottom-left corner. Press the Add an Existing Account option and sign in to a new account.
How to switch accounts
The instructions might vary depending on which device you use. 
On the website, click on your username in the lower-left corner. The system will display all your connected accounts. To switch to any of them, tap on its name.
When using an Android device, click on the Profile icon and press the down arrow. To switch between accounts, click on their usernames.
iPhone users should click on the hamburger menu and select the profile icon of the desired account. 
On an iPad, click on the More icon and then on the ellipsis icon.
If you connect an account in the app, you should connect it on the site too, and vice versa.
How to make business Twitter account
The process of creating a business account does not differ from registering a private one. You will not need to carry out any specific actions. The primary difference is the content. These are Twitter recommendations on filling in business profiles. 
Choose a 1500x500 pixels photo for your header. Update it regularly because it will serve as an ad banner, informing your audience about your news, sales, and promotions. The recommended frequency of updates is once per quarter.
Even if your business operates purely online, you should indicate its geographical location. You might indicate the city where your brand was founded or where your headquarters is located. Alternatively, you might add the names of the places where you ship your products. It will be easier for your potential customers to find you.
If you have a brick-and-mortar venue, mention its opening hours.
Share a direct link to your website. It might lead to the following types of pages.
Your homepage
The About Us section of your website
Your company's account on another social platform
The landing page of one of your campaigns
Whatever you find necessary
Thanks to a unique link, you will be able to estimate how many visitors came to your site from Twitter.
When running a business account, you should take especially great care of your content. Each of your tweets should be informative and useful to your audience. You need to make sure that its quality is excellent whenever you launch a new stream. And of course, you should use industry-specific hashtags to help your potential customers find and categorize your content.
The lifespan of an average tweet is just 10-15 minutes. If you want to attract people's attention to certain information regularly, you should not be spammy. Avoid repeating the same post many times. Instead, pin your most important tweets so that they always remain on top of your feed. These are examples of news that you can pin.
Your latest product launch
A contest
An ongoing sale or promotion
A cause or charity that you are supporting
To pin a tweet, click on the down arrow in its top-right corner and opt for Pin to Your Profile.
Sometimes, you might come across multiple business Twitter accounts that allegedly belong to the same company. Usually, only one of them is official, and the rest are either fakes or parodies. To let your audience know that your profile is the legitimate one, you should try to get the blue check. 
To qualify for the check, the owner of a business account must do the following.
Select a profile name and a profile picture.
Use the account actively — that means, log in at least every six months.
Confirm their phone number or email.
Respect the Twitter rules and do not have 12-hour or 7-day lockouts in the past six months.
Besides, a business Twitter account needs to meet at least 2 of these three criteria to get the blue check.
The number of its subscribers should be larger than the followings of 99% of active profiles in their geographical area.
In the last six months, they had at least three featured references that meet the Twitter News criteria.
Their names are present in public indices, such as stable Wikipedia articles, public stock exchanges, or Google Trends.
At the moment of this article being written, the Twitter administration temporarily suspended the verified account program. But they might reactivate it soon since it is a meaningful tool of Twitter marketing.
How to switch between multiple accounts on Twitter
Currently, the system does not allow its users to merge several accounts into one. You will not be able to migrate your tweets and subscribers from one profile to another. All you can do is switch between multiple Twitter accounts, as was described above. This is a very simple process, and it will take you just one day to get used to it.
How to remove one of your Twitter accounts
On the desktop, you should toggle to the account that you need to remove and log out. You will remain logged in to all the other profiles.
Alternatively, you should click on the icon with three dots. You will see the list of all your connected accounts, and you can log out of all of them. 
When using a mobile device, follow these steps.
Click on the icon with three dots.
A pop-up menu with a list of your connected accounts will open.
Click on the Edit button in the top-left corner.
Remove the accounts that you want to get rid of.
Hopefully, this article on adding multiple Twitter came in handy! If you think that you need a business account in addition to a private one, you can create it right now in just a couple of minutes. To facilitate your Twitter marketing routine, you might want to use Postoplan. Start with a free 7-day plan to test the functionality of the platform. After the trial period is over, you can switch to a PRO plan at an affordable price. 
Thanks to Postoplan, you will be able to plan your Twitter content for weeks and months ahead. You will be able to add any type of content to your tweets: hashtags, gifs, videos, infographics, and so on. Before your posts go live, you can preview their drafts. In addition to pre-planned content, you will be able to do live-tweeting and make streams in real-time.
The Postoplan interface is sleek and intuitive. Its click planner view, daily workbook, and other elements of the interface are exceptionally user-friendly. You can add an unlimited number of users and projects to your account. The in-built tools of the platform will enable you to assign tasks to different managers and share your workflow with your clients.
Postoplan is available in desktop and mobile formats. It is compatible with many other social media and messengers, such as Facebook, LinkedIn, WhatsApp, etc. When someone leaves a comment or sends a message to your Facebook business page, you will be able to answer them from your Postoplan inbox.
The sooner you start using Postoplan, the quicker you will benefit from it! Join this project now to discover its vast and diverse opportunities. It will save your time and effort, and you will help your business flourish.
FAQ
Can I have multiple Twitter accounts?
Yes. According to the platform's rules, each customer has a right to create up to 5 accounts. This comes in handy when you need to separate your private and business posts.
Is it against Twitter rules to have multiple accounts?
No, you can legally create up to 5 accounts. Managing multiple Twitter accounts does not involve logging in and out each time.
How do I add a second account to Twitter?
You can add a second Twitter account on a mobile device without logging out from your first one. On a desktop, you will need to log out. You can find detailed instructions for all devices in the article above.
How do you tweet multiple accounts at the same time?
You can switch between multiple accounts in your profile settings. The guidelines might differ depending on the device. Please check the article above for step-by-step instructions.