How to get followers on Twitter? Step by Step guide for 2022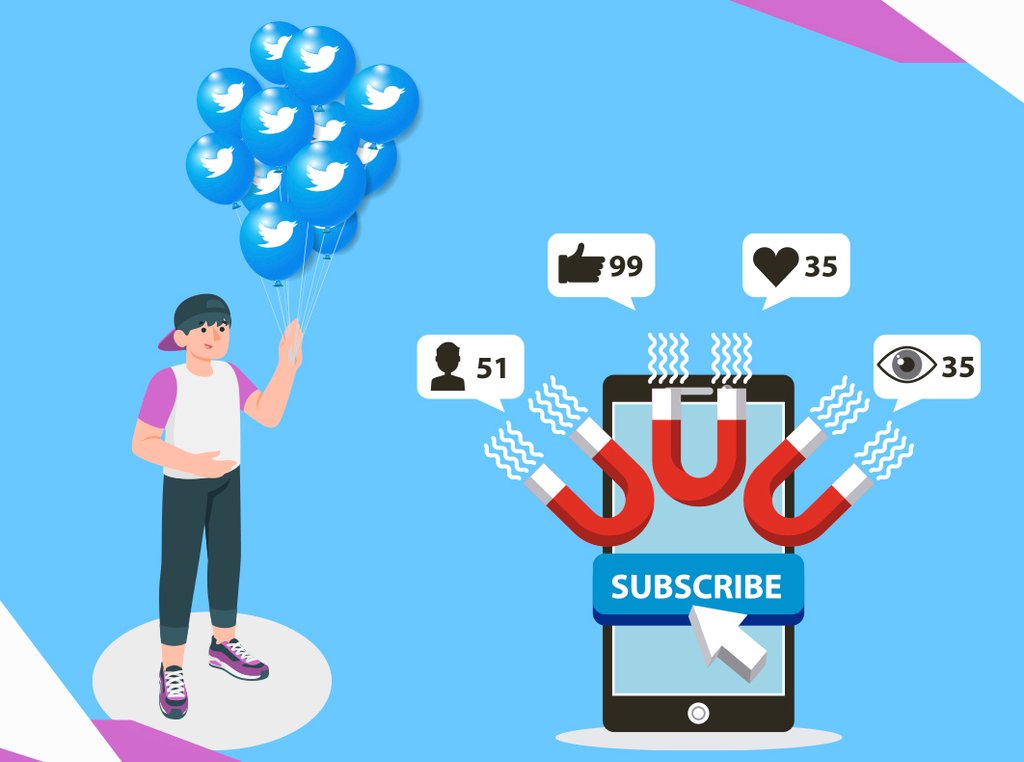 It's easy to gain subscribers on Twitter if you follow specific steps and adhere to the social network rules, such as not using bots for promotion, not hack the page, and others. Below, we've listed legitimate ways to gain an audience and keep them on your page. Interested in how to get followers on Twitter? Read the article and start using simple tips to get your first viewers.
Table of contents:
How to get 1000 people to follow you on Twitter fast
Tweet frequently
A content strategy for Twitter is different from one for Instagram or Facebook. In this social network, to attract the attention of new users and keep the old ones, you need to post more often (3-7 tweets per day are optimal). The main thing is to balance a sufficient number of tweets and spam in the feed.
Optimize posting time
One of the reliable ways to get followers on Twitter is optimizing posting time. The output of your tweets should coincide with the online presence of your target audience. To avoid missing out on this prime-time, especially if you live in a different time zone, use scheduled posting services such as Postoplan.
This is a free tool that will help you boost the amount of your Twitter followers. In the service interface, you can schedule the publication of your tweets for a week in advance. There's also a content calendar with ideas for posts for each day, an image generator, a hashtag repository, and other useful features.
Post visual content often
Most of the content on Twitter is text, including news, jokes, life hacks, reflections on certain topics, etc. Therefore, images and videos in the feed pop out at users and attract their attention. Take advantage of this social network feature, and publish more visual content (trailers of your videos from other social networks, photos, gifs, memes, etc.).
Utilize hashtags wisely
Hashtags help your tweet get more views on this social network. Thanks to the right combination of hashtags, your account is very likely to be seen by the target audience, who will become your new Twitter followers. The more you do this, the better you will learn how to match hashtags over time.
Use thematic and industry-specific hashtags, don't put them randomly.
Choose the most popular hashtags that match the topic of your tweet.
Don't add too many hashtags so that your tweet doesn't look like spam.
Get engaged with the audience
To increase user interest in your account, interact with them. Do not just write tweets, arrange surveys, actively respond to comments. Have discussions in the comments section on your page and others, make reposts, and so on. Be a participant in the dialogue with your followers and potential subscribers.
Create a welcoming profile
Twitter users need to understand what kind of page they are visiting:
Put a high-quality profile picture or label of your company if you have a commercial account.
Fill out the profile description. Put some relevant tags, industry keywords, location information, and so on.
Pin your most popular tweet or a tweet with your most relevant news at the top.
Draw in followers outside of Twitter
Leave links to your Twitter account on other social networks. Take screenshots of your tweets and post them in your profiles with a link and words like "read more" or "follow the link." This way, you will organically gain more followers on Twitter inside this network and outside of it.
Use bio and location
The completed bio and location attract not only users but also search engine robots. Your account will be better ranked in the search results, and it will be more often clicked on (essential for brands).
Count on micro-influencers
Advertise with micro-influencers on Twitter to get more subscribers on your page. These can be like barter deals, reposts from each other's feeds, or a commercial post for money. From small thematic blogs, you usually get a loyal audience that will stay with you for a long time.
Run a followers campaign
The easiest way of getting followers on Twitter is to launch an advertising campaign in Twitter Ads Manager. The ads look like regular tweets, only marked as ads. They will appear in the feeds of your target audience and will be accompanied by links to your page.
Get verified
Twitter verification is a blue checkmark next to your name or company/brand name. These accounts are more trusted by users. People are more likely to subscribe to them than to simple accounts. How to get verified on Twitter, we told in another article.
Don't be spammy
No one likes it when their feed is clogged with tweets from the same account. Stick to the rule of releasing no more than 7 tweets per day. Otherwise, there is a risk of losing followers rather than gaining them.
Embed your Twitter feed on your website
If you run a company Twitter account, be sure to add a link to it on the corporate website in the Contacts section. It is another way to gain an organic audience from outside Twitter. You can also encourage site visitors to subscribe to your page by, for example, giving them a discount or a small gift on their next purchase.
How to get rid of followers on Twitter
Click on your profile picture, and a tab with information about your account will appear
Go to the list of your Twitter followers, click on the icon of the first person you want to block
Go to the subscriber profile and click on the three dots sign to the right of the follow button
In the drop-down menu, select the option to block the user
How to get followers on Twitter from Facebook
Post links to Twitter in your Facebook profile: in the description and in posts with a call to subscribe
Launch an ad campaign on Facebook and place a link to your Twitter account in your ads
How to get followers on Twitter with hashtags
Use thematic and niche hashtags in each post, but don't overdo it with their number
Do not use popular hashtags if they are not suitable for the topic of your tweet; it annoys users
How to get bots to follow you on Twitter
Do not use bots to cheat the number of followers on Twitter. The administration of the social network may block your account.
How to get famous followers on Twitter
For famous users to subscribe to you, your account must be well-developed and interesting. Usually, celebrities subscribe to colleagues (actors, models, singers, and so on), news feeds, major advertising agencies, etc.
You can start developing your account using the scheduled posting service Postoplan. Begin by posting tweets regularly without missing a day. It will fuel the interest of the audience and bring you, new subscribers. Try to schedule tweets for tomorrow now. It's free!
FAQ
How can I get 1000 followers on Twitter?
The first 1000 subscribers can be quickly gained if you write tweets on popular topics, use hashtags and paid advertising. Do not use the services to cheat subscribers; Twitter disapproves of such activity and punishes with a ban.
How do I get free Twitter followers fast?
In addition to posting tweets, you can go to accounts with many subscribers and organize thematic discussions in the comments (or take part in existing threads). At the same time, you should not advertise your page openly; you may be banned. Write interesting comments so that users themselves want to go to your account.
How can I hack my Twitter to increase my followers?
Do not try to hack your Twitter account. It can lead to its permanent ban. It is especially disappointing if you already have some followers that you have earned.
How can I get 0 followers on Twitter?
On Twitter, you can't unsubscribe all of your account's followers at once. You will have to do this either one person at a time or create a new account with 0 subscribers.