How to promote your YouTube channel in 2022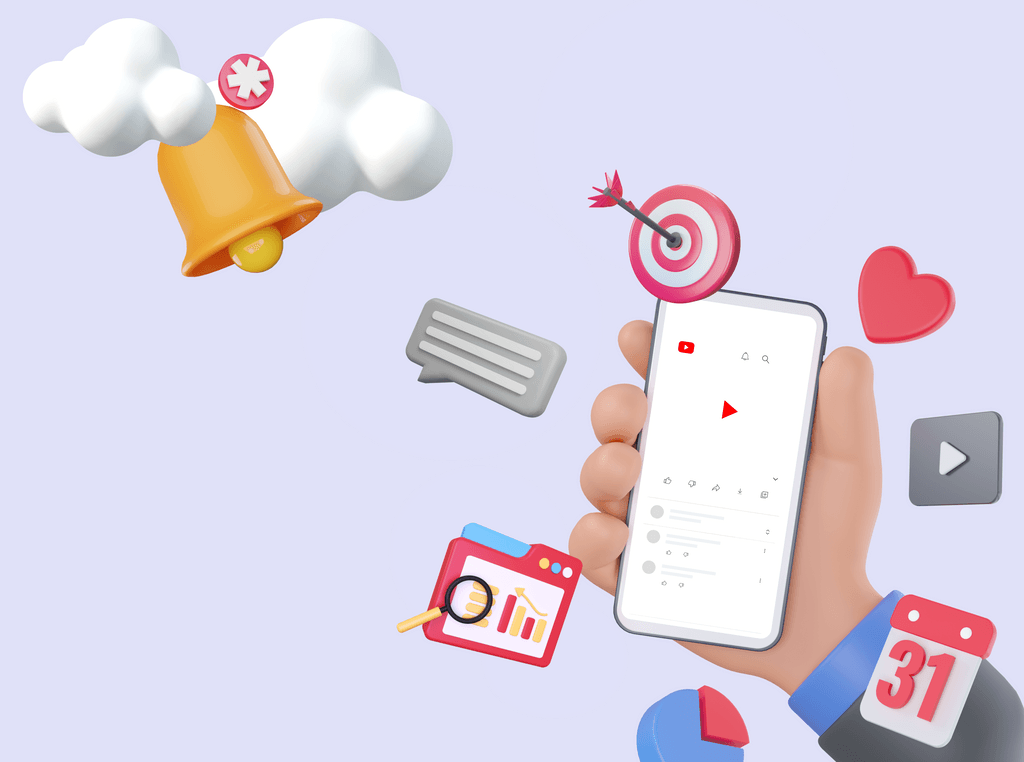 To make your YouTube channel popular and start making money from it, you need to promote it. Newbies often think that such a promotion requires considerable financial investment. But in fact, you can use multiple free tools to make your content stand out from the rest. The readers of this article will get to know how to promote YouTube videos with minimum expenditure.
Table of contents:
YouTube Algorithm
When you start to promote a YouTube video, your goal is to give it a kickstart. As soon as the platform's algorithms detect that your content is becoming popular, they will prioritize it. Here are the metrics that the algorithms pay attention to when choosing which video content to promote.
How frequently do you upload new videos?

How often do people play your videos?

How actively do people engage with your content? (How actively do they like it, share it and comment on it?)

What is the watch time of your video? (How long do people watch it?)

What is the average session time? (How long do people stay on YouTube after watching your content?)

How quickly does the popularity of your content grow?

How new is the video?
The algorithms might be more likely to promote new videos to give them a chance to snowball.
YouTube TV promotion
When people watch videos, they tend to skip ads. But they cannot do it when a vlogger is broadcasting live. The most cost-efficient approach to advertising would be to place your channel's ad in a live video of a YouTube influencer. The viewers will have no choice but to pay attention to it!
YouTube promotion services
On the Internet, there are dozens of services where professionals can help you with YouTube promotions. They can review your channel in their blog, or optimize your metadata, or make your videos viral on social networks. When choosing a specialist, glance attentively through their portfolio and do not hesitate to ask questions. It would be ideal if a friend or colleague of yours could recommend a reliable expert to you. However, you might try to promote your channel for free first before asking for third-party help.
Automation of the promotion
Automation has the following benefits:
Saves time

Increases performance

Eliminates the mistakes that happen because of the human factor
However, most services that enable bloggers to automate their YouTube promotions are rather costly. A possible way to economize would be to pay for your YouTube automation and use free tools to promote your account on other social media.
Consider Postoplan, for instance. It is not compatible with YouTube yet but will come in handy for Facebook, Twitter, LinkedIn, Instagram and other platforms. The basic functionality of this service is available at no cost. If needed, you can upgrade to premium at an affordable price. Postoplan enables you to plan your posts in advance and always stick to your publication schedule. You can preview your posts before they go live, and you can share them on multiple social media platforms simultaneously.
How to promote YouTube videos without paying
Invent a short and catchy channel name and video names. Ideally, the names should contain less than 60 symbols — otherwise, they might get cut off when displayed. Put keywords as close as possible to the beginning of the title.

Create video descriptions for your content. The maximum length of each description is 5000 characters.

Avoid clickbait. It might be efficient in the short term — but it will undermine your reputation in the long run.

Do keyword research and include relevant hashtags. The easiest way to find popular and Google-friendly hashtags is to use YouTube's autocomplete when searching for a particular theme.
Organic YouTube promotion
New YouTubers often doubt whether organic promotions would be enough to make their channel popular. Well, if you can afford to spend funds on paid promotions, that would be amazing. But it is pretty realistic to gather a large following with minimal expense. The theme of the channel is a crucial factor. If people are interested in it and you know how to deliver new and valuable information about it, you will have high chances to succeed.
Best tips to promote your YouTube Channel
Always respect the community's guidelines. Before launching your channel, read attentively YouTube's terms and conditions.

Interact with your audience. Answer to their comments, even if they are negative. "Heart" the best comments. Post response videos.

Create playlists. When one video ends, the next one will start streaming automatically. The YouTube algorithms often recommend videos from series playlists to other users.
Invest Time
Your channel marketing will deliver the desired results only if it is systematic. Plan your content in advance and stick to a fixed schedule — for instance, three new videos per week. Your audience should know what to expect of you.
Before making a new video, think of why the community needs it? How can it help people to solve their problems? Why should they play your video and not your rivals' content? Spontaneity will hardly help you to promote YouTube channel.
Collaborate With Other Channels
Do not treat other YouTube channels from your niche as rivals. Instead, try to establish partnerships with them. They will be mentioning your channel from time to time, and you will do likewise. It will add authority to your content and will contribute to spreading the word about you.
When looking for potential partners, consider only those channels with more or less the same number of subscribers as yours. Plus, they should target their content to a similar audience. To select the channels for cross-promotion, use the Social Blade service.
Promote To Other Social Media Channels
Probably, you have a certain following on other social media platforms. Then, you should mention the link to your YouTube channel in your profile description and share your new videos on these platforms.
Ask your friends and family members to support you. As soon as you share fresh content on Facebook, Twitter or elsewhere, your closest people should like it, share it and comment on it within 24 hours. It will make your posts more visible to other users.
Ask For Help From Your Viewers
Tell your audience that you will be happy to read their private messages. Specify the communication channels that they should use: comments to your videos, email or something else. Your fans will be glad to know that you think of them and value their opinion.
Your viewers might suggest new themes and concepts for your videos. You will appreciate it when you run out of ideas (which inevitably happens with all prolific bloggers sooner or later).
Leverage The Community Tab And YouTube Stories
These tools might be unavailable for some content creators. But if you can use them, you should do so.
The community tab enables you to post questions to your audience and promote your upcoming videos.
Stories are videos with a short life span that remain available only for seven days. Your subscribers will know that they should watch them as soon as possible.
Get Traffic From Google
On a typical SERP (search engine results page), YouTube videos would rank higher than most text blogs or articles. "How to promote your YouTube channel to get there?" newbies would ask. When choosing which content to include on the SERP, Google relies on the following parameters.
Titles and description. They should feature keywords, as was explained above.

Keywords that are mentioned in the video.

Engagement. The more actively people react to your content, the better.

Categories. When uploading a new video on YouTube, you should categorize it so that the system knows what it is about.

Tags. Thanks to them, the algorithms will better understand the context of your content.
According to statistics, YouTube videos show up in 70% of the top 100 Google search results. It is your perfect chance to attract people's attention.
Engage with the YouTube community
Some channel owners might not want to collaborate with you. But you can still reach their viewers and turn their attention to your vlog.
Subscribe to channels that cater to the same demographics as you

Watch their videos, comment on them, like and share them

Mention their content in your vlog
It should help you to expand your following.
Customize your thumbnails
When we open a new Internet page, the first thing we see are not letters but visuals. It is how our brain functions. YouTube automatically creates thumbnails for all videos — but their quality might be substandard sometimes. You might consider making custom thumbnails instead. Here are a few recommendations on how to do it.
Select a close-up and high-contrast image

Convert it to one of these formats: .JPG, .GIF, .BMP or .PNG

Make sure it fits the 2MB limit

The optimal resolution is 1280 x 720 px

To encourage clicks, add colours and text
If you prefer another resolution, please preserve the 16:9 ratio. If you lack decent photos, feel free to use stock ones.
Google Ads
You can use Google Ads not only to place ads — but to pick keywords for your YouTube videos.
Open the Google Ads Keyword Planner.

Identify suitable keywords for your content.

Google each keyword.

Analyze the top search result for each keyword.

Tweak keywords to see which niche you can occupy.
Your goal is to make Google show your videos on the first page when someone looks for certain popular keywords.
Run a contest or giveaway
It is a highly efficient approach to getting your audience involved — but only if you stick to the following principles.
Write simple and transparent rules for your contest or giveaway
Offer your viewers a prize that they will appreciate
Respect YouTube's contest rules and other policies
Promote your activities on other social platforms
As a result, your following will grow. There will be more likes and comments under your videos. Plus, you will be able to collect viewer data to better plan your following activities.
Embed your YouTube videos
You should monitor the publications that bloggers and journalists make on the topic of your vlog. You can contact them and ask whether they would be interested in embedding your videos in their texts for free. Most texts only benefit from multimedia content — and you will get an efficient promotion.
Encourage viewers to follow your series
It is normal to ask your audience to like, follow and comment on your YouTube content. You might ask your viewers to press the bell icon if they want to get notifications about the updates of your channel. The users of this social platform are quite responsive in this aspect.
As you see, efficient promotion of your YouTube account does not necessarily require large investments. But it takes a lot of time and effort — this is why automation is vital. Start using Postoplan to maximize your performance! This modern, affordable and versatile service will help you to make the most of your YouTube promotions.
FAQ
How do I promote my YouTube channel?
You can promote a YouTube channel organically or by investing money in it. It would be reasonable to try the free approach first.
How can I promote my YouTube channel without money?
Create catchy names for your channel and videos, use popular keywords and compile exciting descriptions. Interact with your audience, organize contests and giveaways. To save time and effort, automate as many processes as you can.
How do you get 1000 subscribers on YouTube fast?
Create top-notch content and upload it to your channel systematically. Follow the recommendations from this article and try to make the most of each piece of advice.