The best time to publish on LinkedIn in 2022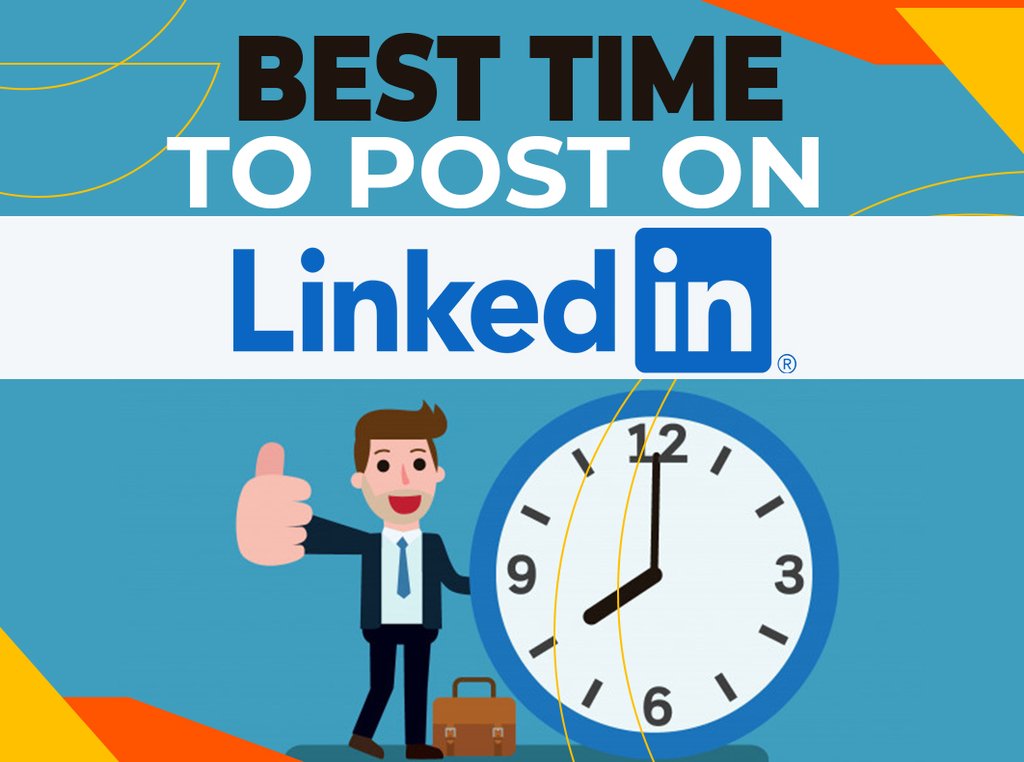 LinkedIn is becoming more and more popular, especially among B2B and B2C models. Today, there are over 500 million registered professionals on this social network. Therefore, internet marketers and others who have an e-commerce component for their business have a reason to optimize their use.
Functionally, LinkedIn has a lot in common with both Twitter and Facebook. It gives users the flexibility to customize messages for specific audiences and share updates. To be successful on this social network, you need to know the best time to post on LinkedIn.
Table of contents:
What are the best and the worst times to post on LinkedIn?
Business networks are different from social ones, so you should not be surprised that the best time to post on LinkedIn is from Tuesday to Thursday. Many people prefer to use Mondays to get in the right mood for the work week and get things in order after business trips.
Conversely, specialists can reduce their social media time on Fridays to prepare for family events or their next business trip (e.g., seminar, conference, exhibitions, etc.).
Your posts will get the most user attention if their schedule is based on the behavior of your target audience members:
1. Software and media companies. Media workers have likely been checking their social media feeds in the morning. For this niche, it's best to post on LinkedIn in the morning, Monday through Friday.
2. Higher Education and Healthcare. The best engagement rates are observed from 10 a.m. to noon and around 2 p.m.
3. B2B. This audience is specific because it is represented by professionals working for business. That is why the best time to get their attention is either lunchtime or during commuting.
4. B2C. As B2B, specialists in this field will be especially active in viewing posts on LinkedIn outside of office hours or during lunchtime.
If you publish a post when most of your target audience is offline, it will probably lose a large number of views and interaction. If you want to develop your LinkedIn account, it is imperative to find out when the target audience will be online.
There are periods of time when it's best not to schedule posts on LinkedIn:
1. The worst days to post on LinkedIn are weekends. The overwhelming majority of specialists wouldn't be at work. They'll prefer entertainment and spending time with their family. Remember that few people will deal with work issues on weekends. Therefore, it's important to schedule your publications mainly on weekdays.
2. Monday isn't a good day to post on LinkedIn for the members of the business network. The beginning of the working week means engagement in week planning and meetings with business partners. They probably won't have time to check their feed.
3. Remember, LinkedIn is the social network for professionals. It's designed for job search and profitable cooperation. In their free time, most LinkedIn members switch to their other social media accounts.
How to find your best time to post on LinkedIn?
You've already learned what's the best time to post on LinkedIn. You can safely use this knowledge to improve your marketing strategy. To achieve more impressive results, analyze the statistics and choose the best time for your target audience.
LinkedIn also has statistics, like Facebook and Instagram. With its help, you can get comprehensive information about your profile. You can learn how to use this data for the best results.
We'll tell you what actions you need to take to determine the best time to post on this social network. Don't worry - it's not difficult, and rather exciting.
First, choose a different time frame for your LinkedIn posting. It will let you know what time is the best for publications. To do this, you need to plan the intervals for the whole month.
For example, you'll publish posts at the following times:
7-8 a.m.
10-12 a.m.
5-6 p.m.
Any time in the evening. Maybe you can break the system and prove that posts on LinkedIn can interest your audience in the evening.
After a month-long experiment, you can check the data and find out what's the best time and day to post on LinkedIn for your audience.
You may rightly think that publishing such a large number of posts every day is simply impossible! After all, you wouldn't have time for work and household duties!
You can use internal statistics tools to get information about account development. To do this, go to the company page and select the "Analytics" section from above.
The Visitors tab contains data about the visitors to your page. You can see the total number of them (including the number and views for the last month), and compare them with the previous period.
And you can see detailed statistics by day, divided by the type of device that the visitor used during the visit — a mobile phone or a computer.
You can select "Unique visitors" in the Metrics tab, so you will know how many people have visited your page for a specified period.
Demographic data is available at the bottom of the page. One of the main benefits of LinkedIn is the choice of showing statistics by job title, industry, or company size to get a complete picture of your readers.
You can choose the Updates tab. Here you can analyze the subscribers' activity, the number of unique impressions, and clicks on publications. You can also see the period of displayed data.
The principle of displaying statistics is intuitive and doesn't differ from the usual statistics. But there is another colossal advantage of LinkedIn. If you are used to calculating ER (engagement rate) metrics, LinkedIn does it for you. You only need to select the item "Social actions,%".
Statistics about new users are also at your disposal.
In the Followers tab, you can see how many new users were obtained organically and how many were obtained through advertising. It is displayed on the graph.
It also collects demographic data about those who started following ("subscribed") the company page. The analysis options are the same as in the case of visitors.
So, you have received information about the best times for publishing from various sources. Try to put all the data on the table. You can return to it when you need to compare which day and time brought you the most success.
Since you'll already have reliable information for the day, it wouldn't take much effort to determine the publication time. By organizing the data in this way, you can compare the average engagement obtained for the morning, noon, and evening fast. Keep using special scheduling and statistics tools to maximize your success.
How to automate the LinkedIn posting
In order not only to experiment but also to post on LinkedIn, you should use such a useful service as Postoplan. It allows you to quickly manage publications in different accounts without wasting time and effort.
The service has already been used by more than 25,000 specialists around the world. They chose it for the following benefits:
The ability to post on LinkedIn on multiple accounts at once.
The presence of two powerful graphic editors for image processing.
The ability to maintain an unlimited number of accounts.
The ability to add an unlimited number of users.
Preview posts to see how they will look on each platform.
The ability to conduct an unlimited number of projects.
Convenient planning of a large number of publications.
To post on LinkedIn, you first need to go to the Schedule post tab. Type the post text in a specified window. You can also add hashtags and choose the category of the post.
There are different types of categories depending on the content (selling, informative, entertainment). Each category is distinguished by color so that, later in your Content Plan, you can see how many and what posts you have. You can keep track of whether you have too many posts of the same type. You can also select the account where you want to publish the post.
Choose a suitable time to post and click "Schedule."
The Content Plan tab contains all the posts you want to publish. To change or delete a post, you need to click on it.
You can edit the post, schedule it for another time, or delete it.
In the Statistics tab, you can find out comprehensive information about likes, comments, reposts for a certain period of time.
Sign up for Postoplan and get 7 days of a free trial. During this time, you'll have time to evaluate all the benefits of the service. Then you'll be offered favorable rates for the further use of the service. It is a remarkable opportunity to keep up with posting, and it ensures the stable development of your LinkedIn account.
FAQ
What time should I post on LinkedIn?
Experts recommend posting on LinkedIn during business hours from Tuesday to Thursday. Remember that LinkedIn is a business platform, not an ordinary social network, that people go to "pick up" news and pictures. Accordingly, the publication engagement will be small outside office hours.
When should I post on LinkedIn 2022?
The exact posting time depends on the niche. So, for Software and Media Companies, it is every morning from Monday to Friday. For Healthcare and Higher Education — from 10 a.m. to 2 p.m. For B2B models, lunchtime is a good time. It's also best for B2C models to post at lunchtime.
Does it matter when you post on LinkedIn?
Of course, it is essential. If you identify the best time to post on LinkedIn correctly, you can attract user attention to your post. Conversely, if you post at the wrong time, your posts will have no effect. Only those posts that are published at the right time can get user interest. Otherwise, the post will go unnoticed.
What should I post on LinkedIn 2022?
Since LinkedIn is a social network for professionals, you should publish posts containing the experience of working in companies, useful tips to increase personal efficiency, work-life hacks, reports on corporate events. You should use videos and images to attract public interest to your post.