What is the best social media targeted advertising strategy for 2022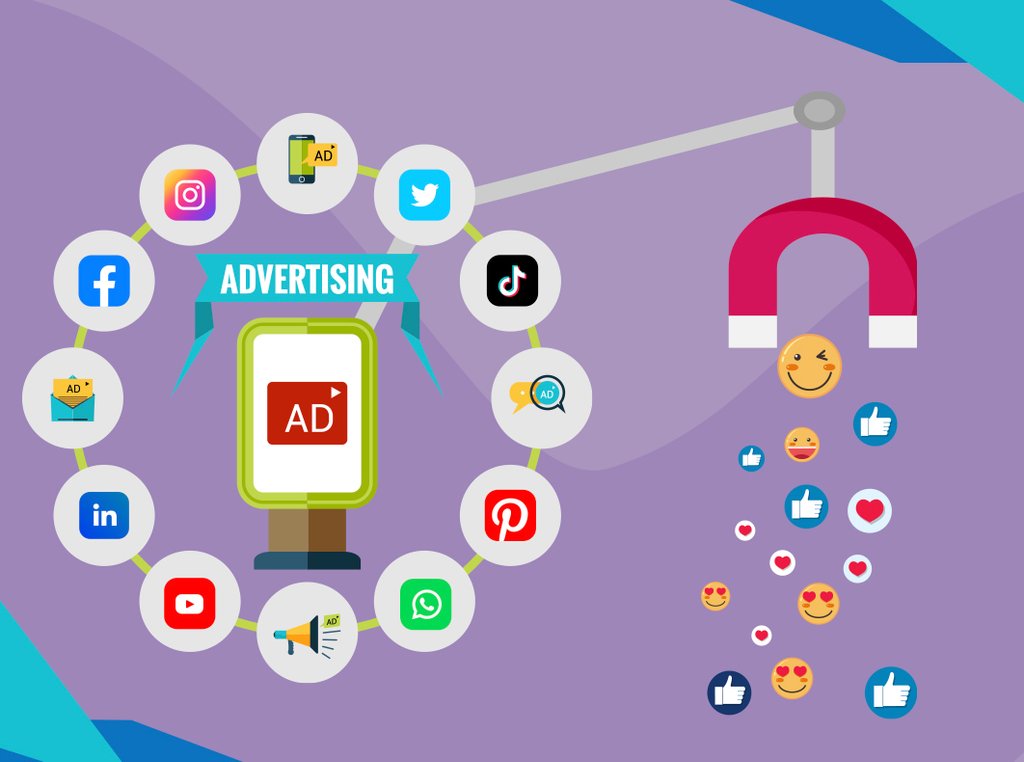 Targeted advertising is one of the tools for promoting a company, products, or services provided in social networks. It aims to inform a potential buyer about the product and its consumer properties. The purpose of such a message, unlike other promotion tools, is to present information about a product or service to the target audience in an unobtrusive, often entertaining form.
This article will tell you what targeted advertising can be on social networks and how to properly configure it to get the maximum effect on a small budget.
Table of contents:
Facebook
How much do Facebook ads cost
A trick question about cost! In short, you will never pay more than the amount you are willing to part with.
If your budget is $5 a day, Facebook Ads will never cost more than $5 a day. However, several factors will affect the size of your budget and the effectiveness of your spending.
In 2020, the statistics were:
Average cost per click (CPC) — about 25 cents worldwide and 20 cents in the US
Average cost per like in the US — 21 cents.
Average cost to install an app in the US — $2.43/
How to run targeted Facebook ads on a budget
Let's take an example of how to create a Facebook ad campaign with the most common goal — traffic.
Go to the Ads Manager, click the Create campaign button and select the Traffic goal.
Give the campaign name, first ad group, ad, and save the draft. If necessary, set the budget and campaign duration.
Choosing a budget. Here we have two options: daily or for the entire period. It's better to prefer the daily budget — increasing or decreasing it, depending on the situation.
The launch date is set automatically on the day the group is created, but the ad wouldn't start working until you enable the campaign. If you want the show to begin on a specific day, set the desired date. The situation is the same as the end date. You can schedule it in advance, or omit it.
Next, let's move on to setting up audiences. The first thing that is suggested is to select a custom or saved audience. If you don't plan to use these, skip this point and proceed to set up cold audiences.
The first thing to tweak is social demographics.
Places. First, choose who in the area you plan to reach: all people, locals, travellers, or recent visitors. Next, specify the region itself — it can be a country, a city, or a certain radius around a given point on the map (from 1 km). Regions can be added or excluded from certain selected areas.
As for the language, we recommend that you always specify the language in which the ad and the landing page itself are written.
5 mistakes will lead to significant spending on your Facebook campaign:
Lack of goals for the advertising company. It isn't clear what it is for: going to the site, subscribing to a profile, or buying from a post.
Wrongly chosen target audience for advertising.
A bad teaser is the use of a low-quality image or video in an advertisement.
Lack of tests and analytics because you don't understand what is effective and what isn't.
Incorrectly written text of the advertisement because the client doesn't understand what's at stake.
Before launching a Facebook campaign, check it to make sure it doesn't contain the 5 listed errors. This will help you save money.
Instagram
How much do Instagram ads cost
You set the cost of official advertising yourself when you set up targeting. In any case, you will not spend more than the established budget. The minimum budget is $1 per day.
Don't worry. All money will not be charged immediately after the launch of the ad. The post-payment system works on Instagram — first, there is an advertisement, then a certain amount is debited from the card.
How to run targeted Instagram ads on a budget
The content you post on Instagram must be interesting and inspiring. After all, they will be seen by people who are not subscribed to you and have never been on your profile.
It's also worth considering that there are different types of targeting to gain interest from the right audience:
Geographic targeting shows ads in the desired region - from entire countries to a specific store or cafe.
Demographic targeting selects users based on gender, age, marital status, presence of children, and age.
Social targeting segments users by education level (from schoolchildren to PhD), the direction of education, and educational institution.
Interest targeting helps you target users who have a hobby.
Open the post you would like to target and click the Promote button. Instagram will offer to link the page to Facebook.
If you select the option "Your profile," a button "Open profile" will appear under the post. By clicking on it, the audience will be directed to your page. "Your Site" will lead people to the site, and "Storefront" will allow you to advertise new products and receive requests or calls. You also will be able to choose audience location, interests, age, and gender.
Please note that by choosing an "automatic" audience, your ads will be shown to those who are most similar to your subscribers. If you are unsure of your followers or there are a lot of bots among them, it is better to create a new audience.
Choose a budget. Depending on the amount, you will be shown the estimated coverage of the publication. After that, check all the information and start advertising!
A smarter way to create audiences is to use Facebook Business Manager. There are a lot more options for more accurate targeting, which will save you money. The main thing you need to check is that the accounts on Instagram and Facebook are linked.
Make sure your Instagram account is linked to the correct business manager. Confusion happens when an account is automatically linked to another business manager or another page.
Linkedin
How much do Linkedin ads cost
The rates at LinkedIn are the following:
Minimum cost per click — $5.
Minimum cost of 1000 views — $25.
Minimum daily budget — $25.
How to run targeted Linkedin ads on a budget
• Step 1: LinkedIn Campaign Manager.
Previously, LinkedIn was extremely limited in its advertising options, but more recently, LinkedIn has expanded its advertising options.
Depending on the chosen goal, you will be offered 6 different ad formats.
• Step 2: Targeting and Audiences.
LinkedIn gives B2B marketers a unique targeting experience.
Knowing where they drink coffee is great for Facebook, but on LinkedIn in 2019, you need to know what they studied in college, if they even went to college, and choose those targeting options.
• Step 3: Budget and Schedule.
The third step is setting up the price and type of ad. As with other social networks, we can set up pay for impressions or clicks.
Spoiler: Linkedin is the most expensive social network. The recommended CPC for Linkedin advertising posts is $ 8, but you can try setting the CPC below.
• Step 4: Conversions
To complete your Linkedin campaign setup, you need to set up conversion tracking.
To do this, you need to put the Insight Tag and the conversion monitoring code on your website.
Click on the "Create New Conversion" button, enter the conversion name, then select the trigger. If there is no required trigger, then select "Others." Enter the approximate cost per conversion, select attribution, and finally select the Insight Tag tracking method.
Youtube
How much do Youtube ads cost
The average cost to view YouTube ads ranges from $ 0.10 to $ 0.30, and the views you create will count towards your total YouTube views.
The average cost to reach 100,000 viewers is about $ 20,000.
How to run targeted Youtube ads on a budget
• Step 1: Creating a campaign.
Go to your Google Adwords account and create a campaign, as shown in the picture below.
Next, in the window that opens, set the name of the campaign. Display type — standard (here you can configure it to install applications, as well as purchases from your GMC account). If you already have a ready-made campaign with settings, you can copy its settings to a new one. We set the budget, which will be spent daily, and proceed to the next setup stage.
• Step 2: Delivery method and network.
So now we need to choose a display method:
• Standard — stretches the displayed ad budget for a day.
• Accelerated — fast views as often as possible.
Next, select the networks:
YouTube search — accordingly, ads are shown in YouTube search (if you need traffic from search).
YouTube videos.
In general, as with any targeting, we recommend separating traffic from search and video.
We select the location (usually all countries) and the desired language of the target audience.
• Step 3: Device Types.
Let's move on to the next step. Now you can choose the types of devices on which your ad will be displayed: operating systems, device models, mobile operators, and WiFi.
• Step 4: Configuring Display.
So, now we set the start and stop dates of the ad (we can also set our schedule for displaying ads, depending on the geo and time zone). We set the rotation — optimization for ad views.
Further, we can choose to set limits on the frequency of display.
• Step 5: Creating ads.
After you select one of the ad format types, an additional window will open with the settings of the ad itself. Enter the display URL — the link to the video, the channel you want to send the audience (displayed in the advertisement for audience trust). Also, paste the final URL (the display URL and the final URL must match the original).
Further, in the URL options, you can put individual UTM tags for the video and, in selecting the banner, assign either an automatic picture from the video (freeze frame) or upload your own.
• Step 6: Targeting.
There are many options in targeting settings. You can specify demographics, interests, keywords, placements, video topics.
More accurate targeting will lead to lower ad costs. You should pay attention to the following parameters:
Keywords — enter a list of words, and ads are shown only to those who drive these queries into YouTube.
Placements — specify the list of channels where your target audience is and show it to everyone who watches videos on these channels.
Remarketing — show ads to everyone who watched your videos but didn't subscribe
Topics are the same as interests. The difference is that there are already the topics of the video and not the interests of your target audience.
Twitter
How much do Twitter ads cost
Like many other types of online advertising, Twitter uses an auction model. This means that the ad with a higher bid and better performance will receive more views.
Charges may be applied per click, per subscriber, per view, or the number of successful app installs, depending on the type of ad. The average cost per click is from $0.5 to $4.
To minimize risks and not spend too much, it is necessary to establish a daily budget — a prerequisite, and, if desired, determine the total cost of an advertising campaign.
How to run targeted Twitter ads on a budget
The structure of a Twitter campaign consists of campaign levels, ad groups, and ads.
To create a campaign, click "Create campaign" on the upper right corner of the advertising cabinet.
First, you need to choose an objective.
After selecting an advertising objective, you go to the "Details" tab, where you need to name the campaign, select a payment method, set the dates and budget for the campaign.
After that, you need to select the type of bid you want to use in your campaign. Then you set the bid's size and choose the optimization method: by clicks or conversions on the site.
Next, you set up your targeting. Targeting capabilities: location, language, platform (desktop or mobile), phone model, operating system model, and mobile operator.
You can also set preferences by interests, behavioural characteristics, keywords, account subscriptions, etc.
But for each ad group, you should select 2-3 parameters since detailed targeting for the start of an advertising campaign can slightly reduce the reach of the target audience.
You can create a tailored audience or upload your own. There is an Audience manager for this, where you can view and manage your audiences.
Three types can be used with Twitter Ads:
Lists — Upload a list of users' email addresses or use their Twitter registered names.
Web — Users who have recently visited your site.
Mobile Apps — Users who have taken certain actions in your app (installed it or registered)
Finally, you need to select or create a tweet for promotion and select a placement: news feed, user profiles, search results, Twitter Audience Platform (TAP). To do this, click on the "Creatives" tab, located at the upper panel of the advertising office.
TikTok
How much do TikTok ads cost
An essential advantage of targeted ads on TikTok is that you can adjust the budget of the advertising campaign. Previously, the minimum daily budget was $50. Later, the social network revised its pricing policy and lowered this rate to $20.
How to run targeted TikTok ads on a budget
Click on the Campaign tab at the top of the page and click Create.
Next, decide and choose the objective of the advertisement.
Make your campaign name as clear as possible.
Give your ad group a name before deciding where to place your ad on TikTok. Placement can be automatic, then the system itself will select applications for ads, or manual, where you need to select applications from the list. And then, we will consider them in more detail.
Select your ad type. It can be App Install or Website — whatever you want to promote. Don't forget to add your app link or site page URL. When choosing the "Website" type, you must also specify the pixels that can be created in the "Event Management" section.
Next, you need to set up creatives. If you enable dynamic creatives, the system will automatically create combinations of your ad assets (images, videos, and texts) and show only highly effective combinations. This is what you need if you don't have time to do it yourself.
This is also an opportunity to save your budget. The more precise your customization, the more likely your ad will reach the target audience, and you will spend less money on it.
Targeting options allow you to customize your ad to the audience you want to serve your ad to. You can use the list of users you have interacted with before and launch remarketing on them.
In the "Excluded" line, you can exclude a custom or similar audience.
Then set your budget and schedule.
Then go ahead and set up your strategy.
Why Should Marketers Use Facebook Ads?
Facebook is a social network that your customers and consumers actively use. They consume internet content and communicate with the world there. Facebook now has 2.5 billion monthly active users and 1.5 billion daily active users. If you think that your clients and clients are not on Facebook, you are wrong.
Facebook offers an excellent advertising environment for the price it offers.
It's easy to create Facebook ads. With a little experience, you can easily improve your post's ranking. You have a powerful tool in your hands — Ads Manager. With it, you can easily create and manage ads.
Finally, your competitors are already there. If you're using Facebook's potential, then someone else is doing it. You can lose relevance to your audience if you don't post advertisements.
The essence of the Facebook algorithm is that it controls the formation of the news feed so that it most closely matches user requests. This is the power of this social network.
You can also conduct quantitative research based on numbers and metrics. This is where Facebook Audience Insights comes in handy as it provides basic demographic statistics about your audience.
Versatile Cheat list to create the Best targeting Campaign
All social networks are different, but some general actions will help you succeed in all of them. We present to your attention a universal strategy for any social network:
Define your audience. The ad must be broadcast exactly to the people who can react to it. All social networks have flexible target audience settings. Remember — your services and products should help clients to solve certain problems.
Write an effective ad. Social network users will like and share the post only if it attracts their attention. Create three or more different versions of your ad before uploading it to your social network. Also, don't forget about visual content.
Promote your posts. This is an excellent opportunity to test the success of your chosen publishing approach. It would be best if you didn't spend a lot on a testing company. For example, it's enough to spend 5-10 dollars on Facebook to get some chosen approach results.
Analyze the results. Pay attention to the most popular posts and trash those that are completely ineffective. This will allow you to determine the most successful approach to promoting your brand.
Advertising on a budget FAQ
How much do targeted ads cost?
Depends on the social network. The minimum budget for Facebook and Instagram is $1 per day. The most "expensive" social network is LinkedIn. The minimum cost per click is $5.
How much should you spend on an advertising budget?
Early ad campaigns don't have to be expensive. $5-10 will be enough to determine which strategy is the most successful.
What is a good cost per like?
The average cost per like on Facebook is 20 cents — it depends on the product. This is an approximate parameter to be guided by.