Who is an influencer, and what is influencer marketing? How to become one?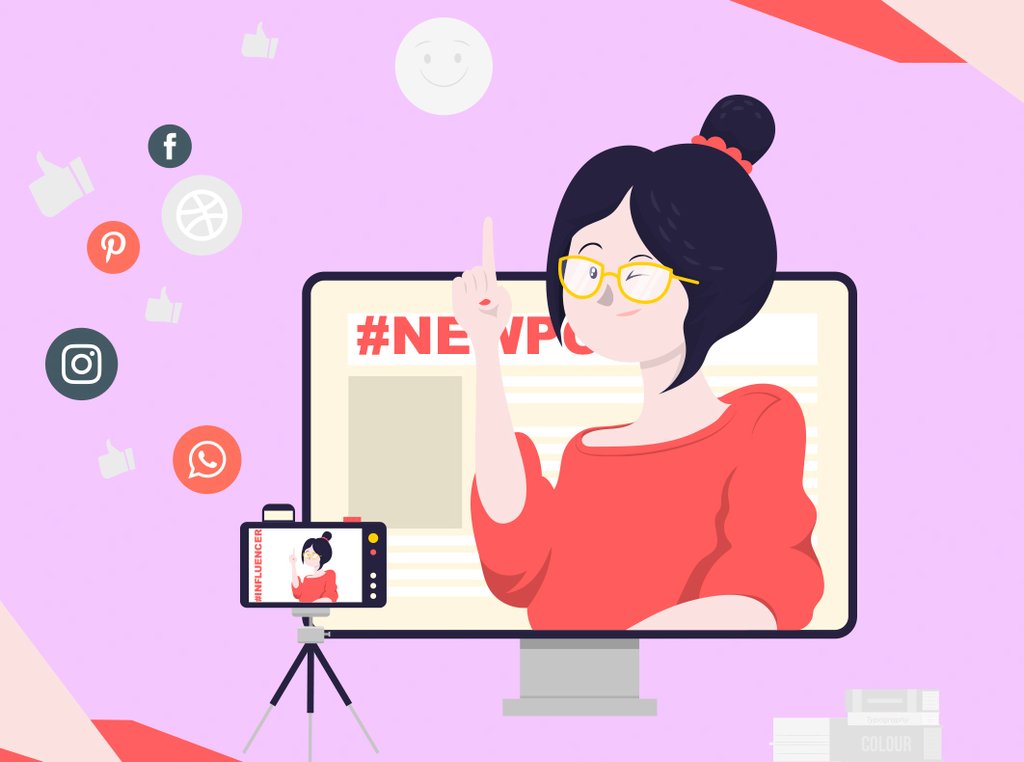 Influencer marketing is a relatively new direction in digital marketing. Flexibility in approach allows you to choose what will be beneficial and convenient for your specific business.
At the end of 2020, the Internet became the No. 1 media globally in terms of investment share (39% compared to 37% on TV). People live in a world of technology while experiencing an increasing need for personal communication. New approaches to communication between brands and consumers are built on this duality. They begin to sell products and services, using the client's favour and trust in opinion leaders, who are called influencers, and the exact method of such promotion is influencer marketing.
This article will explain what influencer marketing is and how to use it to achieve maximum results.
Table of contents:
Influence definition
An influencer is a collective term that brings together different opinion leaders: celebrities, bloggers, video bloggers.
Many continue to refer to opinion leaders as bloggers. It is essential to understand that not all celebrities and media personalities are bloggers. With the help of social networks, they primarily talk about their life and work, as many people do. On the other hand, bloggers initially chose blogging as their job and not as an addition to their professional activities or creativity.
In 2019, the international agency Mediakix surveyed marketers and found that 61% of respondents do not always understand how to choose the right influencer for a project or marketing campaign.
Influencer marketing — what is it?
Influencer marketing is a way to promote products and services through influencers. Recently, there have been many talks about brand promotion through popular bloggers channels, which is only a tiny part of this trend. An "influencer" can be anyone — from a famous pop star and streamer to a person with the nickname SuperMum, who is trusted by the entire mom-community of a particular baby forum.
An "influencer" can be not only a person but also any group, brand, company, or even place (for example, a hobby club) that people trust on certain issues.
The secret weapon of recommendation marketing is that it doesn't look like an advertisement. People tend to believe their favourite bloggers more than TV ads or YouTube ads. 92% of buyers believe other people's recommendations, even if they don't know them personally.
Popular Amazon influencers
There is a wide and growing selection of savvy Amazon influencers who share their advice, marketing successes, and failures on social media. They are not only great to learn from, but they can also be a source of inspiration, mentoring, and humour when things don't seem to be going well.
We will present the Top 10 of them:
Larry Lubarsky
Steve Chou
Kevin Blackburn
Dan Vas
Stephen Smotherman
Andrew Youderian
Richard Lazazzera
Rachel Greer
Austin Brawner
Steve Hutt
Top 10 social media influencers
Influencers on social media gain a large following due to their popularity, knowledge and special skills. As a rule, they have wide support on several social networks at once.
Check out the top 10 social media influencers right now:
What is an Instagram influencer
Instagram influencers are people who create content within a social network. But as we already said, narrow topics are usually taken only by specialist bloggers, and Instagram influencers write about everything that surrounds them: travel, music, creativity, work, fashion, and so on.
Nano-influencers with 1,000 to 10,000 subscribers receive an average of $ 10-100 per post. Micro-influencers with an audience of 10-50 thousand cost $ 100-500, average bloggers with 50-500 thousand followers — $ 500-5000. The rates increase significantly from 500 thousand and up to 1 million: such macro-influencers can ask for their services $ 5,000-10,000, and successful bloggers with a million (mega-influencers) — from $ 10,000 per post.
How to find an influencer 
There're many ways to find influencers to collaborate with:
It is the easiest and most direct way to get started with influencers. You can find specific accounts by searching for hashtags, keywords or simply looking at followers for popular accounts similar to your brand. The more specific the hashtag or your query, the higher the chances of finding an account that matches your brand.
Once you've found the influencer of your dreams, you need to get their attention. You can do this by direct messaging or leaving comments under the posts. Briefly introduce yourself and explain why you want to work with them.
A more complex way is to use databases, where filters can be used to make it easier to find the accounts you need. Just enter the criteria you want, such as location, age, and gender (many databases offer more search options). Some databases also offer to view statistics such as the number of subscribers and their activity.
Using databases will allow you to find potential partners faster but does not guarantee that they will answer you. It is also worth noting that not all databases are of high quality: they're rarely updated, they provide irrelevant information.
Ambassador / Affiliate Programs
This way turns the search process around as influencers find you.
As a brand ambassador, influencers receive free merchandise or exclusive offers in exchange for sponsored posts for a period.
Affiliate programs are more formalized and allow influencers to earn a percentage of the product sales they're promoting for your brand by telling their followers about them. It is usually recorded using unique referral codes assigned to each influencer and allow you to track the frequency of their activation.
Perhaps the best solution for finding influencers is dedicated platforms, where brands can communicate about a campaign being launched. Influencers can submit a request to join it. This approach saves time and effort for the parties.
The platforms function as gated communities, meaning that any brand or influencer can't just join them. The influencer must first submit a request / receive an invitation to join. Only after checking the account (whether they're real subscriptions, the quality of the content) will it be accepted.
How to become an influencer — step by step guide
If you want to become a blogger, then you are on the right track. We will discuss a step-by-step process on how to achieve this. Follow short and clear instructions.
1. Choose your niche
Before you start your journey to becoming an influencer, you need to choose a niche that interests you and consistently create content. You also need to have a certain level of knowledge in the field to establish yourself as an influencer.
As an influencer, you'll have to research and post content in your chosen area of ​​interest. Therefore, it's essential to choose what you're passionate about and enjoy your time with.
Whether you love to cook and try new recipes or are interested in handmade, you need to find your calling. You can also choose a combination of 2-3 interests, but don't make it too broad.
2. Optimize your social media profiles
Once you have chosen your niche, the next step is to select the social networks and create/optimize your profiles. Most bloggers are only popular on one or two social networks. Therefore, it's best to focus your efforts on only 1-2 platforms.
Once you've chosen platforms, you need to either create new profiles or optimize existing ones. Here are some things you can do to optimize your accounts:
Switch to a business account. If you intend to become an influencer, you need to switch to a business account, as this opens up a lot more opportunities. Most platforms like Instagram, Twitter and Facebook can switch to a business account in their profile settings.
Create a fun BIO profile. Your BIO is the first thing you see when you visit your profile and is an integral part of creating an excellent first impression. Your BIO should tell your story in an exciting light. He must also provide all the necessary information about you, such as full name, location, contact details and areas of expertise.
Add your profile photo and cover photo. You will also need to add your profile photo and cover photo for your profile as essential components of your brand identity. People often recognize a social media profile from a picture, so you need to choose your photo carefully. Also, make sure your face is visible and the image quality is good.
3. Define your audience
Before you start creating content and posting it to social media, you need to understand your target audience. Influencers have influence and close connections with their audience. This is because they do not cover all users, but only those who have similar interests in the same niche.
To become an influencer, it's important to know who you are targeting and then do your best to build a loyal subscriber base. To understand your audience, you can start by analyzing your current subscriber base to get an idea of ​​demographics and interests.
Most social media platforms have a built-in analytics tool that provides insight into your current audience. For example, Twitter Analytics provides information about your followers' interests, gender, location, etc.
4. Create and publish relevant content
The next step in building authority is posting valuable and relevant content to your followers. The more you interact with your audience, the more people will depend on your opinions and recommendations.
The most important requirement for being an influencer is the fact that your followers are actually listening to you. You need to formulate a content strategy and combine different types of content, preferably the ones that your audience will enjoy the most.
Some influencers are constantly writing about their chosen area of ​​interest, such as food, travel, fashion, beauty, etc. They don't mix their personal life posts with niche posts and focus their content only on their area. It means the influencer can post recipes, photos of visited restaurants, reviews, and even brand promotions.
5. Be regular and consistent
Most social media algorithms give preference to accounts that post regularly. This is especially true for Instagram, which requires constant posting to increase visibility. It's also the largest marketing platform.
You can post posts daily, weekly, or at any frequency convenient for you. You also need to study the platform before deciding on this issue. Some platforms, such as Twitter, are more dynamic and require a higher posting frequency.
On other social networks like Instagram, YouTube, and Facebook, you can post once or twice a week.
There are certain days and times of the week when you can get the most out of your posts. For most platforms, the highest engagement rates can be seen in the morning and mid-week afternoon hours. Wednesday is the best day to post on most platforms. You should check the best time to post on your chosen platform and schedule the posting accordingly.
6. Interact with your audience
Once you start posting content on social media, you will receive likes and comments on your posts. The influencer needs to keep in touch with your followers, so you can't ignore the comments.
It is recommended that you respond to comments and any questions your followers ask. You can also just like their comments to show your appreciation.
Another way to communicate with your audience is to ask questions and start a conversation about a topic of mutual interest. These interactions help build trust with your audience and strengthen your position as an influencer.
7. Let Brands Know You Are Open to Collaboration
The last step on the road to becoming an influencer is to announce it to the world. You must establish yourself as an influencer interested in collaborating with brands.
You can do this by writing in your BIO that you are an influencer interested in cooperation. Also, provide contact information for potential clients, offering them an easy way to get in touch with you.
Another way is to have your reach and communication with relevant brands showcase what you have to offer. Your best bet is to develop an outreach template that you can use to reach different brands, as it will save you a lot of time.
There are several platforms for influencers where brands and influencers can find each other. You can also use them to find brands in your niche looking for collaboration.
To competently manage accounts in social networks and publish posts on time, you need an assistant — for example, Postoplan. It's a smart platform with which you can create and schedule posts, communicate with followers, view post statistics, and develop an advertising campaign strategy.
We offer you 7 days of free use of the PRO account. It will allow you to learn the many advantages of the platform and use it for a long time. 
FAQ
What is an influencer campaign
It is a type of influencer marketing campaign. During the campaign, the influencer posts publications on their social media account and performs other actions to promote the brand.
What is an influencer in business
An influencer is a famous person who can influence the decisions and opinions of others. It can be a star whose fans want to dress similarly, lead the same lifestyle, or be an expert in some field whose opinion is listened to on thematic issues.
What is an influencer marketing platform
It's a platform where influencers meet potential customers. It is a great way to find the right media personality to promote your brand without wasting time.
What is an influencer on YouTube
As a rule, these are bloggers who shoot reviews on some niche topic. It can also be gamers, streamers, prankers, show hosts.
What is being an influencer
An influencer is a person who produces content on social media and benefits from it. Most often, the benefit is expressed in advertising fees from brands or free products.
What is an Аmazon influencer 
Amazon influencers are bloggers, YouTube users, and social media influencers who direct sales to Amazon and earn commission as an Amazon partner by participating in the Amazon Associates program.