Social Media Image Sizes: Guide for 2022 (Updated Monthly)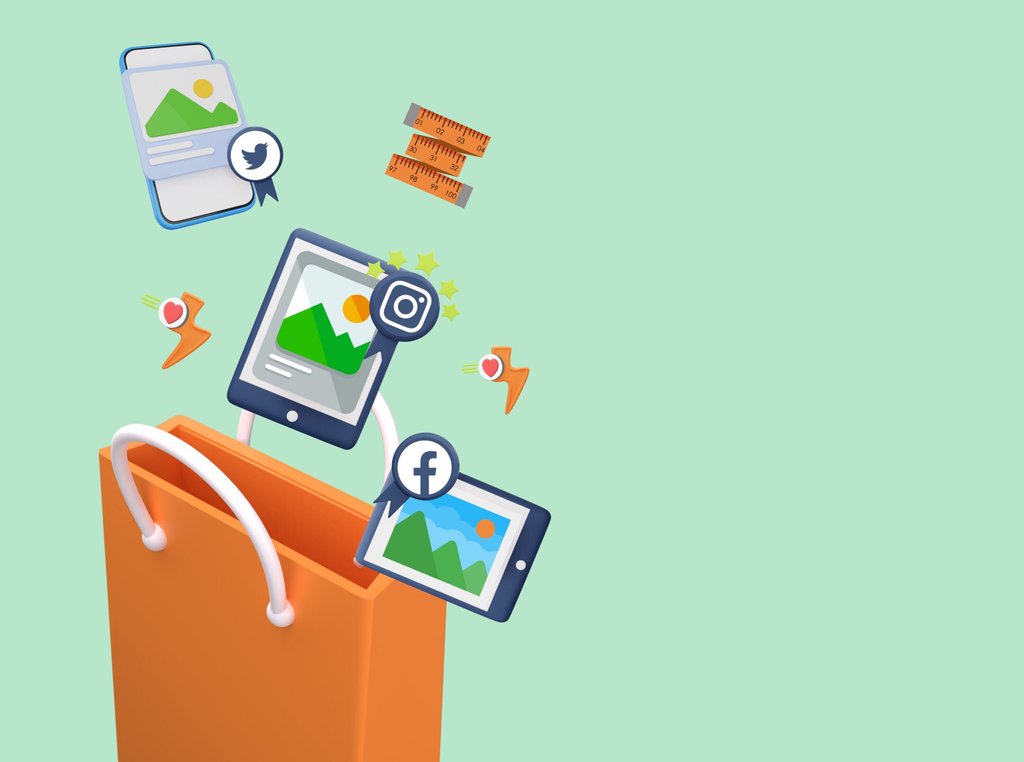 When you have a split second to impress a customer, a piece of visual content is your best bet. To get someone to stop scrolling, it's not enough to publish just any meme, photo, or illustration. Your images on social media need to meet specific criteria.
Aside from relevant image content, its quality and style all matter when you're competing for follower attention on social media platforms. And yes, size matters, too.
In fact, choosing the right image dimensions for different social networks can make or break your chances to grab your followers' attention.
This guide will answer all your questions regarding image sizes on social media, updated to provide the most relevant information for the listed social media platforms.
Social Media Image Sizes: Pick the Category You're Interested In
Google My Business Image Sizes
Facebook Image Sizes
When it comes to Facebook, you're not one in a million. You're one among 10 million advertisers on this social platform that has close to three billion users. Competing for attention on such an oversaturated network means that every detail matters, the size of your images included.
Now that visual content is dominating social media, optimizing your Facebook page images to match your brand purpose and audience preferences is essential. It helps you grab their attention and boost engagement. Posting high-quality images on Facebook helps you target a global audience that will be more inclined to share your content across other platforms, too.
Every image on Facebook displays differently, so we've divided this section into categories to help you find exactly what you need.
Facebook profile picture size
Facebook business pages have changed to showcase the profile picture on the left side, making them easier to distinguish from personal profiles. However, it has no bearing on the size of the photo you should choose.
No matter if you're optimizing a personal profile or a professional page, the displayed image is round - but you need to upload a square image. A business profile image often contains the company logo.
Optimal Image Size:
You can upload an image that's 180x180 pixels or more, and it will display on different devices as follows:
Facebook cover photo size
Unlike profile pictures, business cover photos have more wiggle room for expressing your brand's unique value proposition.
When you're setting up your company page and choosing the right Facebook category, you should also pick a cover image to represent your brand.
Optimal Image Size:
Desktop:

820x312 pixels

Mobile:

640x360 pixels
Hint: What matters most is that you choose an image that falls within the 640x312 parameters to make sure they are central and visible on any device.
Facebook banner size
The banner image is another term that refers to the cover image, which means the same size guidelines from the previous segment apply.
Keep in mind that you can upload larger images, but Facebook will ask you to crop them, which means that some of its details might be missing once the image is published. To make the most of your cover (or banner) image on your Facebook page, follow this platform's guidelines to ensure its visibility.
Facebook event cover photo size
An event photo has a limited time to make an impact and provide all the right information to your audience. At a glance, your followers should be able to tell what the event is about and get excited about itб thanks to your enticing image.
Since you're looking to get people to respond as quickly as possible, this time-bound engagement calls for impactful images.
Optimal event cover image size:
Choose a high-quality image, preferably in a PNG or JPG formatб to preserve its quality wherever it is displayed.
Facebook group cover photo size
Facebook groups are places where most of all the action happens. It's where your followers are most likely to engage through comments, shares, and likes. Your group image can also tip the scales in your favor and get more people interested in subscribing.
Optimal image sizes:
Facebook post size
When you add images to your post, you should think about what your audience wants to see and what they are more likely to share. If you publish a visual element that is both appealing and the right display size, your social media timeline will look better and inspire more engagement.
Once you nail the recommended image sizes for your post, you can prepare them in advance and automate your Facebook posting to ensure uploading consistency.
Optimal shared image size:
Facebook ad size
Ads on Facebook come in many shapes and forms, but fortunately for you, the image guidelines are fairly consistent. They come with or without links, but also a few lines of text to describe the product. If you have an e-commerce store, you need attractive product images to go with every ad to boost sales and conversion rates.
Optimal ad image sizes:
1080x1080 pixels - with the recommended aspect ratio of 9:16 or 16:9 in most ad formats

940x788 pixels

1200x628 pixels

1200x1200 pixels
Facebook video size
Visual elements on your personal profile or business page aren't limited to images. Facebook lets you publish videos of different formats, especially when you create ads and boost your posts. They can come in the form of a story, carousel, collection, 360 videos, video ad, or a shared post, among others.
Optimal video sizes:
1270x720 pixels both for portrait and landscape videos, with the aspect ratio of 16:9 or 9:16.

5120x2560 pixels for monoscopic 360 videos.

5120x5120 pixels for stereoscopic 360 videos.

1080x1080 pixels for in-feed ads, carousels, collections, Facebook stories (both organic and ads) - keep in mind that these ad varieties go well with a simple image format.

720 pixels for instant experience ads.

1200x720 for slideshow videos.
LinkedIn Image Sizes
As the leading professional network, LinkedIn enables brands to connect with potential partners, investors and find top industry talent. Posting on LinkedIn also helps your business grow its reputation and authority.
Getting more LinkedIn exposure means you need to stay in the know and use trending hashtags. But part of that credibility-building process depends on the right visuals.
Remember that the decision-makers you want to engage the most are the busiest people on LinkedIn - and a powerful visual attached to your post might just grab their attention.
LinkedIn company cover photo size
A company page supported by a compelling cover image aligned with your brand messaging improves your networking potential. This image is widely compared to cover images on other social networks, and it displays differently on mobile devices. It gives you plenty of room to express your business values, so you can use it to publish a banner with your tagline or an image of your team.
Optimal cover photo size:
1128x191 pixels - but remember, it appears slightly "thinner" on mobile.
LinkedIn banner size
Just like with Facebook, don't let the terminology confuse you. The banner image on LinkedIn refers to the cover image for either your personal profile or your business page. Either way, it should follow the size guidelines from the section above.
However, if you want to improve your LinkedIn Life Tab hero image, it does come in the banner format to capture the visitor's attention immediately. This is an excellent spot to showcase your achievements and company culture.
Optimal Life Tab hero image size:
Optimal Life Tab custom module size:
LinkedIn post image size
One of the best ways to improve your social content in 2022 and beyond is to publish image posts, including the ones for LinkedIn. Visually-supported LinkedIn posts generate more engagement and stand out in the newsfeed.
Optimal post image size:
LinkedIn photo size
On your Life Tab page, you can include photos to represent your employees, a company event cover photo, or an image relevant to your corporate culture. Known as company photos, they are normally positioned below the custom modules.
Optimal company photo size:
LinkedIn profile picture size
Company pages on Linkedin often use their logo as a profile photo, just like on Facebook. For personal profiles, it's best to use a high-quality professional photo with a maximum file size of 8MB.
Optimal profile picture size:
LinkedIn article image size
Adding images to your articles on LinkedIn supports the story and makes your writing more appealing to your readers.
Optimal article image size:
LinkedIn background photo size
Just like a cover photo (or a banner image) appears on your business page on LinkedIn, you can upload a background photo on your personal profile.
Optimal background photo size:
LinkedIn logo size
The image most companies use on their official LinkedIn pages is usually their logo. It's the equivalent of the profile picture on your personal profile, and it has very limited space for depicting anything other than the logo.
Optimal logo size:
300x300 and up to 400x400 pixels maximum
LinkedIn ad size
Ads on LinkedIn display in various formats, but to make it simpler for you to choose the right image size, we've divided them according to their purpose.
Optimal single image ad size:
1200x628 pixels for horizontal/landscape images.

1200x1200 pixels for square images, and it's considered the best performing single ad format for CTR.

628x1200; 600x900; 720x900 for vertical single image ads.

300x250 for conversation ads and message ads, as well as the background photo in spotlight ads.

100x100 pixels for logo images in the text ads, spotlight ads, and follower ads.
Twitter Image Sizes
Chirping your way to social stardom calls for more than creative hashtags and tidbits of wisdom. As much as it is about mentions, tags, and discussions, Twitter is also a visual platform.
To use it to its full potential, you should understand what roles images can play in your tweets and business pages. The right visuals increase your brand's chances to get more traction.
Twitter banner size
The Twitter header photo on your profile page, also known as the banner, is a great place for your company tagline or your product selection.
Choose a picture that encompasses as much of your brand identity as possible, but keep important details out of the bottom left corner. That's the only part that your profile picture will cover.
Optimal banner size:
Twitter profile picture size
The trend of round profile pictures has defined Twitter's profile look and feel, too. Choose a regular, square image, but test it just like on Facebook to make sure that the round shape includes the most relevant details.
Optimal profile picture size:
400x400 pixels, up to 2MB in size
Twitter post size
The aspect ratio for the photos you add to your post is 2:1. That's why it's important to publish images of good quality so that they don't lose appeal once posted.
Optimal post image size:
1024x512 pixels

Expect a 7:8 aspect ratio when you post two images side by side.

When you publish three images together, one will be more prominent, with a 7:8 aspect ratio, while the remaining two will be positioned next to each other in a 4:7 aspect ratio.

Four images published together will appear in a grid format, with a 2:1 aspect ratio.
Twitter video size
This social platform is all about short and sweet content. To get more followers on Twitter, you should start uploading videos in addition to images, but be mindful of the size guides.
Optimal video size:
Resolution ranges from 32x32 to 1920x1200 pixels.

The maximum duration is 2 minutes and 20 seconds, although you can create more and then trim any way you see fit.
Twitter ad size
You might have noticed that ad specifications can be the most complex on every social network when it comes to image selection. With so many options available, choosing the right-sized image can make every Twitter card, carousel, or standalone ad more effective.
Optimal ad image size:
1200x1200 pixels for standalone image ads and standalone video ads.

800x418 pixels for ads with website buttons, app buttons, conversion buttons, ads with polls, as well as carousel ads with up to 6 images.

800x450 pixels for video ads with buttons or polls, and video carousels.
Instagram Image Sizes
According to the latest research, Instagram boasts over 1 billion users today, and 81% of people use it to learn about brands and products. Since it's a predominantly visual platform, you cannot afford to post sub-par images. Follow the listed cheat sheet and keep an eye on your social metrics to see how well your posts are performing.
Instagram post size
The beautiful grid of photos on your Instagram profile offers three types of images to post, rectangular, portrait, or landscape photos.
Optimal post size:
1080x1350 pixels for portrait photos.

1080x566 pixels for landscape photos.

1080x1080 pixels for square photos.

Stick to the 1:1 or 1.91:1 aspect ratio.
Instagram story size
Stories on Instagram are the perfect vessel for publishing GIFs, as well as photos and videos. As simple stories and carousels, they give you plenty of creative freedom to portray your brand in the best light.
Stories are also a brilliant addition to your influencer marketing campaigns to give your brand more visibility and raise brand awareness.
Optimal story image size:
1080x1920 pixels, 9:16 aspect ratio
Instagram profile picture size
This round profile picture might seem to be overshadowed by the entire collection of images on your page, but it's equally important for portraying your brand properly.
Optimal profile picture size:
320x320 pixels, so that your photo can be displayed in 110x110 pixels, with the company logo in the center.
Instagram video size
As one of the most action-inspiring formats loved both by customers and marketers alike, videos on Instagram come in various forms.
Optimal video size:
1080x608 pixels for landscape videos.

1080x1080 pixels for square videos.

1080x1350 pixels for portrait videos - best for feed and carousel videos.

1080x1920 pixels for video stories, just like images, as well as IGTV videos, reels, and live videos.
Instagram ad size
Both the platform's Explore option and newsfeed offer plenty of ad space. Considering how competitive this visual network is, you should choose only the highest quality photos for your Instagram ads so that your brand will stand out.
Optimal ad image size:
1080x1080 pixels both for the newsfeed and the Explore feature, as well as stories and carousels.
Pinterest Image Sizes
From fashion essentials to cooking and interior design tips, Pinterest is a treasure trove of captivating visuals with the potential to drive sales and more traffic to your website.
Most images on this platform are vertical and informative, so following the recommended dimensions will facilitate more follower interest and involvement.
Pinterest image size
Your Pinterest board display is your most valuable asset on this platform to thrill your customers and keep them coming back to your page. The images you publish on your board should be stunning on their own but create a lovely composition when put together.
Optimal image size:
222x150 pixels for larger photo thumbnails

55x55 pixels for smaller ones
Pinterest profile picture size
Another round profile photo - sounds familiar? If you've already applied the same principles to the previous networks, just keep up the good work. Pinterest is no different in that department, so you can use your existing templates for profile pictures here.
Optimal profile picture size:
165x165 pixels, ideally in JPG or PNG format
Pinterest board cover size
Brand consistency is the fundamental prerequisite for brand recognition and awareness. Use the board cover photo to display your brand's most prominent qualities.
Optimal board cover size:
Pinterest pin size
Ideally, with a 2:1 aspect ratio, pins on Pinterest are vertical images perfect for product displays and helpful infographics. You can set up your own templates and publish them regularly, too.
Optimal pin size:
1000x1500 pixels, but the height can change depending on the amount of content you plan to publish.
YouTube Image Sizes
Focused on videos, many brands neglect the relevance of using first-rate images on YouTube. This leading video-sharing social network allows marketers to provide customers with useful content regularly, as long as you know how to promote your YouTube channel to reach more people.
For a unified image on this platform, be sure to use visuals that match the quality and substance of your videos.
YouTube thumbnail size
Every great video deserves a masterful video thumbnail to capture your audience's attention. The right image will do the trick, but the right resolution will seal the deal.
Optimal thumbnail size:
YouTube banner size
A cover photo (or banner) comes with another nickname on YouTube, and it's known as channel art. The most eye-catching visual on your thumbnail-packed page, this one should send the right message right off the bat.
Optimal banner size:
YouTube video size
To retain the quality of your videos and play them across all devices, stick to the 16:9 aspect ratio and choose the resolution according to your viewers' preferences.
Optimal range of video sizes:
256x144 pixels for videos in 144p resolution, all the way to 3840x2160 pixels for the finest 4K videos.
YouTube profile picture size
You can play around with the borders of your profile picture once you choose the right photo. Its circular shape matches the other social media networks' style, strengthening your brand consistency.
Optimal profile picture size:
800x800 pixels, and it can be in GIF format as well as JPG, PNG, and BMP.
YouTube logo size
If you want to use your company logo anywhere on your YouTube channel, it's best to use it as the profile image, which means it should follow the same guidelines from the previous section. Keep in mind that its round shape might crop some elements of your square logo, so make sure to position it properly to show off your logo in all of its glory.
Google My Business (GMB) Image Sizes
Developing your local presence today hinges on local business directories such as Google My Business. Local reviews on GMB help improve your local reputation, and it's an indispensable place for customers to find out who you are.
In addition to making sure that your NAP (name, address, phone) information is consistent and up to date, your visuals should be congruent with all other social channels you use.
Google My Business post image size
While the cover image is there to depict your brand on GMB, you can also add business images to feature your products, office, or employees.
Optimal post image size:
Google My Business logo size
The logo photo is perfect for immediate recognition, and the GMB page allows you to upload the logo image, with the exception of hotels and chains.
Optimal logo image size:
Google My Business cover photo size
Just like with other social media image sizes, the dimensions of your cover photo are the most important to choose carefully. The cover on your GMB profile page stands out, and it should illustrate your brand purpose.
Optimal cover photo size:
720x720 pixels is recommended, while the minimum upload size is 250x250 pixels.
Google My Business video size
To give your customers a glance at your offices or any other vital aspect of your business, add a video to your GMB page.
Optimal video size:
720p is the minimum resolution

Up to 30 seconds

No more than 75MB
WhatsApp Image Sizes
From customer support and follow-ups to sending personalized offers and promotions, WhatsApp has ample capabilities for business users. To recognize your brand quickly and not disregard the message when you send it, a customer needs to see an image that clearly portrays your business on WhatsApp.
WhatsApp profile picture size
You can stick to the tried and tested approach for choosing a photo that will be cropped well into a circular shape. It works well with your company logo or a clear image of your brick-and-mortar shop.
Optimal profile picture size:
Telegram Image Sizes
Growing in popularity, especially among younger generations, Telegram is another chat service your business can use to communicate with customers.
Telegram profile picture size
You've guessed it - Telegram requires a round profile photo, another app that follows this trend on social media. This makes your job easier; just pick a photo that shows your business properly, such as your logo.
Optimal profile picture size:
Telegram sticker size
This app has a great feature that allows you to send custom-made stickers to your customers.
Optimal sticker size:
512x512 pixels at the most, and they need to be PNG files.
Slack Image Sizes
A favorite chat app for most businesses to run their internal communications, Slack also empowers quick responses in customer interactions. It's a great addition to your social media marketing efforts.
Slack profile picture size
The only image that matters on Slack is your profile picture. The size guide refers to all devices and operating systems.
Optimal profile picture size:
No less than 512x512

No more than 1024x1024
WordPress Image Sizes
With 455 million websites running on WordPress, this platform powers around 35% of the Web. The right images on WordPress speed up your site and improve the user experience.
WordPress featured image size
Featured images on the homepage come in portrait and landscape formats.
Optimal featured image size:
Portrait: 900x1200

Landscape: 1200x900
WordPress thumbnail size
With so much information available, thumbnails should help your visitor decide what your content is about and nudge them to take action. Choose thumbnails that truthfully represent the written portion of the content.
Optimal thumbnail image size:
WordPress background image
The header image on WordPress, or the background picture, immediately catches your visitor's eye. Like other cover photos, this one should be powerful and true to your brand.
Optimal background image size:
Tumblr Image Sizes
This social platform might be dwarfed by other networks, but it's still a valid space for professionals and businesses to generate leads and traffic.
Tumblr header photo size
The header or the banner photo is placed behind your profile image. Since it's the most notable one on your page, choose a high-resolution picture.
Optimal header size:
3000x1055 pixels is optimal

640x360 pixels is the bare minimum
Tumblr GIF size
GIFs can be up to 3MB in size, but the longer they are, the more difficult they are to load.
Optimal GIF size:
500 pixels is recommended, although up to 540 pixels in width is possible.
Tumblr image size
The images you post on Tumblr have a little more room, so you can choose images of higher quality for the dashboard view.
Optimal image size:
500x750 pixels minimum

1280x1920 pixels maximum
Tumblr icon size
When you share a link or a text post with an embedded image, select an icon of the right dimensions to give your followers a clear idea of what the post is about.
Optimal icon size:
130x130 pixels displayed in a shared link

125 pixels when shared with a text post
Tumblr logo size
As is typical for business profiles and pages on social media, the logo image is the best pick for your profile picture.
Optimal logo size:
Twitch Image Sizes
Every gamer's favorite streaming platform, Twitch is a dynamic place for other businesses, as well. Customers might come to you for your streams, but you should pick out photos that tell your brand's story well.
Twitch emote size
Unique to Twitch, emotes are specific emoticons that help gamers express themselves on the platform. You can create and use them as well to make your brand more relatable on Twitch.
Optimal Twitch emote size:
28x28 pixels

56x56 pixels

112x112 pixels
Twitch banner stream photo size
The header image dominating the screen, or the banner, is the best place for telling your followers what they can expect from your profile and streaming content.
Optimal banner size:
1920x480 pixels is recommended, while the minimum width is 1200 pixels.
Twitch sub badge size
Gaming brands reward their loyal customers by handing out customized subscriber badges. Create them in the right sizes to entice followers to display them on their profiles proudly.
Optimal sub badge size:
18x18 pixels

36x36 pixels

72x72 pixels
SoundCloud Image Size
Unlike YouTube, which is a video/audio platform, SoundCloud gathers aspiring musicians but also established bands and businesses. You can use it to publish podcasts or your own radio talk show, but also give an audio overview of your business.
SoundCloud profile picture size
A bit larger compared to other profile pictures, the SoundCloud image will also display in a round shape.
Optimal profile picture size:
1000x1000 pixels at least
SoundCloud banner size
Since you have limited opportunities to visually portray your brand on SoundCloud, choose a banner photo that does it best.
Optimal banner size:
SoundCloud artwork size
The cover is reserved for your entire channel, but your individual podcasts and albums have their own artwork to illustrate your audio content.
Optimal artwork size:
Spotify Image Sizes
]
Another platform proving the value of audio content, Spotify is a superb choice for posting podcasts and audio content of other forms. Just like with SoundCloud, use visuals to bring your audio content closer to your audience.
Spotify cover art size
Each album or audio piece you publish comes with a high-res image as its own artwork cover.
Optimal cover art size:
Spotify playlist image size
Setting up playlists means you can mix and match various types of audio content. You need a visual to tell your listeners what the playlist entails.
Optimal playlist image size:
Spotify banner size
The header image makes your channel more prominent, so use it to highlight what makes your brand authentic.
Optimal banner size:
Snapchat Image Sizes

Creating ads, stories, as well as sending customized messages to customers are all viable options with Snapchat. Brands love it for building more close-knit bonds with their followers.
Snapchat ad specs
Whether you post short videos, animated GIFs, or images to advertise your brand, choose high-quality visuals.
Optimal ad specs:
Sponsored geofilter sizes
Local businesses cherish these geofilters. They help you attract local customers when they are near your store or event.
Optimal sponsored geofilter sizes:
Sponsored lenses sizes
Targeting the right customer groups and engaging them with sponsored lenses is much more fun. The resolution of the lenses will make them much more enticing for your customers.
Optimal sponsored lenses size:
No more than 2048x2048 pixels
Wrapping Up
You are now ready to customize all your visuals to meet the requirements of each platform. With your visuals taken care of, you should start monitoring your social performance and improve your content output accordingly.
Use this cheat sheet for social media image sizes to create stellar visual content and get more audience engagement.